Solving crystal structures. Creating new devices. Teaching himself X-ray crystallography. As a scientist, Joel Ybe has always loved solving problems – something he has found equally rewarding in his unique role at Indiana University Bloomington, where he uses his scientific training to connect researchers with resources, support and services available through the Indiana Clinical and Translational Sciences Institute.
Ybe is the IU Bloomington campus navigator for the Indiana CTSI, a National Institutes of Health-funded research institute that aims to improve health in the state through research. Housed at the IU School of Medicine, the Indiana CTSI is a statewide collaboration among Indiana University, Purdue University and the University of Notre Dame.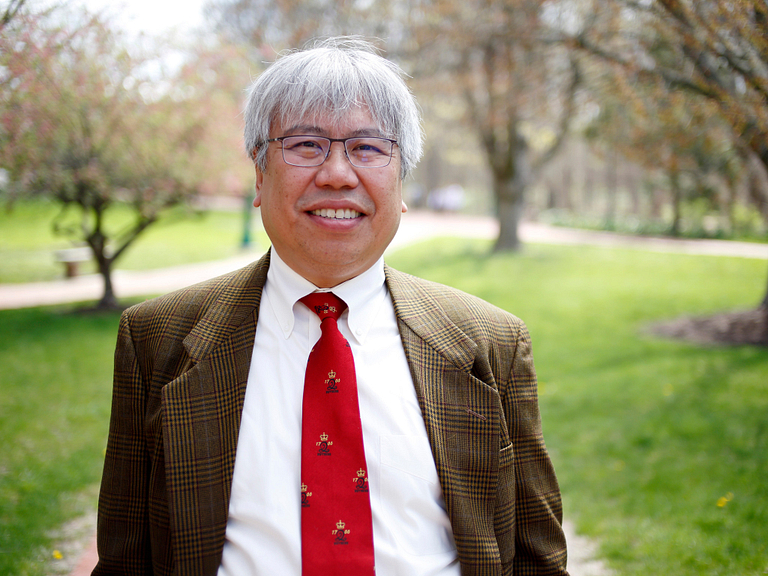 As a researcher himself, Ybe is able to give guidance and relate, first-hand, with researchers who are seeking help with opportunities and projects. In addition to his role at the Indiana CTSI, he is also
senior
research scientist in the IU School of Public Health-Bloomington and the Institute for Research on Addictive Behavior.
Ybe is available to speak with IU Bloomington researchers who have questions about how the Indiana CTSI could support their work or
to
discuss their research ideas. Contact Ybe at
jybe@indiana.edu
or 812-856-4882.
Read on to learn more about Ybe and the research support available through the Indiana CTSI.
Question: In your own words, what is the role of an Indiana CTSI navigator?
Answer: As I see it, my role as IU Bloomington's Indiana CTSI navigator is to facilitate research activities on the Bloomington campus to engage scientific activities in relevant areas, with the goal of producing better health outcomes for Hoosiers. This means making our researchers aware of funding opportunities that can support their efforts to obtain pilot data for extramural funding and actively helping faculty find important collaborators and/or technologies they need.
Q: Describe your background and how this helps you help other researchers.
A: I obtained a bachelor's degree in biochemistry at Rutgers University and as a freshman became intensely interested in the "protein folding problem." Luckily, I found a mentor who fanned that passion, and who eventually became my Ph.D. thesis advisor.
To understand how a string of amino acids ultimately dictates biological activity of proteins by assuming a specific 3D structure, I built a device capable of measuring the entropic contribution of water and hydration to the folding process. It was natural for me to continue my work in my undergraduate lab, so I obtained a joint Ph.D. from Rutgers and the University of Medicine and Dentistry of New Jersey on the folding of ribonuclease-A. From there, I pursued a postdoc down the road at Princeton University.
My postdoc mentor was involved in the design of FELIX (
four helix
bundle proteins at Duke), and together we took a protein engineering approach to try to uncover what factors determined the folding pathway of a small Greek key
beta barrel
protein. After completing this training, I moved to the University of California, San Francisco to expand my research toolbox. I was fortunate enough to find myself in a project studying the structural basis of clathrin-mediated endocytosis – a basic process to bring essential materials such as nutrients into eukaryotic cells.
I was coming to the party late, so to speak, but had some fresh ideas that helped move the work forward. A big challenge for me was that I needed to pick up a new skill; I had to teach myself X-ray crystallography. In the end, we solved the crystal structure of an important domain of the clathrin triskelion, and it was all worth it. The structural information from the atomic-level models gave us unexpected insights into how clathrin self-assembles into a polyhedral cage that encapsulates a transport vesicle budded off the plasma membrane.
My success in San Francisco landed me a new job, and so I moved to IU Bloomington in summer 2000 as a tenure-track assistant professor in biology to start a new
X-ray
crystallography facility and develop a structural biology program. I had my own lab and, with the support of two NIH R01 grants over a 10-year period, I was able to solve the last missing piece of the clathrin triskelion and start a new research direction.
A talented IU undergraduate, who went on to get his Ph.D. at UT Southwestern, began working in my lab also, studying the relationship between clathrin-mediated endocytosis and a protein called Huntingtin interacting protein 1 (HIP1). HIP1 is important in the context of Huntington's disease – a fatal genetic neurodegenerative disease that currently has no known cure. Although Huntington's is relatively rare compared to other neurodegenerative diseases, Indiana has the second highest concentration of people with the disease in the country. The Huntington's disease gene was identified at the IU School of Medicine through a strong collaborative of researchers in affected communities and geneticists.
Armed with my diverse background as an NIH-funded
principle
investigator, mentorship of undergraduate and graduate students and interaction with colleagues in biology, biochemistry
and
chemistry, I now work as the Indiana CTSI's IU Bloomington navigator to see where collaborations are possible and could potentially be made more fruitful if supported by the Indiana CTSI. This is especially true now because I moved to the School of Public Health-Bloomington. I see myself as a conduit who can connect those who do more population-based health research to those who do basic work in disease mechanism to find novel therapeutic targets for future drug development.
Attend the Indiana CTSI's 10th Annual Meeting
Q: What are some of the resources and expertise that the Indiana CTSI brings to the IU Bloomington campus?
A: Many of our faculty benefit from the Pilot Funding for Research Use of Core Facility awards that are offered twice a year and have used this Indiana CTSI support mechanism to get critical pilot data for extramural grant applications.
I think IU Bloomington researchers benefit from having access to a wide variety of
housed
technologies, which are available to them at each partnering university (Purdue and Notre Dame). The Indiana CTSI's Community Health Partnerships program, which engages in community/population-based field research, is also an important resource for faculty in the School of Public Health.
Q: Is there anything about the Indiana CTSI that you wish IU Bloomington researchers knew more about? If so, what?
A: I wish more faculty – especially the new, junior faculty – knew more about the project development teams, which are a great resource to help them focus their grant applications for extramural funding.
Q: What would you say to encourage researchers to engage the Indiana CTSI in their current and/or future projects?
A: I would encourage researchers at IU Bloomington to go to the Indiana CTSI website and look at all the services and funding opportunities open to them. The Indiana CTSI offers many services to both new and established faculty, as well as graduate students. One of my jobs is to reach out to make sure folks know about opportunities relevant to their specific research interests.