EDITORS: Opportunities for photography, video and interviews will be available to media. For assistance in making arrangements or interviewing IU officials, contact Chuck Carney at 812-855-1892 or ccarney@indiana.edu.
BLOOMINGTON, Ind. – The Indiana University Bloomington campus will become a little busier next week as students begin moving into residence halls for the 2018-19 academic year.
Undergraduates living in residence halls may begin moving in Sunday, Aug. 12. The majority of incoming first-year undergraduates are expected to arrive Aug. 14 and 15. Heavy campus traffic is expected Aug. 12 to 15.
Residence halls will be open from 8 a.m. to 6 p.m., and several IU administrators will be on campus to greet students as they move in.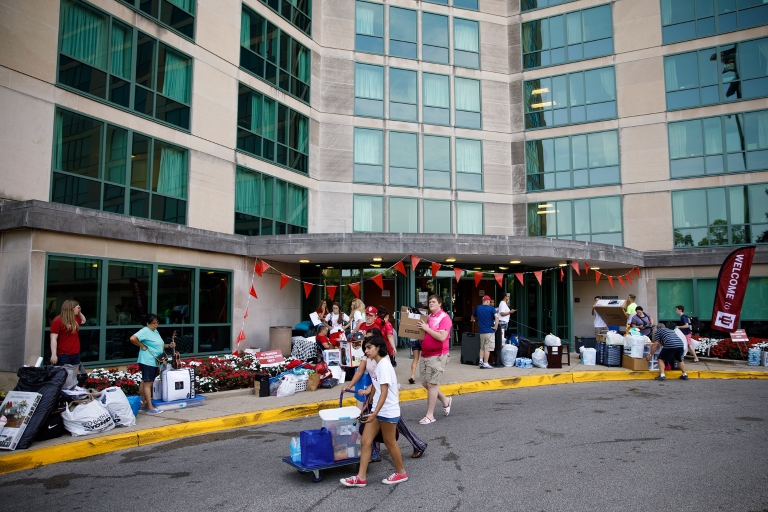 Wednesday, Aug. 15, will mark the start of Welcome Week activities aimed at helping students find their way around, make new friends and acclimate to campus. Highlights include:
Freshman Induction Ceremony: 3 to 4 p.m. Wednesday, Aug. 15, at Simon Skjodt Assembly Hall. The event will be followed by a Freshman Induction picnic from 4 to 5 p.m. at DeVault Alumni Center.
CultureFest: 4:45 to 7 p.m. Thursday, Aug. 16, at the IU Auditorium and Showalter Fountain.
The Traditions and Spirit of IU: Pep rally and prize giveaway, 8 to 9 p.m. Friday, Aug. 17, at Simon Skjodt Assembly Hall.
Block Party: 5 p.m. to 1 a.m. Saturday, Aug. 18, at the Fee Lane and 13th Street parking lot.
Traffic patterns this year will change only slightly from Aug. 12 to 15 to accommodate traffic to and from residence halls. Changes in traffic patterns include:
Sunrise Drive and Campbell Street will be one way going south.
Woodlawn Avenue will be one way south between Ninth and 10th Streets only (directly in front of Collins Hall).
IU Police Department officers will be stationed at several intersections, and signs will redirect traffic.
Information on Bloomington street construction projects that could affect traffic is available from the website of the IU Office of the Vice President for Capital Planning and Facilities and the city of Bloomington InRoads site. I69 constructions updates can also be found on the INDOT website.
For traffic and parking updates, follow Indiana University and the IU Police Department-Bloomington on Facebook and @IUBloomington on Twitter. IUPD will also be posting updates on the mobile traffic app Waze.