BLOOMINGTON, Ind. – Indiana University's deep commitment to diversity and inclusion has been further strengthened by a gift of $1.5 million from attorney Lacy M. Johnson, a partner at Ice Miller LLP in Indianapolis, and his wife, Patricia, to IU's Office of the Vice President for Diversity, Equity and Multicultural Affairs.
The gift established the Johnson Chair for Diversity and Leadership. IU President Michael A. McRobbie appointed James C. Wimbush, IU vice president for diversity, equity and multicultural affairs and dean of the University Graduate School, to the endowed position.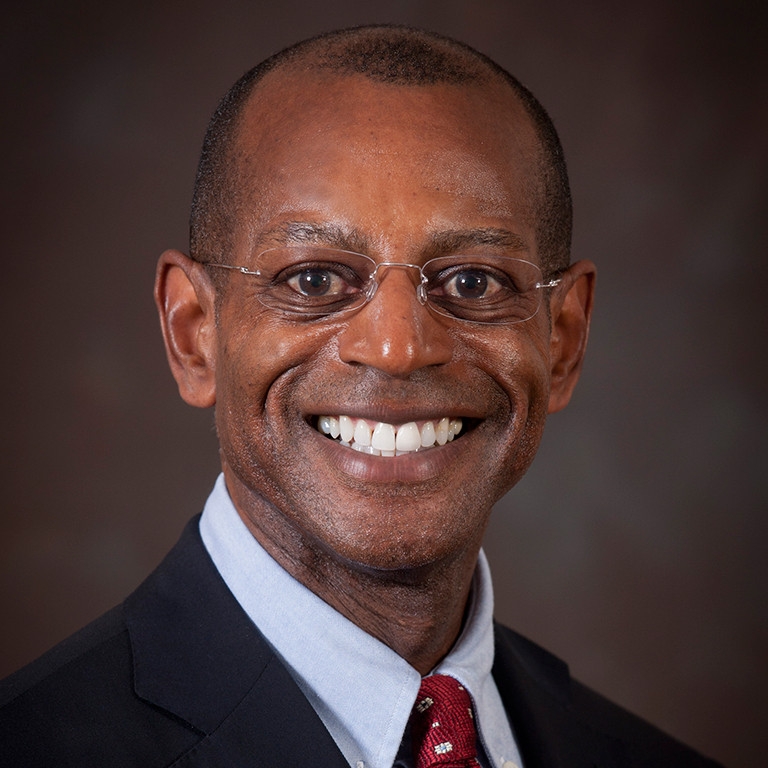 "In observing IU's prioritization of diversity and inclusion work under the guidance of Dr. Wimbush, we feel compelled to pledge our assistance in ensuring additional progress occurs, in particular, to support students of color," Johnson said.
The Johnsons' gift will support the chair's leadership of diversity efforts at IU and the enhancement of the university's cultural climate, including scholarships and programming that promote inclusive and welcoming campus environments. The gift is also earmarked to benefit faculty, staff and underrepresented, first-generation, LGBTQ+ and ethnic minority students in the continued development of academics, leadership and training focused on diversity and issues that affect underrepresented populations at IU.
"The endowed chair position, established through the remarkable generosity of Lacy and Patty Johnson, will greatly support Indiana University's continued strong commitment to diversity and inclusion," McRobbie said. "This gift – and the outstanding leadership of Dr. Wimbush in the Office of Diversity, Equity and Multicultural Affairs – will help IU continue to attract talented students with diverse backgrounds, heritages and experiences; create a culture where diversity is embraced in the broadest sense; and enhance our ongoing efforts to make the world-class education that has been a hallmark of IU for nearly two centuries accessible to all."
The gift counts toward the $3 billion campaign For All: The Indiana University Bicentennial Campaign and will be matched under its guidelines for establishing endowed faculty positions. The campaign is led by the IU Foundation; Lacy Johnson is a member of its board of directors.
"Lacy and Patty's generosity of spirit and commitment to investing in inclusive excellence at Indiana University are truly inspirational," Wimbush said. "It is an incredible honor to be appointed as chair by President McRobbie, a role that can expand upon IU's promise of providing students from all backgrounds with the opportunity to thrive because of this transformative gift."
The Johnsons have given more than $2 million to IU, in addition to many other charitable interests. They have established scholarships at Vincennes University and several historically black colleges and universities, such as Tougaloo College and Southern University.
An alumnus of IU's Robert H. McKinney School of Law, Lacy Johnson is co-chair of the Public Affairs and Gaming Group at Ice Miller and also serves on a number of boards, including the Kemper Corporation, the Old National Bank Advisory Board, the IUPUI Advisory Board and the Skyline Club. A native and lifelong resident of Indianapolis, he is a member of the United States Democratic Black Caucus, the Lawyers Council of the Indianapolis Civil Liberties Union, the Dean's Advisory Council of the Krannert School of Management at Purdue University, Omega Psi Phi fraternity and Sigma Pi Phi fraternity. He was recently recognized for the second time by Savoy Magazine as one of the Most Influential Black Lawyers in the country.
"Being able to assist Lacy, Patty and their family in utilizing their success as a platform to create pathways for IU students of diverse backgrounds has been important and fulfilling work," said Joyce Q. Rogers, IU Foundation vice president for development and external relations for diversity, equity and multicultural affairs. "The Johnsons' desire to provide opportunities for underrepresented students has resulted in a contribution that will have a positive effect on the lives of these future leaders for decades to come."
The Johnsons' gift coincides with IU's establishment of the Black Philanthropy Circle, of which Lacy Johnson is a founding member. Created in 2018, the Black Philanthropy Circle will support black students, faculty and staff on IU campuses, with a focus on supporting degree attainment, scholarships and academic resources. The launch of the Black Philanthropy Circle is only one part of IU's participation in Black Philanthropy Month, a global celebration of giving within the black community.
For All: The Indiana University Bicentennial Campaign is taking place on all IU-administered campuses including IU Bloomington, IUPUI, IU East, IU Kokomo, IU Northwest, IU South Bend and IU Southeast. The campaign will conclude in June 2020 to coincide with IU's bicentennial year celebration. To learn more about the campaign, its impact and how to participate, visit forall.iu.edu.