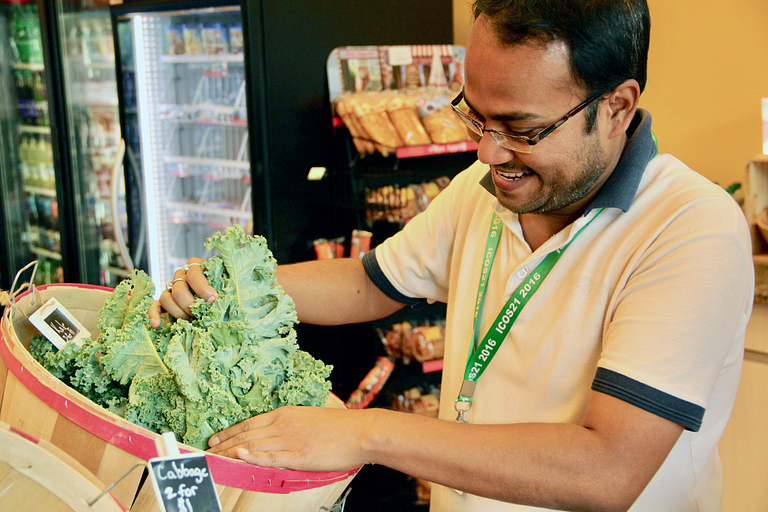 Dani Waterman eagerly loaded up her bags with bell and banana peppers, tomatoes, and raspberries during a visit to the Campus Center's monthly produce market.
"I'm a rabbit," laughed the elementary education senior and student coordinator for IUPUI's OTEAM. "I love fresh produce. On an urban campus, it's great to have access to fresh produce, and it was cheap, so that was nice."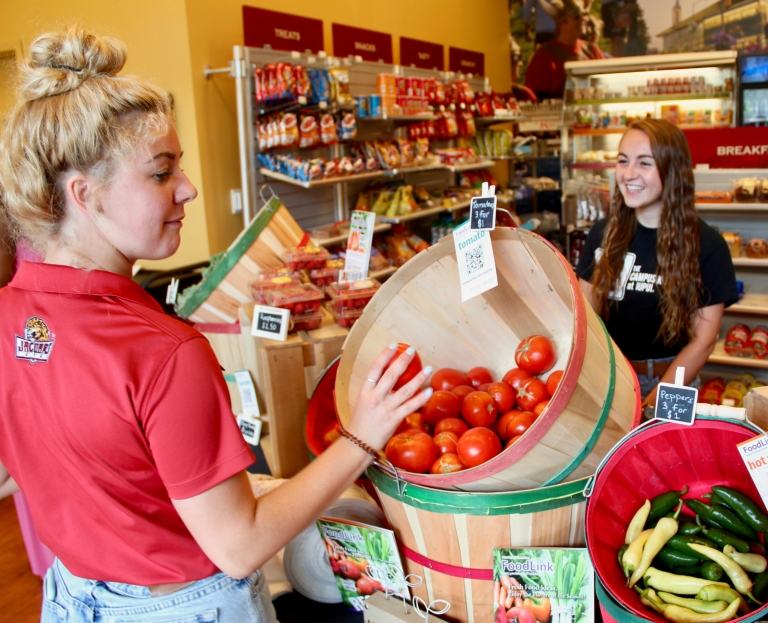 The market is presented via a collaboration between the Office of Sustainability, Healthy IU and Chartwells. The July edition saw the market inside the Outtakes convenience store. Usually in the Campus Center food court, the market will be more mobile this fall within the Campus Center when the food court undergoes renovations.
All vegetables for July's market came from IUPUI's gardens, with the rest provided by Chartwells and procured from Piazza Produce. The selection, amount and prices change from month to month depending on the yield from the campus gardens; Chartwells fills in the voids.
The produce is available from 10 a.m. to 2 p.m., usually on the third Thursday of each month. Customers pay for the food from nearby cashiers. Cash, credit cards, Dining Dollars and CrimsonCash are accepted.
The produce market has sprouted near Campus Center's food court monthly for the last few years, gaining a loyal following in the process. On July 19, the stand was sold out of potatoes and romaine lettuce in less than an hour.
Produce market schedule
The market still stands in the winter, but all of the fruits and vegetables are sourced from Piazza until the gardens begin producing in the spring.
"The produce sourced by Piazza comes from local farmers, when in season and available," said Deb Ferguson, IUPUI's assistant director of sustainability. "But today, almost everything is from our own on-campus gardens."
The produce market returns to the Campus Center Aug. 23.