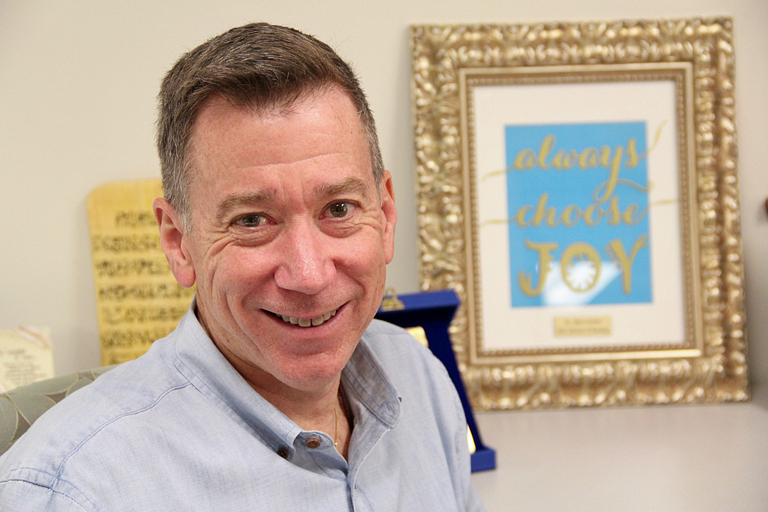 Jack E. Turman Jr., Fairbanks School of Public Health, IUPUI
Throughout Jack E. Turman Jr.'s career, improving maternal and child health has been a passion – on the community, regional and international levels.
Working his way east from the University of Southern California to the University of Nebraska Medical Center to Indiana State University and now to IUPUI, Turman has expanded his public health research to include the smartphone application Mom 101 and the soon-to-be-released Yma ("mom" in Moroccan Arabic dialect), an app to help mothers and families in Morocco. The international app-development opportunity stemmed from collaboration with students and faculty at Hassan 1st University.
"Women really wanted an application that they could go to anytime," Turman said. "We made sure that all of the information is available in the app in one download in case internet connection isn't available. This product is resulting from a really huge, dedicated team of students, faculty and community members coming together to do this."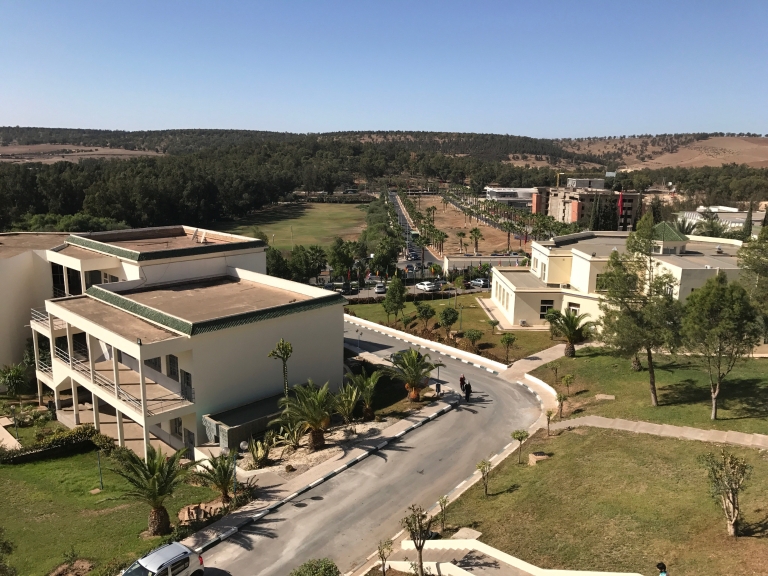 Yma was created with respect for Morocco's diversity of languages and cultures and the importance of midwives throughout the nation. The app will be available in English, French, multiple Arabic dialects and the North African language of Berber. Its content will serve women across the nation, and help midwives in their work, which Turman says "is really important because 80 percent of the deliveries are with midwives."
While Turman previously conducted international research projects with physical therapy colleagues in Shanghai, collaboration with Moroccan peers is rare for an American scholar.
"They typically partner with European scientists," said Turman, whose overseas work is funded by a recent Fulbright specialist award in global health and through Hassan 1st University. "Historically, they don't have academic partnerships with American institutions."
His work in Morocco has led to that nation's first master's degree in public health, and Turman just received approval from IU to offer a summer internship for Master of Public Health students at Hassan 1st University's MPH program.
As part of his role as a faculty member in the Department of Social and Behavioral Sciences, Turman, working with a cohort of MPH students, recently launched a podcast, "Community Solutions," to promote skills in building community health. Students produce and conduct the interviews with experts working to grow healthy neighborhoods. Though the podcast is only a month old, it has listeners in 18 states and five countries.
Turman teaches graduate-level classes – introduction to public health, health promotion and disease prevention, and community capacity-building in a global health context, a class of his own design for undergraduates and graduate students to learn about community development around the planet. He is also working with Riley Children's Foundation to reduce infant mortality in Indiana.
Whether his research serves a mother down the street or halfway across the globe, Turman is thrilled to be extending his work in class, on wireless devices and to health centers and communities of all kinds.
"All of my experiences have ultimately led me to this great faculty position," Turman said. "I feel very grateful for the opportunity to work here. IUPUI has beautifully figured out the really wonderful marriage between teaching, education, service and community engagement."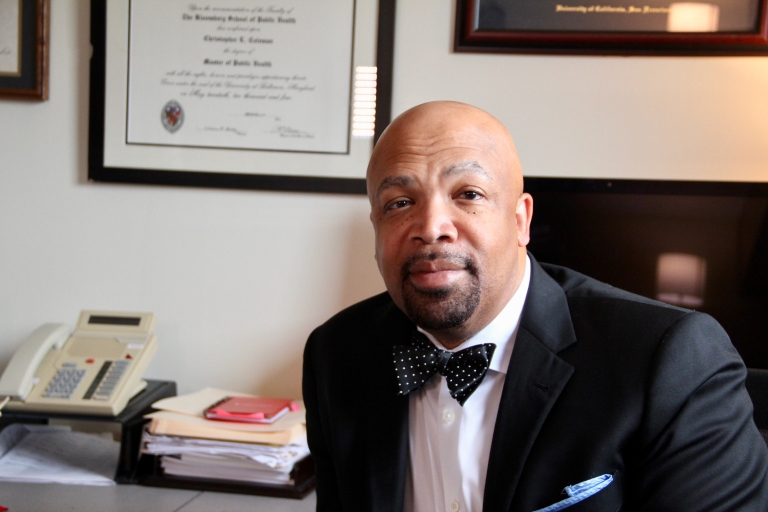 Chris Coleman, School of Nursing, IU Fort Wayne
The IU Fort Wayne playbook may be thin right now, but Chris Coleman's experience and expertise will lay a strong foundation for the new regional education center's first year.
When Coleman arrived at IU Fort Wayne on July 1, he was given a new regional education center, the new position of associate dean and a new program transitioning from a department to a school. It was also a new state for the former chairman of the Department of Health Promotion and Disease Prevention at University of Tennessee Health Science Center in Memphis.
Though based in Fort Wayne, Coleman serves as an associate dean for the IU nursing program, which is transitioning from a department to a school in Allen County. Robin Newhouse serves as nursing dean at IUPUI, but Coleman has been given the keys to produce hundreds more well-trained, well-educated nurses for Indiana.
"We have very talented faculty, and talented students. It's an opportunity to be innovative and creative," said Coleman, clad in one of his trademark bowties. "We want to develop a workforce for the community and beyond. Additionally, the school will have strong engagement with its existing community partners, with plans to grow the number of collaborations."
Before his time in Tennessee, Coleman spent 13 years at the University of Pennsylvania, where he served as co-director for the Center for Health Equity Research and as director of the Health Equity Collaborative. Coleman's experience will be essential in not only steering the School of Nursing's ship but being a leader at IU Fort Wayne. Of the almost 300 first-year students, 178 have enrolled as nursing majors. Eighty more nursing undergraduates have already committed for the spring 2019 semester. There are 400 IU Fort Wayne nursing students overall.
The IU Fort Wayne online Bachelor of Science in Nursing program for licensed RNs will also grow, and plans to reinstate the graduate programs as well as international scholarship, including student educational opportunities, will soon begin.
The programs will expand quickly to meet these new students as it moves from a department to a school in Fort Wayne. Coleman intends to expand the programs by hiring new tenure-track faculty members along with a senior, tenured professor. They will be met with new simulation labs fueled by cutting-edge technology, some of which has already arrived for the new academic year.
While Indiana is a new location for him, Coleman's ongoing research on HIV risk reduction and symptom management strategies for various populations will continue.
"My plans are to engage with community organizations that have research and clinical practice," said Coleman, noting that possible research collaborations are already in the works. "We've been looking at this for 25-plus years. We have to stay vigilant and make sure all communities are educated, particularly those communities that are more rural or might not have the kind of data, information or public infrastructure there."
"This crisis has not gone away."
Now almost two months into his new position, Coleman said he is looking forward to continuing his passion for educating nursing students, research, and fueling the health care workforce with the best and brightest.
"I bring 21 years of leadership, not only in the academic setting but also clinical settings," said Coleman, who is also a classically trained pianist. "It's an incredible opportunity to build a school. Who wouldn't want to do that?
"The beauty of this program is that we have the opportunity to take this school and shape it and mold it into the pillar of excellence it can become."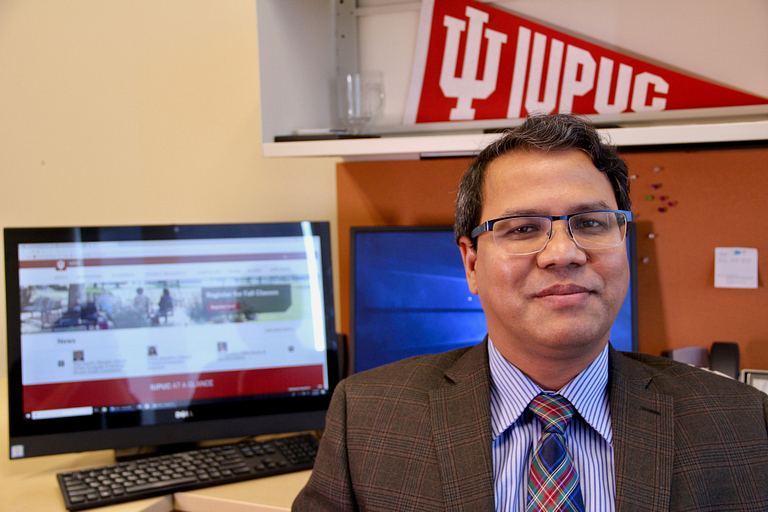 Mohammed Noor-A-Alam, Division of Mechanical Engineering, IUPUC
When Mohammed Noor-A-Alam taught mechanical engineering at Washington State University, he took up fishing for shad, catfish and bass along the mighty Columbia River in his spare time.
This summer, IUPUC lured the accomplished scholar to its program, where he will teach statics and mechanics of materials classes. Noor-A-Alam will continue his research on the energy side of engineering as well, particularly on the efficiency of next-generation gas turbine systems.
"I'll be working in energy and materials, as well as computational thermo-fluid analysis," he stated. "The objective of my research is to meet the world's energy demand without compromising any environmental issue. My approach is to engineer the energy systems to achieve the higher efficiency of energy conversion in next-generation energy technology, which will subsequently reduce the consumption of energy resources."
In the spring, Noor-A-Alam will open his mechanics lab at IUPUC, and he will add a dynamics class to his schedule.
Throughout his academic career, Noor-A-Alam has had several papers published, including work in the Royal Society of Chemistry's Advances journal on "Enhanced Stability of Hafnia Based Coatings in a Hot Gas Environment." He has taught fluid mechanics, heat transfer, thermodynamics and energy system engineering classes as well.
After earning his Ph.D. in energy science and engineering from University of Texas at El Paso, Noor-A-Alam diversified his work. He can teach undergraduate mechanics classes while conducting world-changing research.
"The ultimate success of my research would contribute to the effort to save the globe while meeting the increasing energy demand all over the world," Noor-A-Alam explained. "Reducing the consumption of fossil fuel while meeting the energy demand would consequently reduce the carbon emission."
As classes get underway, Noor-A-Alam said, he is excited to be on a new campus with the opportunity to work closely with students.
"I have a strong belief in project-based learning," he said. "It provides more hands-on learning to the students. It prepares students more effectually for their professional success. I emphasize acquiring knowledge, rather than a specific solution."
Noor-A-Alam enjoys and maintains an interactive teaching environment to make the teaching more effective. In a nutshell, his teaching philosophy integrates five fundamental viewpoints: effective communication between teacher and students, interactive learning, motivating students to learn, development of skills by practice, and stimulating creativity.
While the fishing in Southern Indiana may differ from that in the Pacific Northwest, his passion for education and research knows no borders.
"We'll see more snow here, but that's not a problem," Noor-A-Alam said.