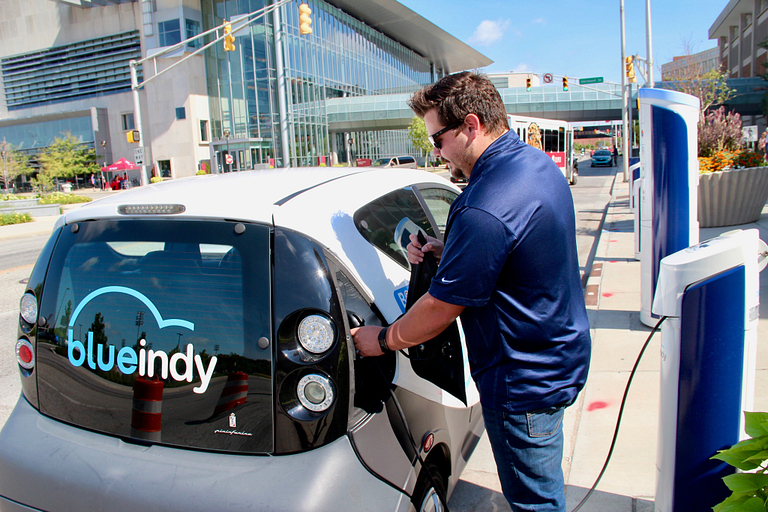 BlueIndy's newest reservation kiosk – its 92nd in the Indianapolis area – is now a fully operational transportation alternative. The five spaces with charging stations for the company's signature white-and-blue electric cars are located at Vermont Street and University Boulevard, in front of Lecture Hall.
"IUPUI has been on our list since Day One," said Blake Richmond, BlueIndy's marketing manager. "We have stations at other universities around the city, and college students are our No. 1 user demographic."
Users must apply for a BlueIndy membership card, which is the primary tool to activate and utilize the cars.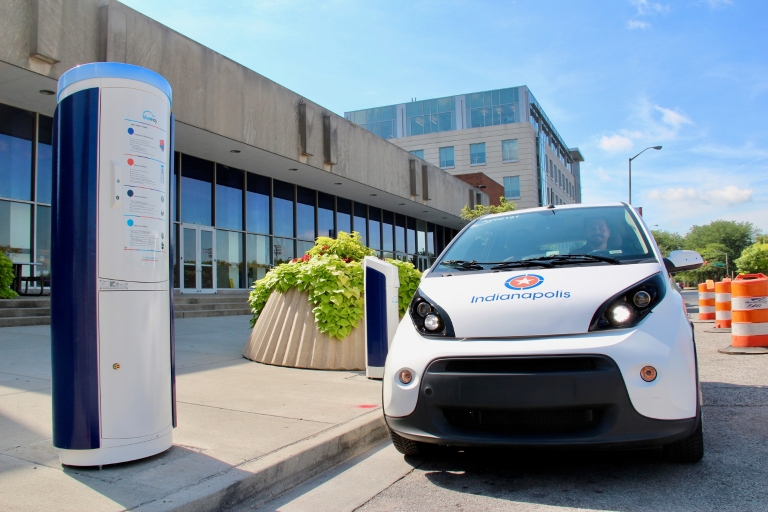 Formed in September 2015, BlueIndy started with 25 stations and 50 cars. Today, the fleet of cars is at almost 300, and the vehicles have given more than 90,000 rides overall. The company has more than 2,000 yearly subscribers.
"You can fit up to four people in these cars," Richmond said. "We have people working on the cars constantly, making sure they are clean and running well."
How it works
New BlueIndy subscribers receive an activation code via text message after their driver's license is validated. Once approved, users receive their Blue cards, which will be available for pickup at the Barnes and Noble @ IUPUI bookstore as well as through the mail. The driver decides on a personal identification number, which they enter at the kiosk after a card swipe. The automated kiosk directs the driver to the available car. The user unplugs the car and unlocks it with the card. The ignition key is in the car, and a blue button is near the gearshift if the driver has any questions or needs assistance.
BlueIndy cars top out at 72 mph. The cars must be charged to at least 40 percent to be road-ready. A fully charged car can travel for 125 miles of stop-and-go city driving.
When the journey is complete, the driver parks the car at any BlueIndy kiosk. Drivers are asked to plug in the car and lock it. If left unlocked for too long, the car goes into "theft mode" and becomes inoperable.
Benefits
The IUPUI BlueIndy kiosk is near an Indiana Pacers Bikeshare station on University Boulevard. That's no coincidence.
"We're working with the city, Pacers Bikeshare and IndyGo to create this multimodal transportation atmosphere in Indianapolis," Richmond explained. "It's all about reducing car ownership and getting more people to take cost-effective, environmentally friendly transportation."
BlueIndy also hooks up current electric car owners. By selecting the electric vehicle charging membership, drivers can use any hub to charge up their personal car.
Law student Delainey Burnett was thrilled to see BlueIndy show up in the heart of campus. While the BlueIndy kiosk near West and New York streets suits her needs right outside of Inlow Hall, she recognizes that students in the middle of campus could use a more centrally located station. Burnett uses the cars to get home and to her evening job.
BlueIndy mobile app
"I can just jump in the car and go," said Burnett, noting the parking convenience on campus as another benefit. "It also makes financial sense to me. And it's a great way for students to get out and about in Indianapolis because there are plenty of stations around."
Campus officials also see BlueIndy's arrival as a major positive for the entire IUPUI campus community.
"BlueIndy will offer our students, faculty, staff and visitors a green, on-demand transportation option with greater convenience, accessibility and mobility to travel off campus whenever they want," said Camy Broeker, vice chancellor for finance and administration. "A partnership with BlueIndy is a natural continuation of IUPUI's sustainability efforts and will help reduce our carbon footprint."