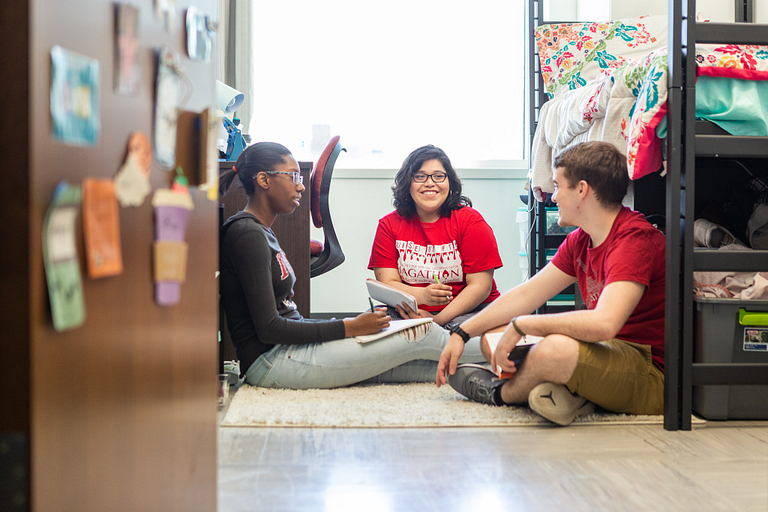 Congrats! You have your own place. Whether it's a residence hall or an apartment, you now have a very real challenge: making your tiny room or rental feel like home while also getting all of your – and your roommates' – stuff to fit. Here are some tips to help you decorate and maximize your space, all at the same time.
Think outside the box
The packaging might say "shoe hanger," but you don't have to use it that way. Pick storage items and furniture that creatively multitask as well as you do:
Get an ottoman (code for fancy footstool). They're soft enough to serve as extra seating, firm enough to be a coffee table and sometimes clever enough to be storage.
Use a tension rod over your sink to hold dish towels, washcloths, sponges, whatever. They'll be handy, and you'll free up valuable counter space. Install a longer tension rod in your shower opposite the curtain. You and all of your roomies will have someplace to hang your loofas without the edge-of-tub balancing act.
Get a shower caddy and attach little baskets or hooks to it, if necessary. Stick the caddy to the wall over your desk using one of those nifty Command hooks. Use it to store office supplies and leave notes.
That shoe hanger? Try one with pockets to hold hair supplies, socks, scarves, snacks and small electronics.
A silverware organizer is great for forks and just as good for keys, jewelry, sunglasses, wallets and more.
Keep looking
Sometimes the solution is right in front of you, and sometimes it's above your head or at your feet:
Lofting your bed is great in theory, but it can be a bit of a hassle. Go with bed risers to earn a few more inches of storage space down below. Hide under-the-bed clutter with a long sheet. Another option is to get a tall shelf that arches over the bed. Use it for storage or as a nightstand.
Mattress caddies hang off the side of your bed, helping to keep those small items collected and within reach, day or night.
Spice up the wall and store your stuff at the same time with a colorful pegboard. You can hang any number of things from it. Plus, it's a great accent wall, no drilling required.
Kitchen cupboards don't have to be for food. The high ones you'll never use can hold any number of things, so long as you don't mind them smelling like that new recipe you tried or steaming with the broccoli.
Make it yours, even when it's not
Even if you need to avoid permanent alterations to the property, like putting nails in the wall, you can still let your creative flag fly:
The internet is filled with ideas for using gentle yet vibrant washi tape to create wall art, "frame" posters or photos, or make cool designs on a mini fridge or door.
Indoor plants add color, not to mention lower your stress levels. Those without a green thumb can try a low-maintenance succulent, like aloe or a jade plant.
A headboard can do wonders aesthetically. Make your own by covering a flattened moving box with some fabric. Or use a folding screen that can double as a room divider if you need to hide your unmade bed or just want some alone time. Bookcases can also be great room dividers, especially if you're in a loft apartment.
If you can't paint the walls (and you often can't), paint your personal furniture. Try customizing your kitchen utensils or upcycling some containers to make cool vases. You'll get a unique piece that fits your style and also distracts you from the neutral walls that supposedly appeal to everyone.
Share your tips and tricks with other IUPUI Jags, or snap a pic of your space and share it on Twitter with @IUPUIStuAffairs. Happy move-in, and welcome home!