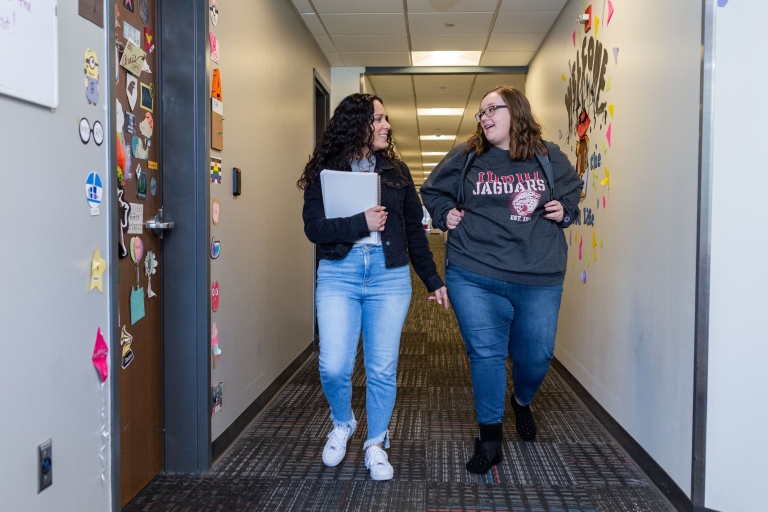 We all want apartments and roommates as awesome as what we saw on "Friends." Sadly, that's not likely. But with these five C's, you can make the most of your living situation and build solid roommate relationships from the moment you move in.
Choose wisely
We don't mean watching "Indiana Jones and the Last Crusade" with your roommate, but that's not a bad idea.
Seriously though, if you aren't assigned a roommate, be diligent about choosing a person to share your living space. Try to avoid picking your best friend. Living together can test even the longest high school bromance, plus it's great to branch out and meet other people. Also, trust your gut. If you're interviewing a possible roommate and something feels off, there's probably a reason.
Communicate
Do it early and often. To start, have a conversation about expectations. You think guests should be out of the house by 10 p.m. They think the toilet should be cleaned weekly. Hash out these details before you move in together. If you have deal-breakers, like no cats or nonsmokers only, make them clear now.
Check in with each other often. You don't have to be best friends (remember what we said about not moving in with your bestie?), but you probably have something in common. Whether it's a shared love of tacos or that you both enjoy the soothing sounds of Wood Fountain, set up a regular roomie date to do something enjoyable together and talk. The connection will do you both good.
Housing and Residence Life recommends the following:
Have daily, casual, in-person communication: "How was chemistry lab today?"
Spend social time together and have weekly conversations adding perspective: "Want to go bowling?" "It's so weird sharing a room with someone. Let me tell you about being an only child."
Socialize with people other than your roommate, help in a difficult time and interact on social media at least monthly: TFW your roomie knows your taste in memes.
Community
Roommate = on-call friend, right? Not always. Fight the urge to rely on them for all social interaction. If you live in a residence hall, take advantage of the common areas, Residential Based Learning Communities and RA events to meet other people. Both on- and off-campus residents can connect with others through student organizations. This is how you make lifelong friends in college.
Care
You're living in tight quarters, so show respect for the other person and their stuff. Both of you need to agree on boundaries and expectations. Go back to those details you hashed out in your early communications and stick to them.
Be patient when your roommate is being difficult. You might even go the extra step and make sure they're doing OK. The start of the school year, especially if it's your first year at IUPUI, can be tough. Help each other get through the sometimes-overwhelming transition. Surprise them with a random act of kindness, like wiping out the sink after you brush your teeth.
Whether your place came furnished or you're outfitting your apartment together, whether you shared the cost of the couch or it belongs to your roommate outright, be respectful of each other's things. Why let a carpet stain ruin a good relationship?
Bonus: Really think about whether you want to share the furniture expenses. You might want to take something with you when you move out. Instead of going halfsies on each appliance, try splitting the cost of furniture overall – you buy the dishes, they get the microwave.
Cash
Don't borrow or lend money. Make sure you pay the rent and bills on time, but avoid spotting them a fiver for that sandwich. Trust us.
Being a great roommate takes work and more than just five C's (cleanliness and compromise could easily be added to the list), but stick to these, and you'll make Monica and Rachel proud.