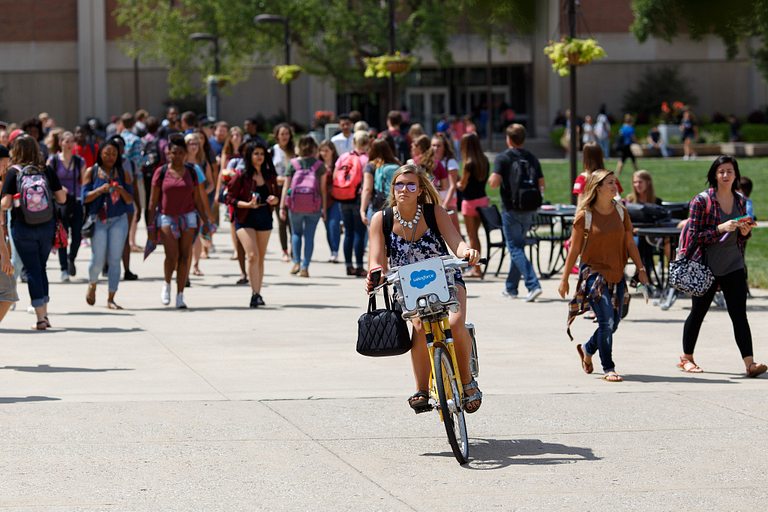 Car in the shop? No problem. Going out for the night and don't want to mess with driving or parking? No problem. Looking for a way to save on gas? No problem. Want to reduce your impact on the environment? That's very noble of you. Also, no problem. Indianapolis has some great public transportation options for you that make getting around, well … no problem.
BlueIndy
You've probably seen those tiny blue-and-white cars around town. BlueIndy has a new reservation kiosk, and it's right outside of Lecture Hall at Vermont Street and University Boulevard.
The electric car service offers a youth/student rate of $30 per year for the membership fee and $3 for the first 20 minutes of driving. You don't have to commit to a membership, though. A day pass starts at $8 for the first 20 minutes, with a 40-cent charge per minute after that.
Learn how to reserve your car at BlueIndy.
Zipcar
If you're looking for another car-sharing option, try Zipcar. IUPUI students can join for $15. Rates on campus Zipcars start as low as $7.50 per hour. Gas, insurance, reserved parking spots and up to 180 miles of driving per day are included in Zipcar rates, and cars can be reserved for as little as an hour or for multiple days.
Download the Zipcar app to make reservations, lock and unlock the vehicles, and honk the horn to help locate the vehicle. Reservations can also be made over the phone or on Zipcar's website.
IndyGo
The bus might not be the most glamorous mode of transportation, but it is effective and convenient, especially if you buy your tickets at the CrimsonCard office in the Campus Center. The IndyGo website has loads of information to make your trip simple. If you're like us and aren't a fan of trying to decipher all those maps, the site has a great planner where you can enter your destination and when you plan to travel, and it helps you find the best route.
Full fares range from $1.75 for a single trip to $60 for a 31-day pass. The new IndyGo Veteran Pass even lets military veterans travel for free after purchasing the initial $2 pass.
Keep an eye out for additional lines in the coming months. The Transit Plan has already added 200 weekly trips since June, and with the addition of the Red Line, now under construction, more are on the way.
Pacers Bikeshare
With 29 stations – including one across the street from the Campus Center – and 250 bikes around the city, you can pedal just about anywhere in a 30-minute radius for one flat fee. And we like flat, especially when biking. You can get a Daily Pass ($8.56) online or at a station kiosk, as well as Monthly ($16.05) and Annual ($85.60) passes on the Pacers Bikeshare website.
So how does it work? After either entering your information at the kiosk or touching your membership card to the dock, just start riding. (Don't forget to adjust the seat and put on the recommended helmet first.) The initial fee covers you for the first half-hour; additional charges apply after that. When you're finished, just roll your bike into any docking station and look for the lights indicating you've locked it in.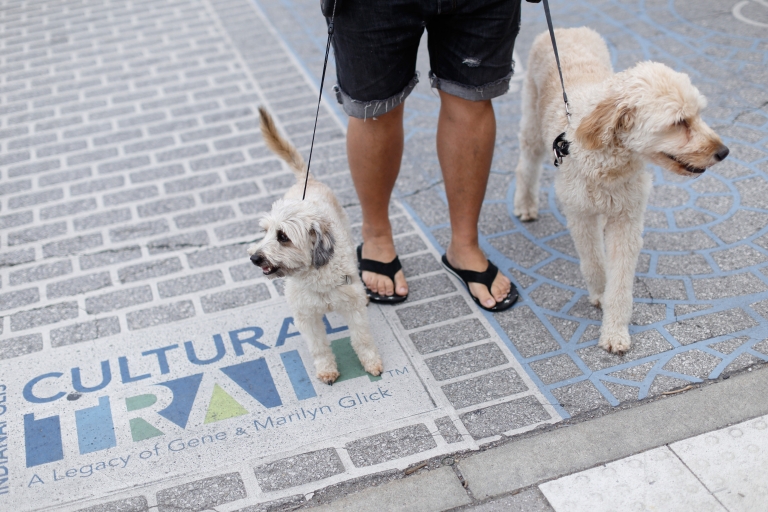 Walking routes
Although not technically public transportation, your own two feet are a great way to save some money, go easy on the environment and get in some extra steps for your fitness goals. Try taking the downtown canal or the Indianapolis Cultural Trail – there are eight paths and tons of art – to get off of the main city streets and add a bit of scenery to your walk. On campus, take the challenge to see how far you can get without ever going outside.