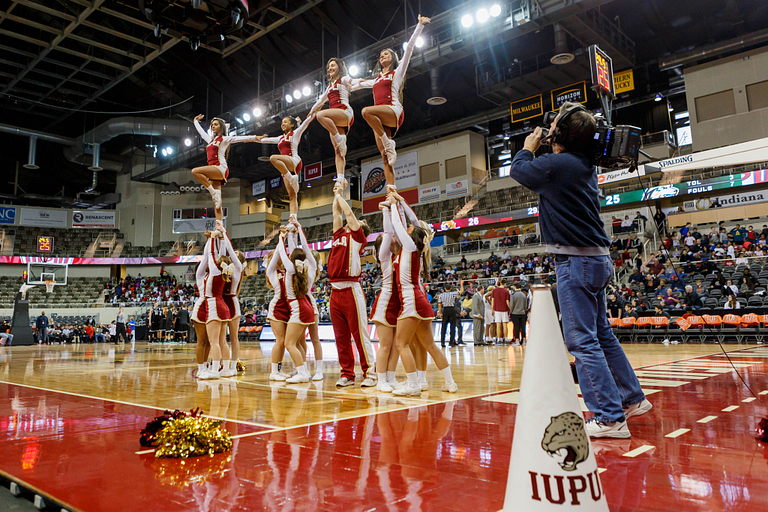 If you're paying attention to your IUPUI Jaguars, you've probably heard of ROAR for 5, a campaign calling all students, alumni, faculty and staff to take the challenge and attend five home athletic events this year in honor of our 50th anniversary. We don't think you need five reasons to be part of the campaign, but we're going to give them to you anyway.
Free admission
As a student, you get into all Jaguars competitions for free. Just bring a valid CrimsonCard, and you're good to go.
Free stuff
With ROAR for 5, you're eligible for all kinds of free stuff. At your first game, you'll receive a free tumbler, which you can then use at future games to get soda refills at concession stands for – you guessed it – free. You'll also collect a final gift after you attend your fifth game and complete the challenge.
Lyft discounts
Not all of our home games are on campus. (Here's looking at you, men's basketball.) Get five Lyft discounts to home games at the Indiana Farmers Coliseum using the code ROARFOR5.
Your chance to ROAR
We hope you're as proud to be an IUPUI Jaguar as we are. What better way is there to show your pride and spirit than to ROAR for your favorite squads over and over and over and over and over? (That's five overs.)
Top-notch teams
Speaking of your favorite squads, did we mention the competition would be fierce? Among those teams you'll get to see are the defending Horizon League women's soccer champions and the women's basketball team, which advanced to the WNIT last winter. Looking for more options for the fall? Don't forget volleyball, which is hosting an early-season tournament this weekend, and men's soccer, playing next at Carroll Stadium this Friday night.
It's great teams that make everything possible, after all. The campaign wouldn't be possible without you, not to mention support from the Welcoming Campus Innovation Fund and partnerships between Athletics, Alumni Relations, and Housing and Residence Life.
When you go to the games, be sure to look for the check-in tables at each event to get your credit. And remember to share your pictures on social media. Tag @IUPUI and use the hashtags #welcomingcampus and #ROARfor5 when tweeting about the campaign.