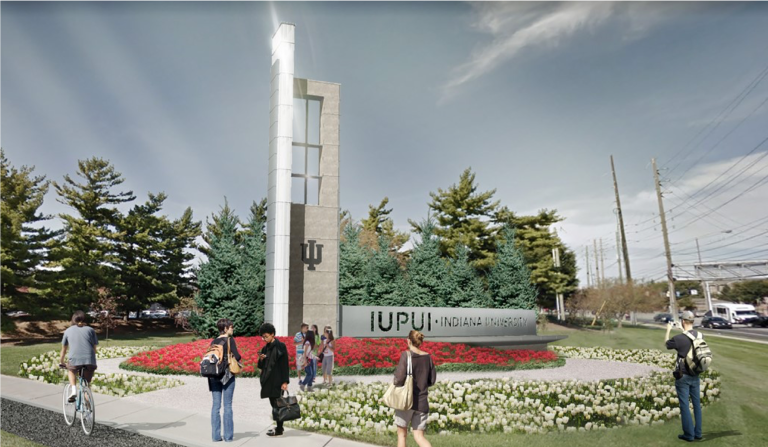 INDIANAPOLIS – Generous gifts from Indiana University alumni Jefferson and Mary Shreve will create an IUPUI campus gateway and scholarships designed to build community, opportunity and legacy for IUPUI students, the Indianapolis community and beyond.
The Shreve Gateway, which will be constructed at the corner of Michigan and West streets, will welcome all who come to campus, letting them know the moment they enter IUPUI. Composed of limestone, stainless steel, precast concrete and glass, the Shreve Gateway will echo the composition of other campus buildings and will stand 52 feet tall, providing a highly visible feature on one of the campus's most-traveled thoroughfares.
These significant gifts from the Shreves will also allow IUPUI to create two new endowed scholarships in the Shreve family name.
"The quality education that students receive at IUPUI opens a world of possibilities for an individual's future," Shreve said. "Mary and I are honored to be able to use our gifts to help remove the barriers that may stand in the way of students reaching that world. And while removing barriers, it is also fun to be able to create the entry focal point to IUPUI's campus. The downtown campus has been around for about as long as Mary and I have. We've enjoyed watching it develop within our lifetimes."
The Shreve Study Abroad Scholarship will assist IUPUI's strategic goal of becoming a global campus by increasing the accessibility of international study abroad experiences for IUPUI students who are Indiana residents. The Shreve Opportunity Scholarship will advance another goal of IUPUI's strategic plan by supporting qualified Indiana residents in need of financial assistance while in pursuit of a degree at IUPUI.
"We at IUPUI are deeply grateful to Jefferson and Mary Shreve for their generous support of the IUPUI campus and the educational legacy they are creating through the Shreve Study Abroad Scholarship and the Shreve Opportunity Scholarship," IUPUI Chancellor Nasser H. Paydar said. "We are also proud that their name will mark the entry to our campus at Michigan and West streets and anticipate that this gateway will provide generations of IUPUI students with a landmark that anchors their best memories of IUPUI."
Both Indianapolis natives, Jefferson and Mary are also both graduates of IU Bloomington. Jefferson earned his degree in 1989, and Mary earned hers in 1988. Residents of the south side of Indianapolis, the Shreves have remained actively involved with the university. Jefferson, in particular, has served on the College Alumni Board and later on the IU Alumni Association Board, eventually assuming the role of national chairman. He continues to lend leadership and expertise as a member of the Executive Dean's Advisory Board for IU Bloomington's College of Arts and Sciences. He is the founder and president of Storage Express, the largest self-storage company headquartered in Indiana.
These gifts count toward the $3 billion For All: The Indiana University Bicentennial Campaign.
For All: The Indiana University Bicentennial Campaign is taking place on all IU-administered campuses, including IU Bloomington, IUPUI, IU East, IU Kokomo, IU Northwest, IU South Bend and IU Southeast. The campaign will conclude in June 2020 to coincide with IU's bicentennial celebration. To learn more about the campaign, its impact and how to participate, visit forall.iu.edu.