INDIANAPOLIS – IUPUI school officials and students will be available for interviews at move-in day, Saturday, Aug. 18, on the eve of the beginning of the academic year.
Celebrating its 50th anniversary, IUPUI today is a first-choice destination residential university, with nearly half of incoming freshmen choosing to live on campus. More than 8 percent of the entire student body lives on campus.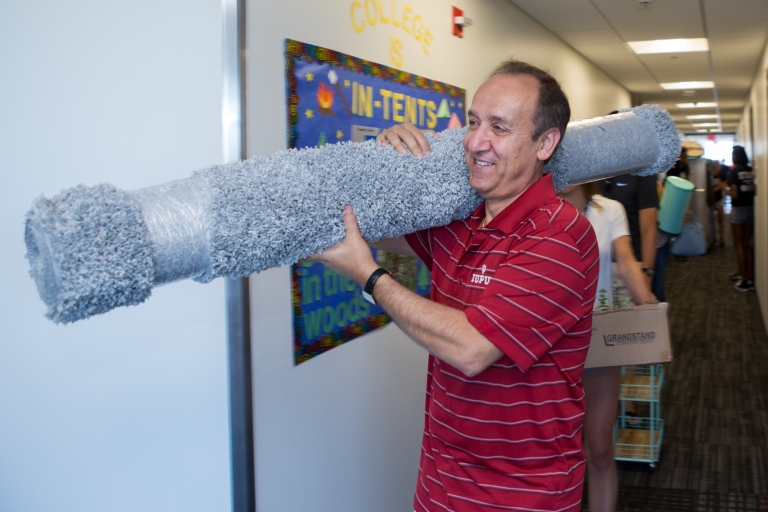 From 10 a.m. to 11:30 a.m. Saturday, Aug. 18, Chancellor Nasser H. Paydar will be at North Hall (10 a.m.), University Tower (10:30 a.m.) and Ball Hall (11 a.m.) to greet students and share firsthand what it means for IUPUI to be a welcoming campus. Vice Chancellor for Student Affairs Eric Weldy and Director for Housing and Residence Life Josh Skillman will also be on hand.
"Students living on campus officially become IUPUI Jaguars when they move into their residence halls, and I appreciate the energy and excitement they bring," Paydar said. "I'm looking forward to meeting many of them and their families and will help with the transition in whatever way I am able."
WHAT: IUPUI move-in day
WHEN: 10-11:30 a.m. Saturday, Aug. 18
WHERE: IUPUI's North Hall, University Tower and Ball Hall residences
WHO: Chancellor Nasser H. Paydar, Vice Chancellor for Student Affairs Eric Weldy, Director for Housing and Residence Life Josh Skillman, IUPUI students and their families