INDIANAPOLIS – As IUPUI opens for a 50th year of classes across campuses in Indianapolis, Columbus and Fort Wayne, it is greeting the brightest and most diverse incoming freshman class in the school's history.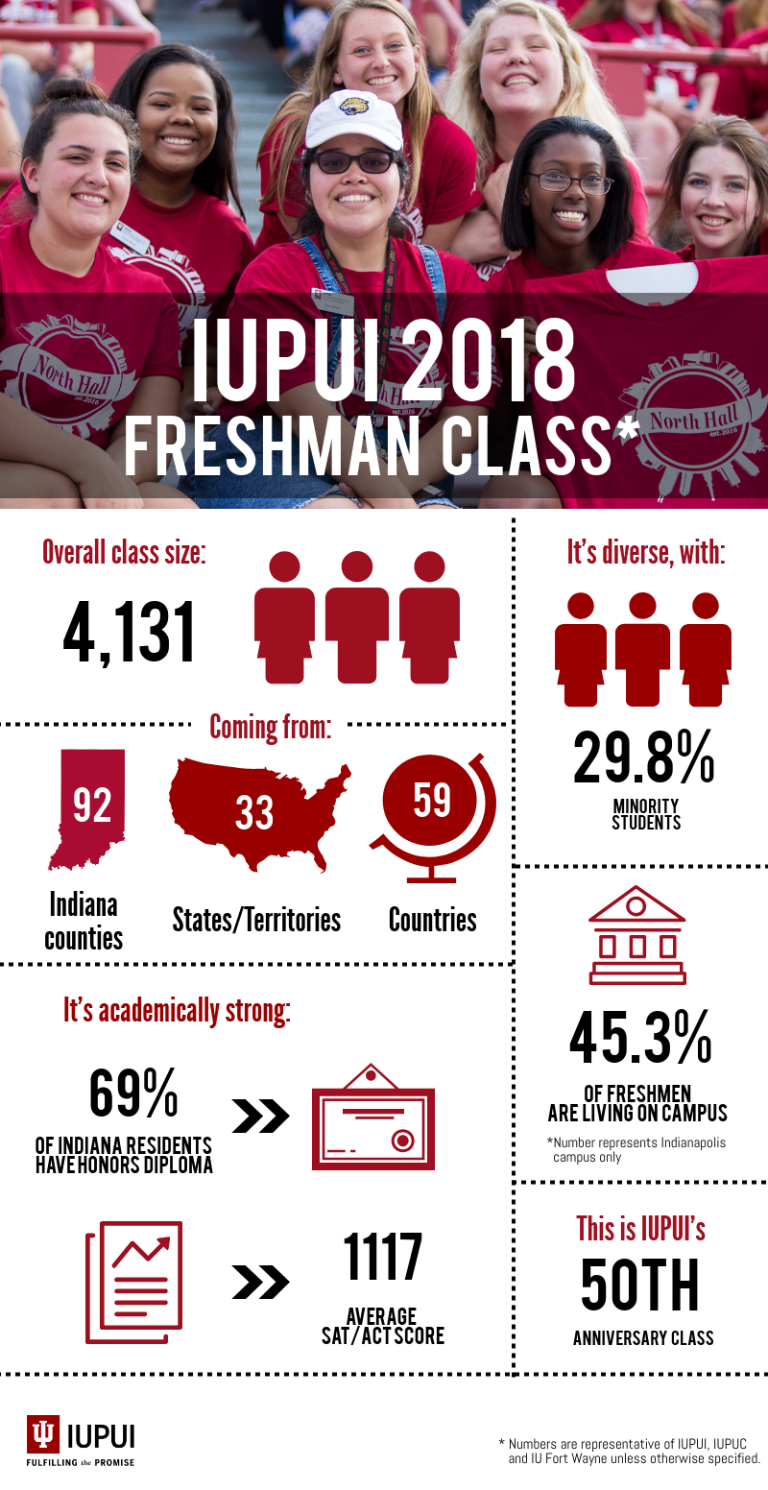 The latest figures project 4,131 beginning freshmen enrolled across the three cities, with an average SAT score of 1125 at Indianapolis, where 70.7 percent of in-state students earned the Indiana high school academic honors diploma.
"As we celebrate IUPUI's milestone 50th anniversary as a campus, we are delighted to welcome another class of outstanding students," Chancellor Nasser H. Paydar said. "We look forward to this diverse student body continuing to achieve in the classroom and contributing to all that makes IUPUI a destination campus for Jaguars from Indiana and around the world."
Minority students constitute 29.8 percent of the freshman class in Indianapolis, up from 28.3 percent last year.
In-state students on campuses in Indianapolis, Columbus and Fort Wayne make up 91 percent of the freshman class, while domestic nonresidents comprise 6.8 percent of the class. The incoming class hails from 33 U.S. states and territories and all 92 Indiana counties.
IUPUI's strong international contingent includes students representing 59 countries.
Additionally, 45.3 percent of the incoming Indianapolis class is living on campus, an increase over last year's number.
"We are ecstatic about the incoming class of Jaguars and the energy they're bringing to IUPUI," said Boyd Bradshaw, associate vice chancellor for enrollment management and chief enrollment officer. "Their educational accomplishments enhance our campus, and their diverse backgrounds create a dynamic learning environment."
IUPUI's total enrollment is 28,868 students, including 1,762 international students hailing from 147 countries.