INDIANAPOLIS – This fall, the Herron School of Art and Design at IUPUI presents a survey of collaborations between Herron alumnus Kenneth Tyler and some of the 20th century's most iconic artists in the Galleries at Herron Sept. 19-Nov. 10 in conjunction with IUPUI's 50th-anniversary celebrations.
With a "no rules" mantra, master printer Kenneth Tyler worked with dozens of artists from 1966 through 2001 to create prints that redefined the medium of fine art printmaking. "Kenneth Tyler: The Art of Collaboration" offers an intimate view into Tyler's visionary partnerships with Josef Albers, Helen Frankenthaler, David Hockney, Terence La Noue, Roy Lichtenstein, Joan Mitchell, Robert Motherwell, John Newman, Steven Sorman, Frank Stella and John Walker.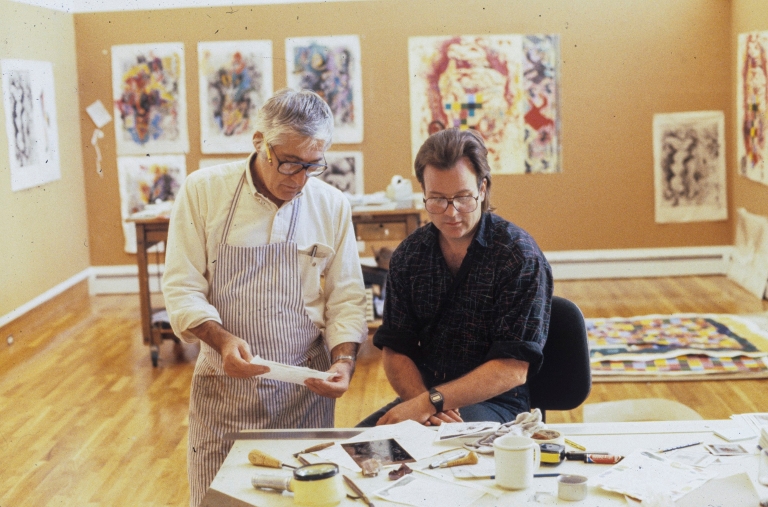 In addition, the exhibition brings together artwork on loan from the National Gallery of Australia, Canberra, including the printing matrix for Frank Stella's "Juam"; archival photographs taken in the Tyler Graphics Ltd. workshops during the time of the partnerships; and eight documentary films by Frank Cantor.
"Tyler is a distinguished alumnus of Herron School of Art and Design who graduated with a Master of Art Education in 1963 and was awarded an honorary Doctor of Fine Arts from Indiana University in 2005," said professor and former Dean Valerie Eickmeier, who was integral to bringing the Tyler exhibition to Herron. "I am honored to welcome Ken back to the school and highlight works of art from his extraordinary personal collection in the Galleries at Herron."
"Kenneth Tyler: The Art of Collaboration" is made possible by the generous support of the Allen Whitehill Clowes Charitable Foundation and the Sam Francis Foundation. In-kind support for the opening reception is provided by Sun King Brewery. The exhibition is accompanied by a fully illustrated 44-page booklet containing Tyler's personal reflections and an essay by Jane Kinsman, head of international art at the National Gallery of Australia, Canberra.
Also on view in the Galleries at Herron Sept. 19-Dec. 12:
In the Marsh Gallery: MacArthur Award "Genius Grant" recipient Mary Reid Kelley and Patrick Kelley's "The Minotaur Trilogy," a trio of videos that bring a feminist perspective to the Greek myth of the minotaur, using punning wordplay, handmade costumes and sets, and bawdy humor to riff on classical mythology and pop culture.
In the Basile Gallery: "Stuff(ed)," an exhibition featuring the work of five contemporary artists who explore the playful, subversive power of sculpted fabric to transform and reimagine mass-market commodities and bric-a-brac from everyday life. Participating artists are Jessica Dance, Gil Yefman, Andrea Pritschow, David Gabbard and Natalie Baxter.
A public talk with Tyler will occur during the opening reception for all three exhibitions from 5:30 to 8 p.m. Wednesday, Sept. 19, at Eskenazi Hall, 735 W. New York St. The Galleries at Herron, located in Eskenazi Hall on the IUPUI campus, are free and open to the public 10 a.m.-5 p.m. Monday through Saturday and 10 a.m.-8 p.m. Wednesdays.
Parking is free, courtesy of The Great Frame Up Indianapolis with validation from the Herron galleries. Visitors may park in the Sports Complex Garage adjacent to Eskenazi Hall or on levels 5-6 of the Riverwalk Garage. Visit HerronGalleries.org for more information.
Related public programming
Herron's fall exhibitions and programs occur in conjunction with the 50th anniversary of IUPUI's founding in 1969. Now through June 30, 2019, IUPUI will honor the past; celebrate the present; and envision the next 50 years with openings, unveilings and special events, including:
Kenneth Tyler: Talk and Opening Reception, 5:30-8 p.m. Wednesday, Sept. 19, Basile Auditorium.
Carrie Mae Weems: Jane Fortune Outstanding Women Visiting Artist Lecture, 5:30-6:30 p.m., Wednesday, Oct. 24, Basile Auditorium.
Mary Reid Kelley and Patrick Kelley: Christel DeHaan Family Foundation Visiting Artist Lecture, 5:30-6:30 p.m., Wednesday, Nov. 28, Basile Auditorium.
Visit 50.iupui.edu to learn more.
About the Herron School of Art and Design
Founded in 1902, the Herron School of Art and Design is the premier accredited professional school of art and design in the state of Indiana and is part of the thriving urban campus of IUPUI. Herron has more than 50 full-time faculty serving 11 undergraduate and three graduate programs and a curriculum that prepares graduates to be leaders in a world that requires a unique combination of creativity, conceptual skills and technical abilities. Herron is an engaged community and regional partner including five public galleries; community learning programs; and the Basile Center for Art, Design and Public Life.