This edition of Inside IU focuses on IU's Grand Challenges program. Part of the university's Bicentennial Strategic Plan, the program is an unprecedented effort to focus IU's resources on critical issues facing Indiana and the world.

The goal is not only to develop a better understanding of those issues but to partner with businesses, government agencies, other universities and advocacy groups to help create and deploy innovative solutions.
We currently have three IU Grand Challenge initiatives underway. Together, they involve hundreds of IU faculty, staff and students in dozens of departments, with many new hires recently concluded or in the works. And they target some of the most pressing issues we face.
Precision Health
IU's first Grand Challenge, announced in June 2016, is the Precision Health Initiative, led by Anantha Shekhar, Distinguished Professor and executive associate dean for research at the IU School of Medicine.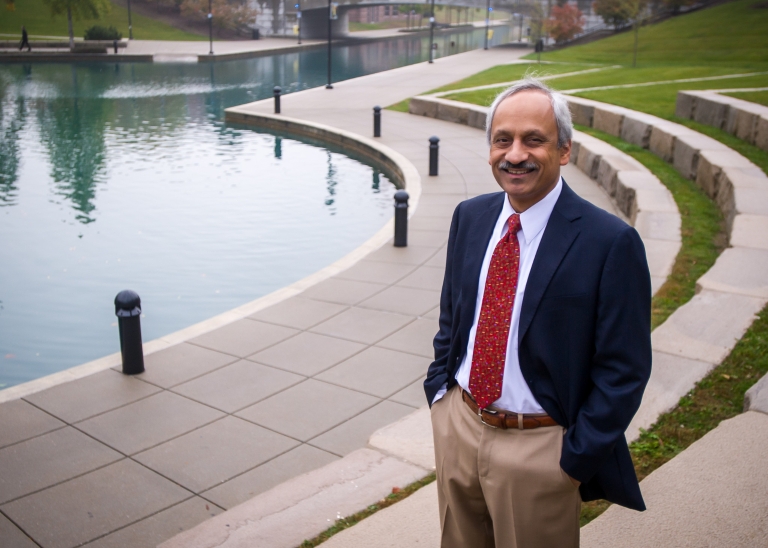 Since its launch, this Grand Challenge has led to the hiring of 33 new faculty. Together, the team is targeting multiple myeloma, triple negative breast cancer and pediatric sarcoma – all cancers that are prevalent in Indiana. Precision Health leaders have also announced that they are expanding their work to search for ways to prevent Type 2 diabetes and slow the progression of Alzheimer's.
In addition to the focus on diseases, the Precision Health Grand Challenge involves a groundbreaking effort to canvas rural Indiana to collect information and DNA samples from 2,000 residents to understand how genetic, behavioral and environmental factors influence health. The Precision Health Initiative involves colleagues from many IU schools including the School of Medicine; the College of Arts and Sciences at IU Bloomington; the IU School of Informatics, Computing and Engineering on the Bloomington campus and the School of Informatics and Computing on the IUPUI campus; and the School of Nursing.
Prepared for Environmental Change
The Prepared for Environmental Change Grand Challenge was launched in May 2017 and is led by Ellen Ketterson, Distinguished Professor of Biology and Gender Studies in the College of Arts and Sciences. Its goal is to help communities, businesses, families and policymakers prepare for and adapt to the real-world effects of environmental change.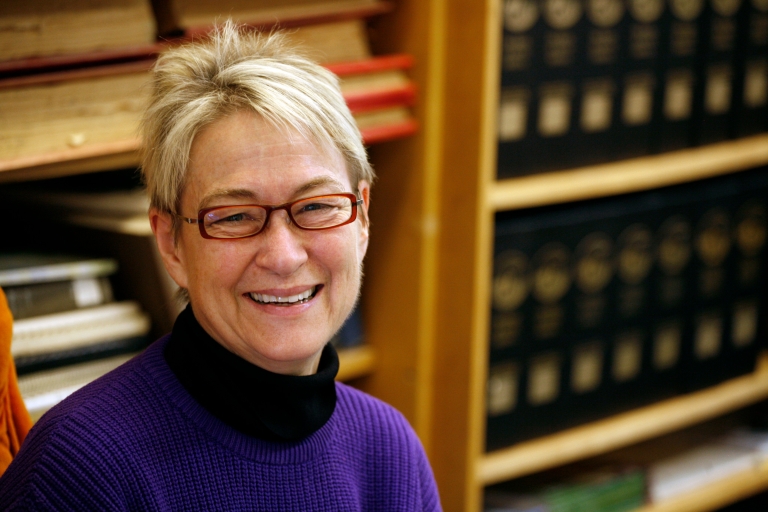 At the heart of this Grand Challenge is the IU Environmental Resilience Institute. Launched in fall 2017, the institute just welcomed a dozen research fellows to IU. In addition, earlier this month, the institute's team launched the Environmental Resilience Institute Toolkit – or ERIT – an interactive database developed in partnership with the Environmental Protection Agency that enables decision-makers to identify information and services related to climate changes that are specifically tailored to local needs.
Responding to the Addictions Crisis
IU's most recent Grand Challenge, Responding to the Addictions Crisis, is led by IU School of Nursing Dean and Distinguished Professor Robin Newhouse. It was launched in October 2017 at the Indiana Statehouse by IU President Michael A. McRobbie, Gov. Eric Holcomb and IU Health CEO and President Denis Murphy. Working closely with these and many other partners, this Grand Challenge is dedicated to implementing actionable solutions to curb the crippling effects of addiction in Indiana and nationwide.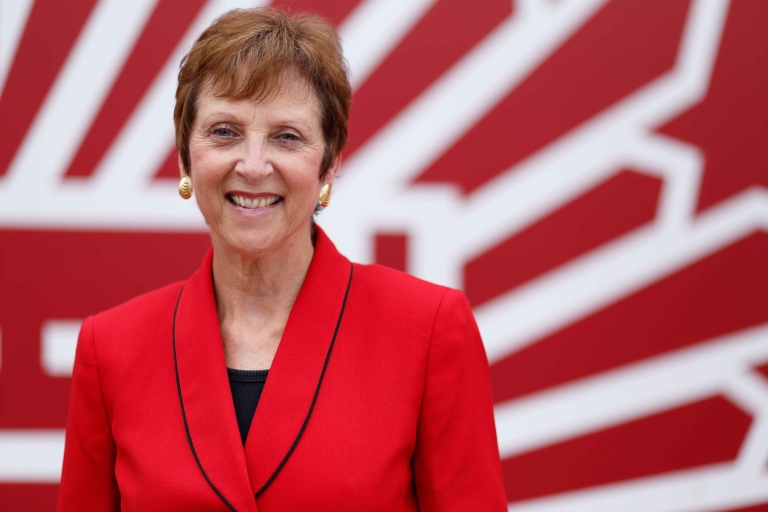 In the initiative's first phase, 16 research projects are tackling topics such as treatment center capacity-building and the creation of online education centers for health care professionals. Phase two projects will be announced this fall. Meanwhile, IU experts already have delivered a report to state and federal leaders on the legal and policy barriers to effective responses to the opioid crisis, and partnered with the Indiana Supreme Court on a statewide summit for judicial and law enforcement professionals on medically assisted therapies for addictions.
While the common objective of all three of these initiatives – creating and deploying innovative solutions to some of society's most pressing issues – is ambitious and important in its own right, the benefits reach far beyond the original goals. For example, we are seeing new collaborations across departments and campuses. We are finding new support from our government, industry, philanthropic and other partners as they witness firsthand the practical benefits of research and IU's commitment to delivering those benefits. We are also making new and lasting investments in IU's research infrastructure.
At the heart of all of the Grand Challenge initiatives is a community of IU faculty, staff and students, working together with partners far beyond the university, who collectively bring extraordinary skills, experience and commitment to the problems at hand. The results of this commitment are evident in the early achievements of these dedicated professionals. It's my pleasure to introduce this special edition of Inside IU, where you can read more about their efforts.
Fred H. Cate is vice president for research, Distinguished Professor and C. Ben Dutton Professor of Law at the Indiana University Maurer School of Law.