A promising therapy for the treatment of cancer has come to Indiana, thanks to the efforts of scientists and researchers who are part of Indiana University's Precision Health Initiative.
Led by the IU School of Medicine, Precision Health is IU's big health care solution, established in 2016 with a $120 million investment by the school and the IU Grand Challenges program. The initiative incorporates the social sciences, ethics, education, data and computational sciences to enable people to better prevent, identify, treat and cure diseases across a person's lifespan.

CAR T-cell therapy harnesses the disease-fighting power of a patient's own immune T cells by taking them out of the patient's blood, changing them in a laboratory, then infusing them back into a patient's body to attack cancer cells. The therapy was recently administered for the first time in Indiana to a lymphoma patient at IU Health. Pediatric patients are expected to be able to receive CAR T-cell therapy as early as fall 2018 at Riley Hospital for Children at IU Health.
As a result of the IU Precision Health Initiative, IU Health is the only approved site in Indiana to administer FDA-approved CAR T-cell therapies, widely considered by some as a cure for certain types of leukemia and known for improved remission rates in certain lymphomas.
In addition to CAR T-cell therapy, IU Precision Health leaders recently announced that their bold goals for developing cures and preventive treatments will focus on specific diseases prevalent among Indiana residents. More than 33 new research faculty from throughout the country have been recruited to IU to expand the university's expertise in and build advanced research capabilities around:
Developing new approaches for treating triple negative breast cancer and multiple myeloma that will cure more of these patients.
Curing more children with pediatric sarcoma, a particularly deadly cancer found in tissues such as tendons, bones and muscle.
Preventing the onset and progression of Type 2 diabetes by discovering what biological factors trigger the disease and tailoring treatments to individuals.
Slowing the progression of Alzheimer's disease by researching the role of the immune system and developing new immunotherapies.
"The IU Precision Health Initiative incorporates a multidisciplinary view of health, illustrated by the initiative's several scientific pillars of investigation: genomic medicine; cell, gene and immunotherapies; chemical biology and biotherapeutics; data and informatics; and psychosocial, behavioral and ethics," said Anantha Shekhar, principal investigator of the IU Precision Health Initiative and executive associate dean for research affairs at the IU School of Medicine.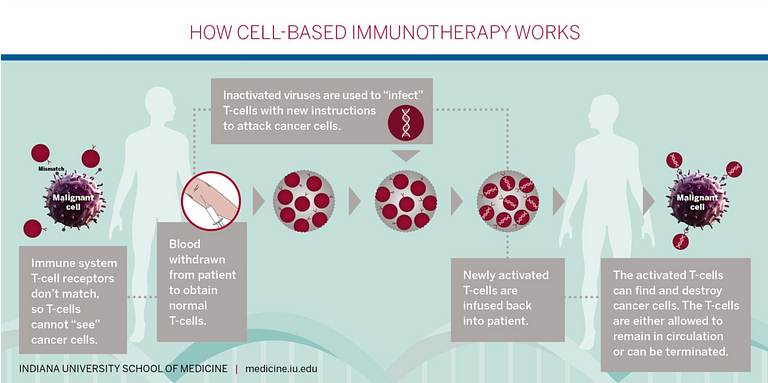 The initiative has also enabled IU School of Medicine to open its first Good Manufacturing Practice Cell Therapy Lab, which allows IU scientists to research and develop new cell, gene and immunotherapy-based treatments on campus, and to acquire new genomic research technology that can perform a staggering 200 whole genome sequences per week – bringing to IU the most powerful genome sequencing capabilities in the Midwest.
Most recently, a Precision Health team of social scientists led by IU Bloomington's Bernice Pescosolido, a Distinguished Professor of sociology, began canvassing rural Indiana to collect information and DNA samples from people of all backgrounds for a statistically representative sample of 2,000 Indiana residents. The data collected will help researchers understand how genetic, behavioral and environmental factors influence a person's health.
Participants are asked to complete a questionnaire covering a variety of health topics such as their exposure to environmental contaminants and their attitudes toward mental health treatment. Participants will also be asked to discuss their social networks and provide a saliva sample for DNA collection.
"The progress made over the last two years is already impacting the care we provide patients," said IU School of Medicine Dean Jay L. Hess. "The Precision Health Initiative ensures Hoosiers do not have to travel to receive leading-edge care and participate in clinical trials."
Andrea Zeek is the research communications manager for the IU School of Medicine.