This fall, Indiana University faculty and staff can get moving for a great cause. The "Sustain and Move IU!" challenge will explore everyday physical activities that benefit our health and the environment.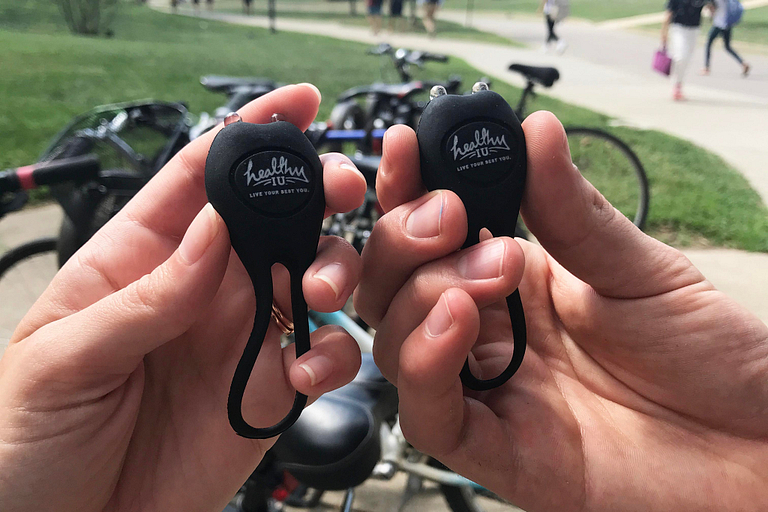 The three-week challenge starts Oct. 8 and is open to all members of the IU community – faculty, staff, spouses and students across the state. Each week of the challenge focuses on one form of sustainable physical activity, including walking, bicycling and carpooling/busing.
It's free to participate, and full-time faculty and staff and their spouses are eligible to receive a portable walking/biking LED light as a challenge incentive. Everyone who signs up will get activity ideas emailed to them each week and should pick two to try.
The activities for the challenge are intended to be small changes that can be taken by anyone, anywhere. Ideas include holding a walking meeting, learning about bicycle safety, carpooling to lunch and more. The challenge also includes activity ideas for participants who are unable to walk, bike, carpool or take the bus.
"Sustain and Move IU!" is a partnership between Healthy IU, Indiana University's workplace wellness program, and Sustain IU, which encourages every Hoosier to play a role in creating a living legacy committed to a sustainable future for all.
"Many of us know the benefits physical activity brings to our brains and our bodies. But it's also one of the most important pieces of keeping our planet healthy, too," said Patty Hollingsworth, Healthy IU director. "This challenge sheds light on that connection, celebrating your contribution to both self-care and planet-care."
Andrew Predmore, interim university director of sustainability, notes that a focus on connection and collaboration is crucial to any sustainability effort.
"Sustain IU is committed to working to provide, and improve, alternative transportation options across IU for the health of the campus, and all who call it home," Predmore said. "Each year, we work with hundreds of students, faculty and staff on numerous programs to encourage a thriving campus; our partnership with Healthy IU is a perfect example of how sustainability and health and well-being are paramount to that goal."
Julie Newsom is the communications specialist for Healthy IU.