Staff, faculty, students and visitors to IU Bloomington and IUPUI are now able to use a mobile phone app to pay for metered parking spaces on both campuses.
The opportunity comes courtesy of the university's new agreement with ParkMobile, the leading provider of smart parking and mobility solutions in the U.S. The provider also contracts with the cities of Bloomington and Indianapolis for their smart meters, meaning users need only download one app to park in the city or on campus.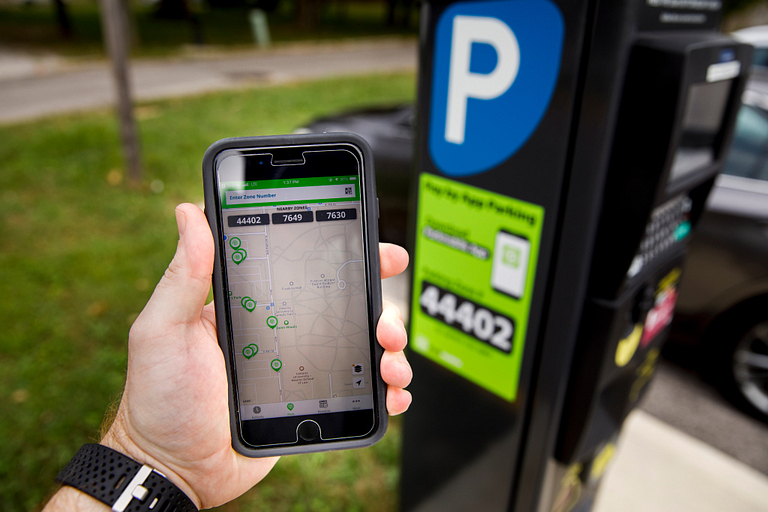 "We're excited to bring a convenient payment option to our parking community," IU Bloomington Parking Operations director Amanda Turnipseed said. "The ParkMobile app allows users to manage their metered parking remotely, and because the mobile payment solution is used in both the cities of Bloomington and Indianapolis, it integrates well with the surrounding areas."
ParkMobile is a free app available for iPhone and Android devices. Here's how to set up and use an account:
Download the app to your mobile device, or set up an account via the parkmobile.io website.
Add your vehicle license plate number and state. Users can add up to five license plate numbers per account.
Choose a payment option, and follow the steps to set up a payment account. Please note: There is a 35-cent convenience fee charged by ParkMobile for each transaction.
Enter the zone number located on nearby stickers or signs and corresponding with your parking spot, or choose from zones on the app.
Choose your parking duration, and confirm your information.
A ticker will count down your time remaining. In some locations, users can extend their metered time using the app.
The app can be used to pay for nearly 40 meters on the Bloomington campus and about 70 on the IUPUI campus. The app cannot be used on meters at the Wells Library on the Bloomington campus, as those are limited to 45 minutes of parking time.