EDITOR'S NOTE: This release was updated on Sept. 12 to delete information about scheduled public events that were canceled after this release was originally published. 
BLOOMINGTON, Ind. – Many artists put their heart, soul and passion into their work for the world to see. For Ghanaian artist Joseph "Paa Joe" Ashong, however, his art is dedicated to the individual passion of his client and is typically seen by the world for only a short time.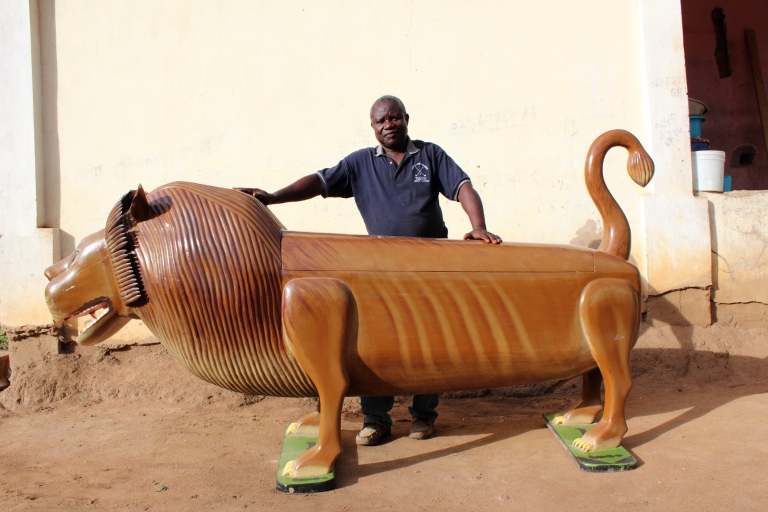 Paa Joe is a master craftsman who creates fantasy coffins, part of Ghana's tradition of abebuu adekai, which started in the 1950s with artists creating custom coffins for priests and chiefs. These functional coffins are most often in the shape of animals but can be nearly anything the client dreams. Paa Joe and his team have made coffins as varied as lions, shoes and a baby grand piano. As one of the most well-known fantasy coffin makers, Paa Joe has had his work displayed in and commissioned from locations around the world.
Next week, Paa Joe, his son and a former apprentice will bring their expertise and the intricacies of this Ghanaian tradition to the campuses of IUPUI and Indiana University Bloomington. Paa Joe will work with students and faculty at the Herron School of Art and Design at IUPUI during a nine-day workshop that will highlight Ghana's traditions and the artistry involved in the making of fantasy coffins.
"Paa Joe is an internationally respected artist and recognized leader in his field within Ghana," said Greg Hull, professor and interim chair of fine arts at the Herron School of Art and Design. "It's an honor to be able to host him on our campus thanks to a grant from the IUPUI Arts and Humanities Institute. It is our hope that through his visit and workshops, everyone will gain insight into a uniquely different creative process and world culture."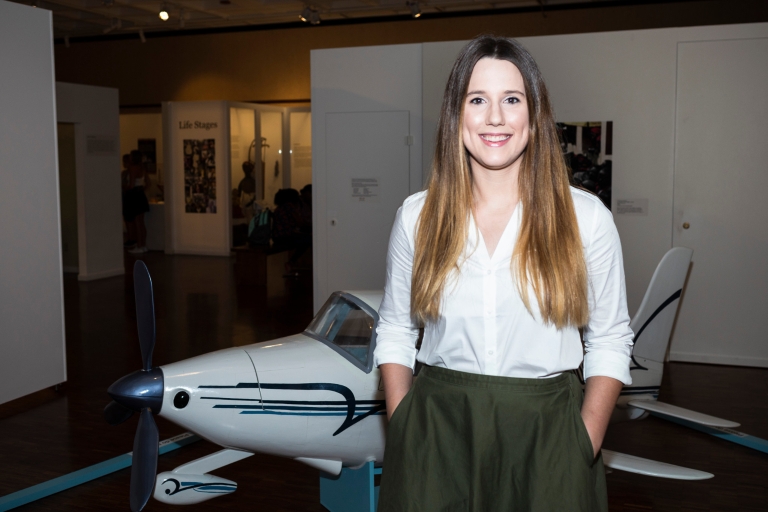 In Bloomington, IU's Mathers Museum of World Cultures is hosting an exhibit, "Shapes of the Ancestors: Bodies, Animals, Art and Ghanaian Fantasy Coffins." The exhibit, part of the campus's Themester, was curated by Kristin Otto, a Ph.D. candidate in anthropology.
Otto, who studies African art, was a research associate at the Mathers Museum in August 2017 when the museum received a one-of-a-kind donation of an airplane-shaped fantasy coffin. Given her background and research interests, Otto was asked to research and curate an exhibit on this unique Ghanaian tradition. She spent two weeks in Ghana visiting Paa Joe's workshop, learning about the process and interviewing the people who work there.
"I was really, really lucky to be able to do this research," Otto said. "I was able to get a sense of the artists, their technical skills and artistry. I got to see them work on a series of ocean-themed coffins as well as an ear-of-corn-shaped coffin that was to be used for a funeral."
The exhibit features four full-size coffins: the airplane, a pink fish on loan from IU's Eskenazi Museum of Art, a hen on loan from the Children's Museum of Indianapolis and a Nike shoe also on loan from the Children's Museum. In addition, visitors can view five mini/collectible coffins: a rooster, lion, eagle, beer bottle and Coca-Cola bottle.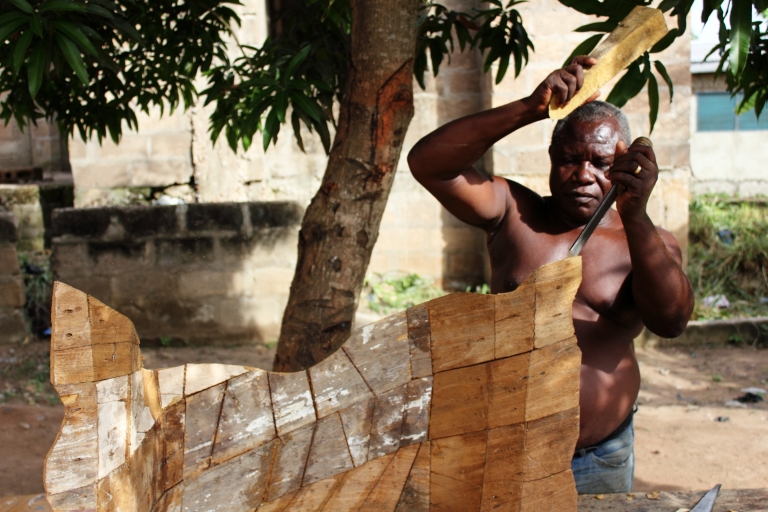 The exhibit also focuses on Otto's research in Ghana, including how the fantasy coffins are made, the process and the people behind the work. Visitors to the exhibit will also find information on the cultural uses of these coffins both within Ghana and around the world.
"These craftsmen just have an intuitive sense of the material and shape; they don't draw or sketch anything," Otto said. "They're really skilled at this, and it's an incredible honor for Paa Joe to come here."
Otto's exhibit is on display at the Mathers Museum through Dec. 16.
"This project is an intentional effort to broaden international programming on our campuses and continue strengthening Herron's connection with the larger university," Hull said. "For our students, having access to engage and work with professional artists provides insight that can't be simulated in the classroom and shows them that there are many diverse paths that can be taken in pursuit of their own professional practice."