BLOOMINGTON, Ind. – An Indiana University alumnus and pioneer in the field of molecular biology has been named a recipient of the 2018 Albert Lasker Award for Basic Medical Research.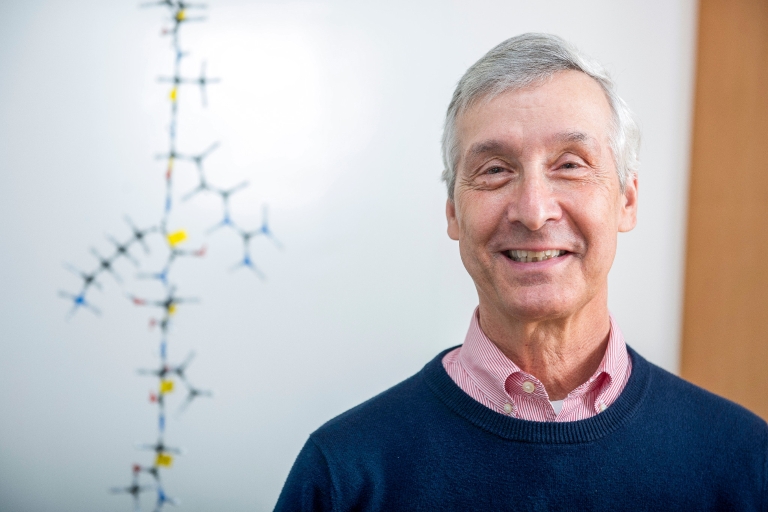 C. David Allis graduated in 1978 with a Ph.D. in biology from the IU Bloomington College of Arts and Sciences' Department of Biology, where he also earned a master's degree. In 2015, he delivered the university's graduate commencement address and received an honorary Doctor of Science degree during the ceremony. He is also a visiting professor at the IU School of Medicine.
Established in 1942 by the Mary and Albert Lasker Foundation, the Lasker Award is widely regarded as America's top biomedical research prize, with nearly 90 past recipients going on to win a Nobel Prize. Allis' award recognizes his "discoveries elucidating how gene expression is influenced by chemical modification of histones – the proteins that package DNA within chromosomes." He will officially accept the award in New York City on Sept. 21.
"David Allis is one of the leading molecular biologists of his generation, and his discoveries related to how genes are activated have opened up new avenues of research with the potential to yield targeted treatments for many devastating diseases," said Dr. Jay L. Hess, IU executive vice president of university clinical affairs and dean of IU School of Medicine. "On a personal note, I have been fortunate to collaborate with David on many occasions over the past two decades. He has been an extraordinary colleague and source of wisdom and encouragement. I join with my colleagues at Indiana University in congratulating David on this prestigious award and celebrating his contributions to medical research."
After graduating from IU, where he studied closely with faculty members such as IU Distinguished Professor of Biology Thomas Kauffman, Allis began an illustrious career in biological sciences. He is renowned for his pioneering research in epigenetics, a field that explores the inheritance of physical changes due to gene expression that cannot be traced back to mutations in the DNA sequence.
The Lasker Foundation specifically cites Allis' work to uncover how an enzyme – whose biological function was not understood at the time – works to attach a specific chemical group to a particular amino acid in histones. The research "unveiled a previously hidden layer of gene control and broke open a new field."
The work also provided a foundation for other researchers to discover that errors in histone modifications contribute to several developmental disorders and various forms of cancer, providing new targets for potential therapies and treatments.
Allis is the Joy and Jack Fishman Professor and head of the Laboratory of Chromatin Biology and Epigenetics at The Rockefeller University. Previously, he held faculty positions at the Baylor College of Medicine and the University of Virginia Health System.
He is also the recipient of the 2015 Breakthrough Prize in Life Sciences, the 2015 Japan Prize, the 2011 Lewis Rosenstiel and Howard Ricketts awards, the 2008 ASBMB-Merck Award, the 2007 Gairdner Foundation International Award, the 2004 Wiley Prize in Biomedical Sciences, the 2003 Massry Prize and the 2002 Dickson Prize in Biomedical Sciences. He is a member of the National Academy of Sciences and the American Academy of Arts and Sciences.
The other recipient of the 2018 Albert Lasker Award for Basic Medical Research is Michael Grunstein of the University of California at Los Angeles.