SEOUL and BEIJING – Indiana University President Michael A. McRobbie led a university delegation last week to South Korea and China, where the university established new institutional partnerships and re-energized several others that will expand opportunities for student and faculty exchanges. The delegation also met with top leaders in education, culture, finance and government, and strengthened ties with IU's international alumni in both countries.
During the trip, McRobbie signed new partnership agreements with the Chinese Academy of Social Sciences and Renmin University, two of China's elite universities for teaching, research and scholarly activity in the humanities and social sciences. He also participated in the IU Is Global 2018 Alumni Conference and Reunion. IU's fourth international alumni conference and its first since 2015, IU Is Global included about 350 IU alumni from China and across the surrounding region – the largest number of attendees at an IU global alumni conference and reunion.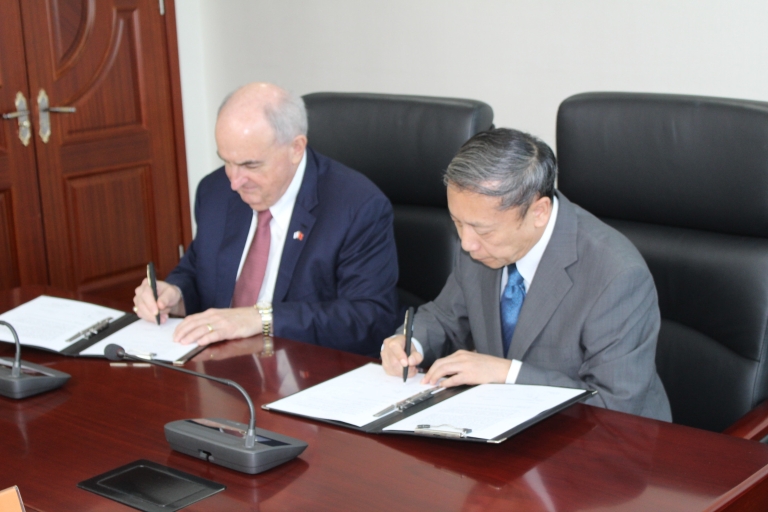 IU has deep and extensive ties to East Asia, dating back many decades. Its strong programs in this area continue to enable vital exchanges of students and faculty and foster greater cultural understanding of and appreciation for the most culturally, economically, historically and politically important parts of the world.
"Our successful efforts this week – stemming from a continuing commitment to strengthen our engagement in Korea, China and all across the Asia-Pacific region – will enable more overseas study opportunities for Hoosier students, which are vitally important in preparing them for the increasingly complex and interconnected world they will enter when they graduate," McRobbie said. "They will also enable new collaborative activities between IU faculty and other outstanding colleagues in these countries, greatly enhancing the international engagement of all of our campuses across the state.
"We are also extremely proud of our international alumni, many of whom are serving as leaders, innovators and visionaries in their communities and in their home countries. Through their energy, enthusiasm and loyalty to the university, they continue to strengthen the reputation of IU – and Indiana – worldwide."
IU Vice President for International Affairs Hannah Buxbaum joined McRobbie on the trip, which began Sept. 17 and included a series of meetings and other events in Seoul, South Korea, and in Beijing and Tianjin, China.
These included a working lunch with former IU faculty member Yi Gang, who was named governor of the People's Bank of China earlier this year. People's Bank of China, the country's central bank and the equivalent of the U.S. Federal Reserve Bank, is responsible for carrying out the monetary policy and regulation of financial institutions for the world's second-largest economy. Yi served as assistant professor and associate professor of economics at IUPUI from 1986 to 1994 and received an honorary doctorate from IU in 2012.
The IU delegation also met with Tian Guoli, chairman of the China Construction Bank, the second-largest public company in the world. They discussed issues facing China's economy and the contributions IU's students from China and across East Asia continue to make to enhance IU's educational environment.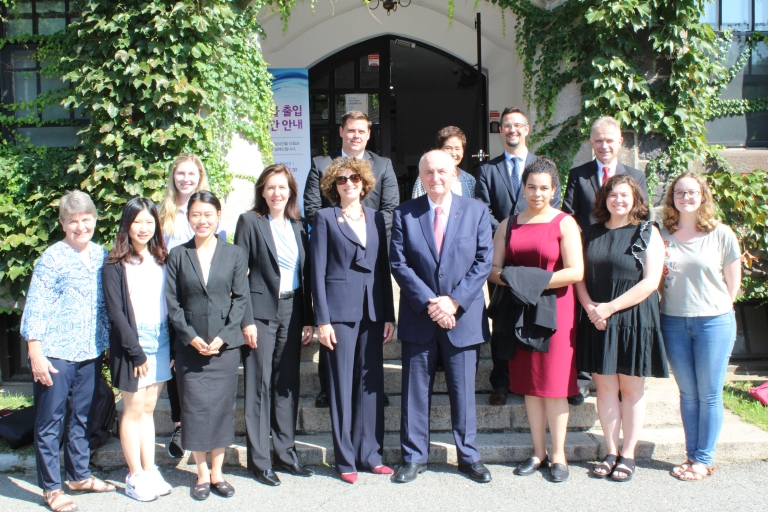 While in Seoul, McRobbie and members of the IU delegation met with senior leaders and faculty from Yonsei University, one of IU's longest-standing global partnerships. Among those leaders was Ban Ki-Moon, who served as secretary-general of the United Nations from 2007 to 2016. They also met with representatives of the Academy of Korean Studies, whose financial support helped IU recently establish a new Institute for Korean Studies at the School of Global and International Studies, one of the only such institutes of its kind in the U.S.
More than 8,000 international students are currently enrolled at IU. Of that number, over 700 students are from Korea, making it the third-leading country of origin for international students at IU. Additionally, over the past several years, IU has seen a substantial increase in the number of its students – now totaling more than 50 – choosing to study abroad in Korea. Many IU faculty members have extensive research collaborations with faculty members at institutions in Korea as well.
Upon arriving in China, the delegation met with leaders at Nankai University, in the coastal city of Tianjin, to re-establish ties with a historic partner. While there, McRobbie honored the late Binglin He and Ruyu Chen, two of the most distinguished Chinese alumni in IU's history, with IU's Thomas Hart Benton Medallion for their pioneering work in chemistry. The medallion is awarded for exceptional achievements, reflecting IU's values and principles, in any field or area in any part of the world.
In Beijing, the IU delegation explored the potential for student exchanges and faculty collaborations with IU's newest partners at the Chinese Academy of the Social Sciences and at Renmin University. Renmin also includes several scholars interested in the work of the late IU Distinguished Professor and first woman to win the Nobel Prize in Economics, Elinor "Lin" Ostrom.
McRobbie also helped formally inaugurate a new multiyear partnership between the Sidney and Lois Eskenazi Museum of Art at IU and the Tsinghua University Art Museum, the first collaboration of its kind between university art museums in the U.S. and China. The partnership calls for cooperation in the areas of exhibitions, programs, and staff and student exchanges over several years.
The partnership began with an exhibition at the Tsinghua museum, "Americans Abroad: Landscape and Artistic Exchange, 1800-1920," which features 50 European and American paintings drawn primarily from the permanent collection of the Eskenazi Museum of Art. A reciprocal exhibition of Chinese scroll paintings from the Tsinghua University Art Museum's permanent collection will travel to the Eskenazi Museum of Art after the current major renovation of the museum's building is completed. The building is designed by renowned Chinese-American architect I.M. Pei.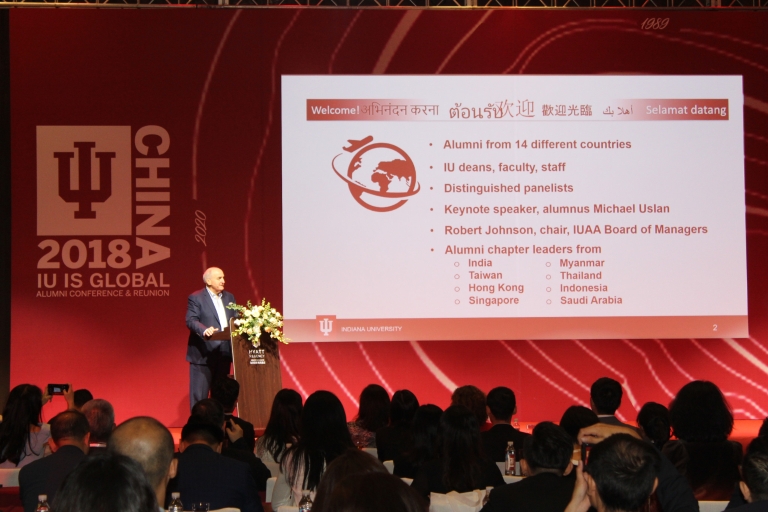 About 3,000 IU students are from China, making it the leading country of origin for international students at the university. China also now ranks in the top 10 countries where IU students choose to study abroad and is the leading overseas study destination for students from the IUPUI campus.
Throughout the week, McRobbie and Buxbaum led productive talks with leaders across business, culture, finance and government, acquiring important advice and insights as IU seeks to increase the number of its students who study abroad and continue to welcome the best international students.
They also met with alumni in both China and Korea, which are home to tens of thousands of IU graduates. Many of them attended the IU Is Global 2018 International Alumni Conference and Reunion, during which McRobbie delivered an update on recent progress at IU, including in the area of international engagement. The event, which was held in Beijing on Sept. 22, also featured several panel discussions, including IU alumni leaders from around the Asia-Pacific region who addressed such issues as the global economy, the environment and public health, and the changing global legal profession.
Reports from the trip are available at a blog site, IU Goes to Korea and China.