INDIANAPOLIS – Across Indianapolis this morning, members of the public are being trained to save lives by administering naloxone. The events – in partnership with Indiana University's Responding to the Addictions Crisis Grand Challenge, IU Health, the Indianapolis Public Library, Overdose Lifeline Inc. and the Indiana Family and Social Services Administration – were held concurrently at IUPUI and four Indianapolis Public Library branches.
Media kit: Access additional press materials online
"I eagerly join our colleagues from Indiana University as they continue their Responding to the Addictions Crisis Grand Challenge and work to ensure more Hoosiers have emergency access to life-saving naloxone in times of crisis," said Dr. Jennifer Walthall, secretary of the Indiana Family and Social Services Administration. "We know that any opportunity to support an entry to treatment, recovery and remission is an essential tool in the toolkit."
The event at IUPUI's Hine Hall featured a discussion with panelists about the importance of reducing stigma and increasing harm reduction – including measures like overdose reversal training, among other services.
"Harm-reduction measures like naloxone administration are critical to saving lives while we work to solve the underlying causes of the opioid crisis," said Fred H. Cate, vice president for research at Indiana University. "We're grateful to collaborate with committed partners to bring these services to the Indianapolis community."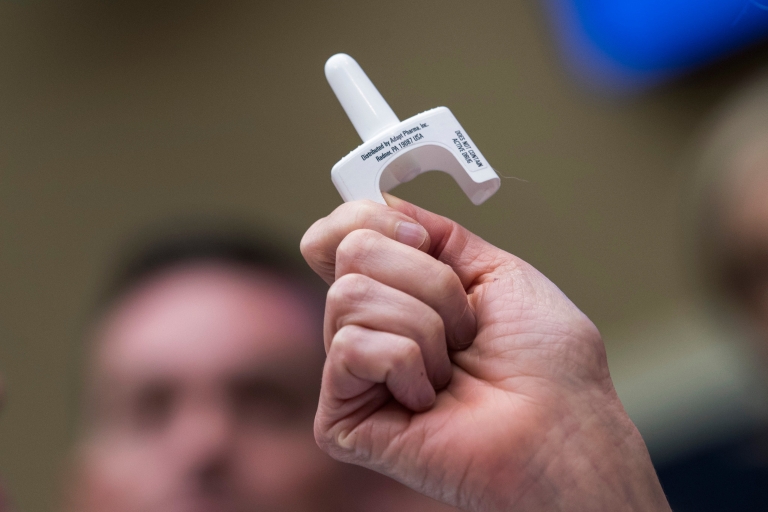 According to a new survey, two in five Hoosiers have a family member or friend who has an addiction to opioids. With the rapidly growing risk of losing a loved one to overdose, training in overdose reversal is critically important.
Often referred to by its brand name, Narcan, naloxone is a drug used to treat opioid overdose. Fast-acting and easy to administer, it can save the lives of those who have overdosed on prescription opioids or illegal drugs like heroin.
Responding to the Addictions Crisis brings together Indiana University's world-class faculty, as well as its business, nonprofit and government partners to create a comprehensive plan to reduce deaths from addiction, ease the burden of addiction on Hoosier communities, and improve health and economic outcomes. As part of IU's Grand Challenges program, this collaborative, statewide initiative is the nation's largest and most comprehensive university-led response to the opioid addiction crisis.
Follow the day's events on Twitter at @IndianaUniv and @IUImpact, or use the hashtags, #IUResearch #IUNaloxone #IUGrandChallenges.