Inaugural First Thursdays Festival of the semester is Sept. 6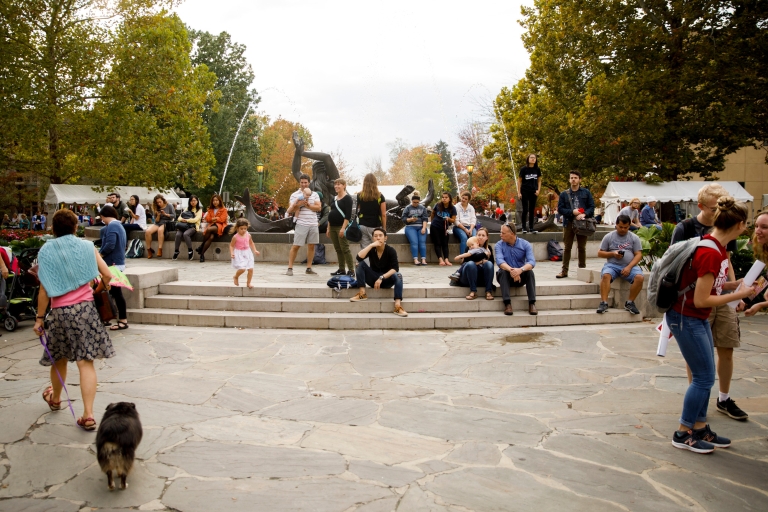 The inaugural First Thursdays Festival of the semester will take place from 5 to 7:30 p.m. Thursday, Sept. 6, at the Fine Arts Plaza.
This month's festival includes performances by Huckleberry Funk and the African American Choral Ensemble, a contemporary dance workshop, a scavenger hunt sponsored by the Office of First Year Experience Programs and more.
First Thursdays is a monthly festival hosted by the IU Bloomington Arts and Humanities Council that showcases the diversity of arts and humanities on campus and throughout the Bloomington community. Each First Thursday is unique, and each is a great opportunity to experience the work of artists, performers and scholars from across campus and around town.
Celebrate the 75th anniversary of IU's Office of International Services
IU's Office of International Services is celebrating its 75th anniversary in the 2018-19 academic year. In 1943, President Herman B Wells appointed Leo R. Dowling as counselor for foreign students. In the 75 years since, IU has attracted thousands of the best students and scholars from around the world, and the office is committed to serving them with excellence.
An anniversary celebration will take place from 4 to 6 p.m. Friday, Sept. 7 in Dunn Meadow. The event will feature remarks from IU President Michael A. McRobbie, Vice President of International Affairs Hannah Buxbaum and Bloomington Mayor John Hamilton.
Attendees will be able to enjoy free hors d'oeuvres and cake, include a favorite memory or photo in a time capsule or participate in IU Stories From Home.
22 students selected as Wells Scholars at IU Bloomington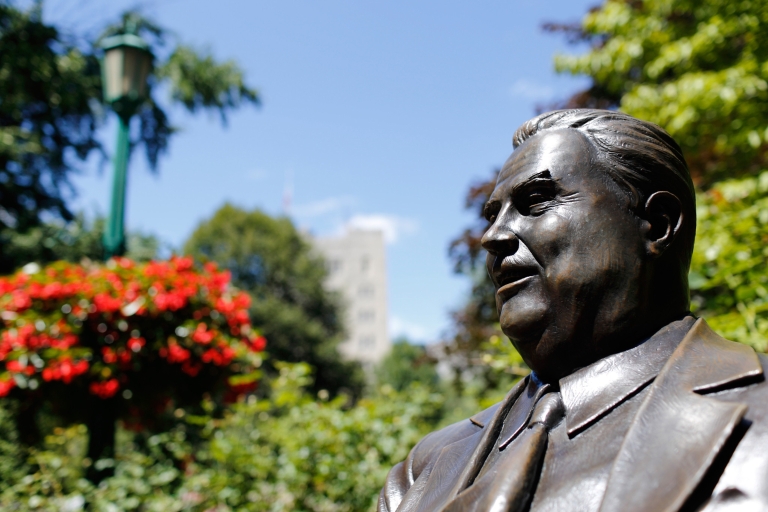 IU has selected 20 freshmen and two seniors for the 29th class of Herman B Wells Scholars. Over 600 students have received Wells Scholars Program scholarships since the program's founding in 1990.
This is the largest incoming freshman class the program has had since 2008 and is composed of equal numbers of in-state and out-of-state students. Incoming Wells Scholars include a local Bloomington undergraduate, and students from as far away as California and Maryland.
The prestigious and competitive award, created to honor the late IU Chancellor Herman B Wells, guarantees the full cost of attendance for up to four years of undergraduate study on the Bloomington campus and includes support for up to one year of overseas study.
A full list of this year's freshman class of Wells Scholars is available on the Office of the Vice President for Undergraduate Education's website.
$1.5 million gift establishes endowed Johnson Chair for Diversity and Leadership at IU
IU's deep commitment to diversity and inclusion has been further strengthened by a gift of $1.5 million from attorney Lacy M. Johnson, a partner at Ice Miller LLP in Indianapolis, and his wife, Patricia, to IU's Office of the Vice President for Diversity, Equity and Multicultural Affairs.
The gift established the Johnson Chair for Diversity and Leadership. IU President Michael A. McRobbie appointed James C. Wimbush, IU vice president for diversity, equity and multicultural affairs and dean of the University Graduate School, to the endowed position.
The Johnsons' gift will support the chair's leadership of diversity efforts at IU and the enhancement of the university's cultural climate, including scholarships and programming that promote inclusive and welcoming campus environments. The gift is also earmarked to benefit faculty, staff and underrepresented, first-generation, LGBTQ+ and ethnic minority students in the continued development of academics, leadership and training focused on diversity and issues that affect underrepresented populations at IU.