Indiana University Bloomington field biology specialist Mark Sheehan has spent the past 30 years pursuing two disparate career paths.
Sheehan got his Ph.D. in plant sciences from IU in 1979 after getting his master's and bachelor's degrees in the same field.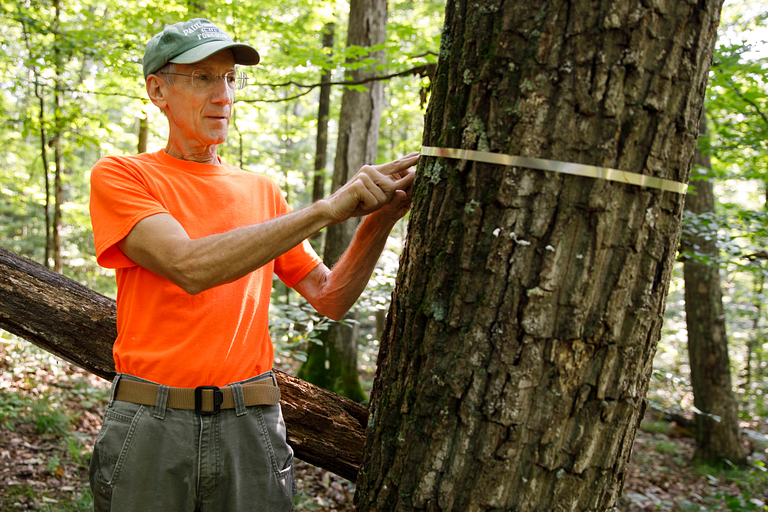 "I've been all about plants for a long time," the Bloomington native said.
After completing his Ph.D., Sheehan did some postgraduate work in paleoecology.
"Ecology was just not getting much federal funding during that time," he said. "My wife, Kathy, and I decided that if we were going to have a family, someone was going to have to get a hard-money job, and as things turned out, that was me."
He had acquired technological skills through graphing applications that he used to complete his dissertation on postglacial vegetational history.
"I had around 10,000 data points to analyze for my dissertation. This was a lot, especially in 1978. I had no choice but to get into computers," Sheehan said. "As I worked through the coding, I realized that I had an affinity and an aptitude for information technology."
Through acclimating himself to the technology world, Sheehan landed a job as an applications programmer at the
university's computing
services organization in 1982. He remained there until 1996 as he moved up to be a senior manager.
"It was not only a lot of computer management, but project and people management as well," Sheehan said. "From 1982 to 2011 was a rapid evolution in the IT world. It was a rollercoaster ride being a part of its growth and expansion."
In 1996, his IT path took him to Montana State University, where he served as executive director for information services, and then to Boulder, Colorado, where he was a senior research analyst for an IT professional association. In Colorado, he was finally able to get back into the passion that had been neglected in his life for years: the study of nature.
He became a member of the Colorado Native Plant Society and volunteered his time monitoring populations of rare Colorado native plants and teaching in Boulder County's Native Plant Master course. Sheehan said that he struggled to stay ahead of the class he was instructing, but it was well worth the effort.
"Teaching is the best way to learn," he said." And it tickled my botanical urges. I had always retained
interest
in the plant kingdom.
"Once a botanist, always a botanist."
In 2011, after nearly 30 years of work in IT, Sheehan retired and moved back to Bloomington with his family. Little did he know this would be the start of
second
career.
"I spent four months redecorating the house before I realized that I had to get back to doing something I love," Sheehan said.
He dived back into the study of nature in early 2012 when his wife alerted him to an opening for a wildflower counter in IU's Department of Biology. Sheehan said he feels happiest when he is in nature, preferably alone and doing something meaningful. Wildflower counting catapulted him into his "second life," as he describes the current stage in his journey.
"I stepped out of one world and into another," Sheehan said. "I left the IT world and have not looked back. There's nothing about it that calls to me anymore. The study of nature has called to me my entire life.
"I heard the song of IT for 30 years and made it my profession, but now it's silent. In my case, at least, once an information technologist, not always an information technologist."
Sheehan's involvement in IU's Department of Biology
leapt
forward later in 2012 when he became part of a four-person field crew that censused nearly 32,000 trees in the IU/Smithsonian Institution forest diversity plot at Lilly-Dickey Woods near Nashville. In 2017, he led the four-person crew that re-counted those trees.
In the years between, Sheehan became a fixture in the Richard Phillips laboratory at IU. He managed the lab for a year and then "re-retired" to become the lab's go-to person for
field work
.
"I don't know how I got so lucky as to find a principal investigator who allows me to do the fun stuff and not the lab chores that I'm really less suited for at this point in my life," Sheehan said.
He spent part of this summer putting dendrometer bands, a tool to measure tree growth, on 100 new trees in scattered Midwestern forest plots that the Phillips lab studies. And, with a colleague, he remeasured the 1,000 dendrometer bands at Lilly-Dickey Woods.
The arc of Sheehan's second life seems still to be ascending. Recently, he was hired to be the local eyes, ears
and
hands for a long-term
ecology
research project conducted at Lilly-Dickey Woods by scholars from Rice University and the University of New Mexico.
"I took 30 years off from my deep devotion to the study of nature," Sheehan said. "Now I'm back. I consider
any
hour spent in the forest to be an hour added to my life."