Much of the discussion in the United States around Israel concerns its polarizing political issues. But a new center at Indiana University Bloomington, headed by associate professor of religious studies Jason Mokhtarian, aims to share why there is more to the country than conflict.
The Olamot Center, which was established in fall 2017, is devoted to scholarly and cultural exchange with Israel. Each semester, the center hosts a visiting Israeli scholar and translates two contemporary, Israeli scholarly publications from Hebrew to English. The Borns Jewish Studies Program at IU has had the idea for such a center for several years, and it finally came to fruition thanks to the leadership of program director Mark Roseman, according to Mokhtarian.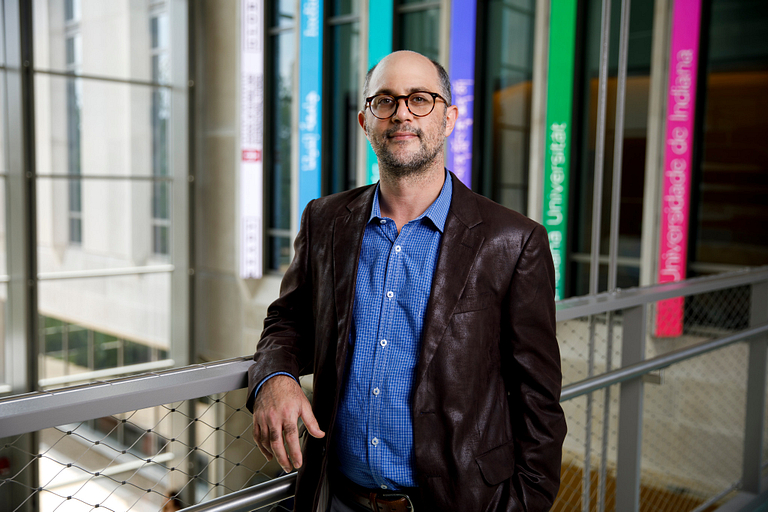 "Our goal is to show the IU public – students, faculty, staff, alumni and people who live in Bloomington – that there's a lot more going on in Israel than what they see on the news," Mokhtarian said. "Would we as Americans want people around the world to only know us by our politics and not our contributions to culture and scholarship?"
The Olamot Series, published by IU Press and co-edited by Mokhtarian and former center director Noam Zadoff, seeks to disseminate groundbreaking research to a wider audience by translating it into English. Zadoff and Mokhtarian have been carefully curating the series with selections like "The Jewish Eighteenth-Century: A Biography" by Shmuel Feiner and "Germans Against Germans: A Jewish History" by Moshe Zimmermann, but they are open to submissions and suggestions as well.
"So few people in America, even in Jewish studies, would pick up a research book in modern Hebrew and read all of it," Mokhtarian said. "So much incredible research is being done, and we want to make that known. Some of the projects we have in the pipelines have the potential to transform the discipline."
The Olamot Center's visiting scholar initiative enriches the learning of IU students and faculty while also creating opportunities for both young and established Israeli scholars. While IU students can benefit from learning about Israel from Israeli scholars thanks to their familiarity with the material, Mokhtarian said that being taught by an instructor with a different cultural viewpoint can transform the way students think about the subject.
The scholarly exchange supported by the center has the potential to strengthen academia in Israel as well. Mokhtarian said it is difficult for Israeli scholars to land full-time positions without completing some type of postdoctoral work in the United States or Europe.
The center isn't only focused on scholarly exchange, though. Another goal is to share the cultural contributions Israel offers the world. A visit from esteemed Israeli film producer Avi Nesher to IU Cinema, a collaboration with IU's Department of Theatre, Drama and Contemporary Dance, and other similar events aim to spark an interest in Israel beyond academia in members of the IU community.
Mokhtarian hopes the center can grow to include a formal partnership with an Israeli university. This would allow for IU faculty members to spend time in Israel, creating a truly two-way exchange. He also hopes that eventually, researchers from disciplines beyond Jewish studies will be able to take part in this exchange.
"This vision of the Olamot Center fits really well into the bigger global mission of the university," Mokhtarian said. "I would love to see the center go beyond just Jewish studies and be more about Israel and IU being able to come together to do research projects, share grants and exchange culture."
For now, the center is looking forward to hosting this year's scholar, Tamir Karkason, in the spring. Karkason is completing his dissertation at the Hebrew University of Jerusalem on the Jewish enlightenment movement in the Ottoman Empire and will teach two undergraduate courses as well as give a research talk while at IU. The center is also working to secure endowments that can provide support beyond its current funding.
Mokhtarian said that anyone across the university interested in Israel should contact him at jmokhtar@indiana.edu. The center is eager to partner for projects, events and more.