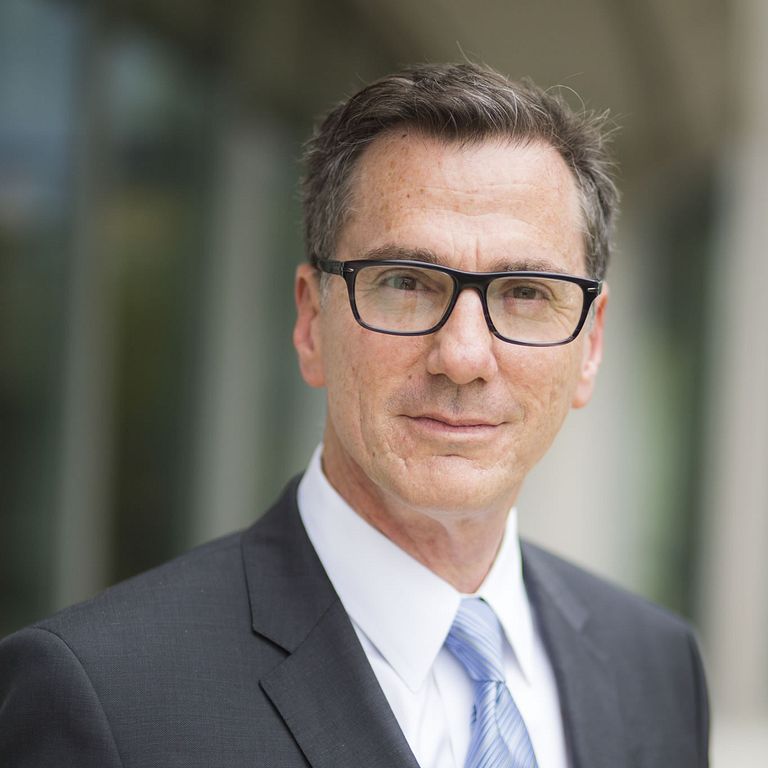 The Rohingya people of Myanmar remain in grave danger a year after government-instigated attacks that international observers have called ethnic cleansing or even genocide, said Lee Feinstein, founding dean of the Indiana University School of Global and International Studies.
Nearly 1 million members of the Muslim ethnic group have fled to Bangladesh, where they are crowded into squalid refugee camps. An estimated 200,000 remain in Myanmar, mainly in northern Rakhine State, where international observers and human-rights groups have been denied access.
"The circumstances are still perilous for the Rohingya," Feinstein said.
The IU dean traveled to Myanmar and Bangladesh this summer on behalf of the Simon-Skjodt Center for the Prevention of Genocide, a program of the United States Holocaust Memorial Museum. Feinstein is a trustee of the museum and heads its Committee on Conscience, which guides the Simon-Skjodt Center.
Feinstein and Cameron Hudson, then the center's director, met with government officials, Rohingya leaders, pro-democracy groups and activists. They visited Yangon, Myanmar's largest city, and Naypyidaw, its capital, as well as refugee camps and the capital city of Dhaka in Bangladesh. Feinstein and Hudson published an account of their trip on the op-ed page of The Washington Post.
"We wanted to make clear we were continuing to focus on this region and to engage with the government as well as with civil society," Feinstein said.
The Rohingya have long been a persecuted minority that is excluded from citizenship in Myanmar (formerly called Burma). But conditions spiraled to a crisis after a small group of Rohingya insurgents carried out attacks on police stations and army posts. The military, police and supportive civilians responded with a "clearing operation" that killed an estimated 9,000 Rohingya and destroyed hundreds of villages, forcing more than 800,000 Rohingya across the border into Bangladesh.
The Simon-Skjodt Center issued a detailed report on the atrocities last year. In March 2018, it rescinded its presentation of the Elie Wiesel Award, its highest honor, to Myanmar political leader Aung San Suu Kyi, because of her failure to speak out against the violence.
The U.S. Treasury Department has imposed sanctions on Myanmar military leaders for their role in the violence. A United Nations report on Aug. 27 called for six of the leaders to be investigated for genocide.
But while elements of the international community have condemned Myanmar's actions, the government has engaged in a policy of denial and deception, Feinstein said. He and Hudson met with top officials of the Myanmar foreign ministry, who denied well-documented reports of atrocities and blamed the Rohingya, making what Feinstein called "extravagant" claims about the capacity of a Rohingya militant group.
"The response we got in Naypyidaw was very eye-opening," Feinstein said. "Their strategy over the longer term is to try to ride out the current international attention to the atrocities."
Outside of Myanmar's cloistered capital, the response was different. Younger democracy activists expressed deep disappointment with Aung San Suu Kyi, a former opposition leader who received the 1991 Nobel Peace Prize. Rohingya leaders were alarmed about their people's fate.
"We are on the verge of extinction," one Rohingya activist told Feinstein and Hudson.
In the camps in Bangladesh, nearly a million refugees are living in makeshift plastic-and-bamboo shelters in an area the size of New York's Central Park.
"People are eating, people are getting vaccines and there is a certain degree of schooling at primary level, but conditions are very poor," Feinstein said.
The most pressing short-term need, Feinstein said, is to protect the Rohingya who remain in Myanmar and prevent a recurrence of the violence that broke out a year ago. The Rohingya live side by side with members of the Rakhine ethnic group, whose distrust is being stoked by government-sponsored hate speech and reinforced by the presence of military forces.
"Without any international accountability or oversight, the potential for some kind of action to finish the job is high," Feinstein said.
He said U.S. and European Union sanctions, the U.N. genocide finding and an upcoming State Department report should put pressure on Myanmar to back off from persecuting the Rohingya. But a long-term solution – including finding a permanent home for the refugees – will be difficult to achieve.
"The most important thing the United States can be doing now is to remain on the case," he said, "and to make it clear to the Myanmar government that what it's doing now is not acceptable."