Honoring international service
For the 25 years since the Lotus World Music and Arts Festival hosted its first event in Bloomington, members of the IU family have attended, volunteered for and been proud of the event that brings musicians and attendees from around the world to its city for one weekend in the fall.
Whether they're making policy, raising funds as board members or selling tickets and handing out wristbands as volunteers, these three IU staff members have contributed their time to this community event.
Laura Plummer, volunteer since 2005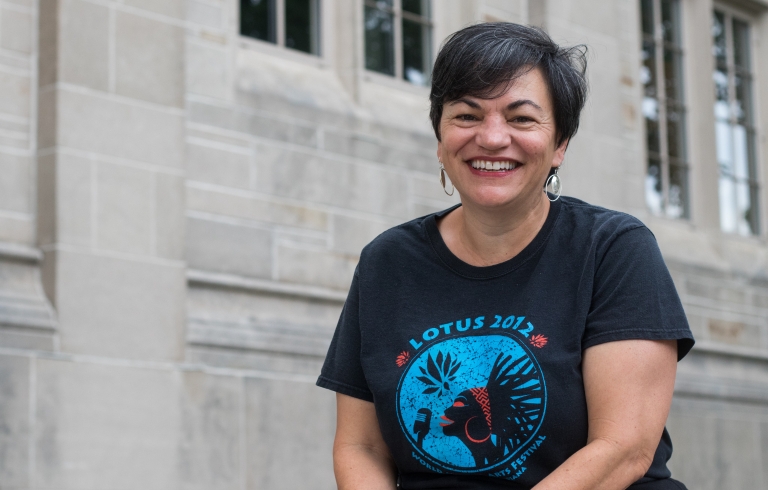 Laura Plummer, the director of IU Bloomington's Scholarly Writing Program, started volunteering for Lotus in 2005 when her colleague Carol Simmons – who happened to be married to the organization's founder Lee Williams – recruited her at a dinner party.
She started out on small tasks, like making table favors for Edible Lotus, an annual fundraiser for the foundation. Plummer was eventually invited to join the board of directors, where she would serve for eight years helping significantly enlarge the endowment for the foundation and supporting the organization as it and its staff grew. As a member of the advisory board since 2014, Plummer has helped with a capital campaign to renovate a new office space and hosted a house-concert performance by The Mammals for 90 Lotus fans and donors.
Plummer said her experiences working the Lotus Blossoms World Bazaar, a program for Monroe County Community School Corp. students, have been some of the most memorable. Each year the foundation hosts a two-day event focusing on arts education for children in the community that features activities like tasting fruit from around the world, learning to write one's name in Arabic, trying out African drums, helping paint a T.C. Steele-inspired mural and more.
"There is just something about watching kids interact with art and culture at the bazaar that is particularly heartwarming and energizing," Plummer said. "You realize that you're truly building something for the future."
Mark Hurley, volunteer since 2000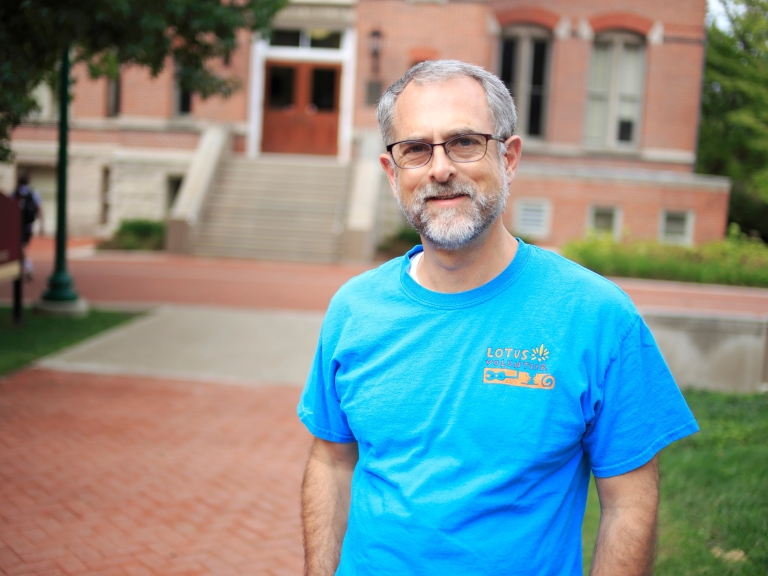 Mark Hurley, director of advising for the College of Arts and Sciences, went to his first Lotus Festival in 1995. Five years later, he joined the festival's army of volunteers and has been active ever since.
While Hurley usually finds himself in the role of house manager at one of the large tent venues during the festival, he's taken on a variety of volunteer activities throughout the years. One year, he was even deemed a "super volunteer" for taking on more than five shifts during the weekend, including shuttling artists to and from the Indianapolis airport for both nights of the festival.
Volunteering for Lotus has many perks beyond the free admission and shirt, according to Hurley. It's an opportunity to see Bloomington come together as a community for a moment of celebration.
"A lot of traditional cultures have holidays that incorporate festivals, and Lotus is similar in a way," he said. "You see people from all different walks of life in Bloomington, spending time together and having a great time."
Hurley said he's looking forward to helping make this celebration possible for many years to come.
"Reaching the 15-year threshold as a volunteer for this organization was an honor," he said. "I'm looking forward to reaching 20."
Lauren Bryant, volunteer since 2006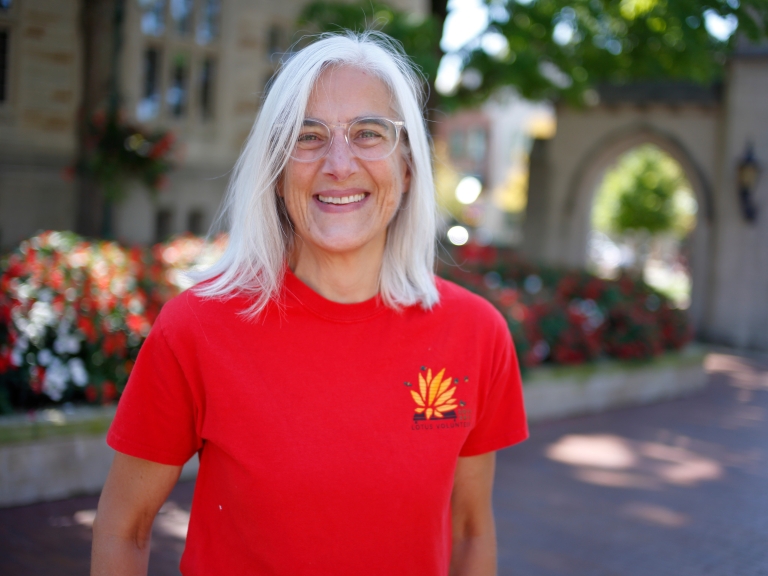 Lauren Bryant, associate director of communications in the Office of the Vice Provost for Research, had a friend who was dying from cancer. Her final wish was to participate in the Lotus Festival parade, where she was able dance along to marching band music under the moonlight surrounded by her closest friends.
The fact that Lotus means so much to so many people is what makes volunteering so enjoyable, Bryant said. During her 12 years as a volunteer, she has sold tickets and handed out wristbands to excited attendees, watched audiences dance to tunes as house manager of a festival venue, and now, helps ensure a prosperous future for the organization as a member of the board.
Bryant said the success of the festival is a perfect example of the symbiotic relationship between IU and the Bloomington community. While Lotus is not a university event, the support the university provides in terms of volunteers and sponsorship – not to mention the Lotus staff who are IU alumni – helps sustain its place as a Bloomington institution.
She said the festival itself brings together all Bloomington community members, whether they are affiliated with the university or not, for a weekend of camaraderie.
"Bloomington is at its very best on Lotus weekend," Bryant said. "Everyone on the street is in a good mood, and the vibe is relaxed and happy. It's like a huge city reunion."
This year's Lotus World Music and Arts Festival is Sept. 27 to 30.