Indiana University Bloomington senior cross-country runner Katherine Receveur is looking forward to her final season while getting excited to start her career in a field she loves. She is pursuing a degree in interior design through the School of Art, Architecture + Design.
Receveur began her journey as a Hoosier after transferring from Miami University in Ohio to IU the second semester of her freshman year. The distance runner had an 11th-place finish at the NCAA Championships as a sophomore, earning her All-America honors. She followed that up with a Big Ten individual title and another All-America award in fall 2017.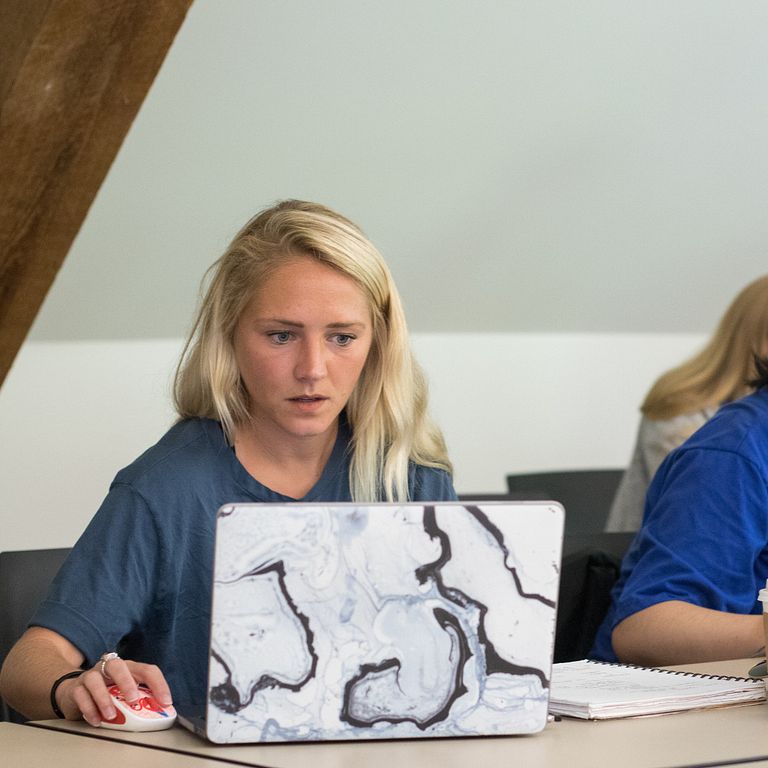 She said that watching the team improve has been the best part of her experience.
"It's a different feeling going into this year; I never thought I would feel so strongly about wanting to finish on such a good note and just give it my all for the team," Receveur said.
"I've enjoyed seeing the team grow in the Big Ten. I think we have become older, stronger and better. I'm glad to be a part of that."
The Louisville, Kentucky, native said that while being a student-athlete can be challenging, it has provided her with skills that have prepared her for academic success.
"I know what it's like to be on a tight schedule," Receveur said. "A lot of students can afford to pull all-nighters. The hardest part in my major is having a design render assignment that can take up to 20 hours and accepting the fact that I just need to close the laptop and go to bed when it gets too late."
Receveur wasn't always set on studying interior design when she first got to IU. She began as a sports marketing and management major but soon realized it was not the path she wanted to remain on.
"The job I would have ended up at would land me behind a desk, and I knew that I could not do that. That was eye-opening for me," she said. "When I learned about the interior design program here, I talked to my parents, and they told me that they always saw me doing this.
"I have always loved interior design. I began by watching my mom stage homes when she was a real estate agent. My mom having a passion for it has helped influence me."
Through the school of School of Art, Architecture + Design, Receveur has been able to put her skill to work. She and other students worked on redesigning the seventh floor of Hodge Hall, and she is currently working on redesigning the Friends of Art Bookshop on campus.
She also spent the summer working for an interior design firm in Louisville while also being hired to work on a newly built house in her hometown.
After graduation, Receveur said she would like to live in a big city and put her degree to good use.
"I'm starting to realize it would be fun to work for a large commercial firm that works with designing hospitals and hotels," she said. "Hopefully one day I can start my own firm.
"Running, even when I finish competing, will continue to bring me joy, but I'm excited to start a career that can do the same."