For the first time in the history of Indiana University men's basketball, fans can purchase a game-day locker used by stars like Bracey Wright, Christian Watford and Victor Oladipo.
The IU Surplus store will auction off 13 of these lockers from Simon Skjodt Assembly Hall throughout the 2018-19 basketball season. The lockers, which were built by University Physical Plant, were installed during the fall of 2002 following IU's appearance in the NCAA championship men's game against University of Maryland and were used through the 2018 season.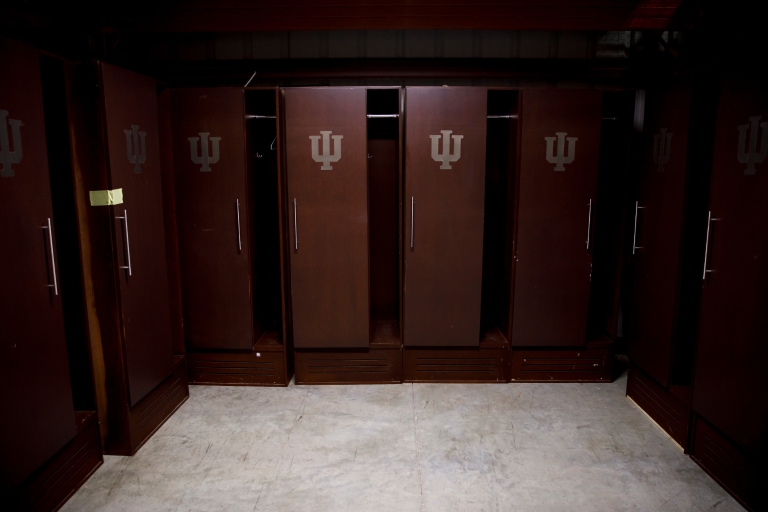 In April, IU Athletics announced a gift from alumni Dave and Susan Roberts that would provide funding to renovate the men's locker room area at Assembly Hall. IU Surplus manager Todd Reid said the store's success in auctioning off old turnstiles during the arena's renovation in 2016 prompted IU Athletics to call on the store again.
"I was elated to help IU Athletics sell these lockers," Reid said. "Not only am I huge fan of Hoosier athletics, but these things have heard a lot and seen a lot – including some pretty amazing players."
The lockers are 2 1/2 feet wide, 2 feet deep and nearly 7 feet tall. Each locker features standard hooks and cubbies as well as an electrical outlet and a small placard detailing its history. Bid winners will also receive a certificate of authenticity from IU Surplus with their lockers.
IU Surplus will auction off one locker per week during the season, starting with the Hoosiers' opener against Chicago State University on Nov. 6.
Fans can register for free as an online bidder at GovDeals.com, a site similar to eBay that offers surplus items from government agencies. The auctions can be found by searching "Indiana University." Auctions will be in real time, and the minimum bid will be $1,000.
Additional information about the sales will be posted on IU Surplus' Twitter feed and IU Surplus' Facebook page, and interested bidders with questions can contact Reid at tareid@indiana.edu.
Not ready or able to drop a grand or more on a locker? IU Surplus will have the lockers on display throughout the basketball season as a photo opportunity for fans of the cream and crimson. Reid plans to supplement the display with other spirit gear, including actual courtside chairs from Assembly Hall and some size 17 pairs of basketball shoes, to re-create an authentic locker room environment.
IU Surplus is at 2931 E. 10th St. The store is open from noon to 5:30 p.m. Mondays, Tuesdays, Thursdays and Fridays and noon to 7:30 p.m. Wednesdays.