Organizers of the Big Ten Voting Challenge at Indiana University Bloomington say a partnership with the TurboVote initiative will accelerate efforts to get students registered and get them to the polls on Election Day.
The nonpartisan student-led effort, including voter registration drives and election-related lectures, panels and discussions, began a year ago with the launch of the challenge. They pick up steam with today's observance of National Voter Registration Day, with elections just six weeks away.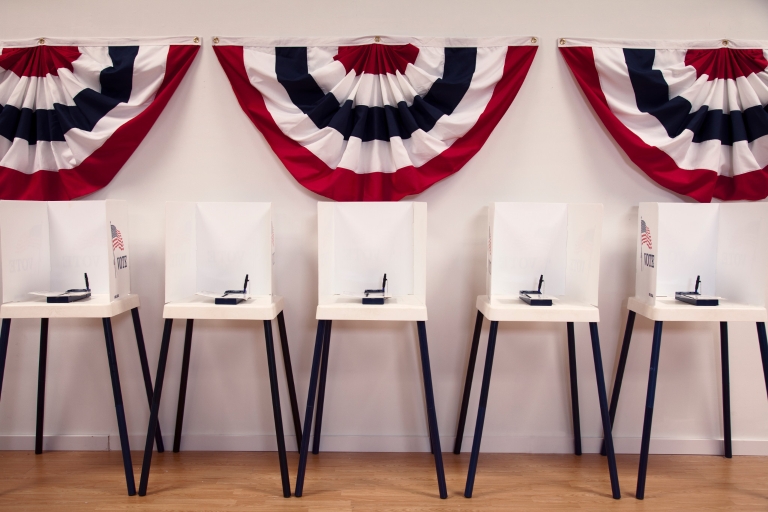 "Although low student voter turnout is a national issue, we see a shift happening on campus where students are taking strong initiative and ownership to becoming engaged voters," said Lisa-Marie Napoli, associate director of the Political and Civic Engagement program, or PACE. "Momentum is building, and the introduction of tools like TurboVote can put IU Bloomington ahead of the game."
Students in PACE, an interdisciplinary certificate program in the College of Arts and Sciences, are leading campus participation in the Big Ten Voting Challenge, a friendly but spirited competition among the 14 Big Ten institutions to boost electoral participation.
Information about the competition and election-related activities is available at a Big Ten Voting Challenge website and the Office of the Provost and Executive Vice President's website. Both include links to the IU Bloomington TurboVote portal, which went live last week.
"TurboVote makes it super easy to register people to vote, to get information on how many people are registered and to get them the information they need," said Alyssa Stewart, IU Student Association vice president of congress and a Big Ten Voting Challenge steering committee member.
Stewart said that TurboVote addresses an issue that has confronted the Big Ten Voting Challenge: the fact that many students want to register and vote in their home towns, not in Bloomington. For students from outside Indiana, that can be difficult, because different states have different rules and deadlines.
TurboVote makes voting simpler by providing direct links to voter registration, absentee voting and vote-by-mail rules for all 50 states. Prospective voters who enter their information receive text and email reminders about registration deadlines, upcoming elections and poll locations. The PACE program and the IU Student Association secured IU's TurboVote partnership.
Organizers are also generating enthusiasm about elections and voting with several activities:
IU Communications and IU Athletics have teamed up to produce videos that feature IU varsity athletes and encourage students to vote. The videos are launching today on university social-media channels. Additional voting videos will roll out in October.
Nancy Thomas, director of the Institute for Democracy and Higher Education at Tufts University, will speak about students and voting from 6 to 7:30 p.m. Oct. 2 in Woodburn Hall Room 103.
Union Board Lectures will sponsor live-streaming of debates between Sen. Joe Donnelly and challenger Mike Braun on Oct. 8 in Whittenberger Auditorium and Oct. 30 in Woodburn Hall.
PACE is staffing voter-registration tables in the Wells Library Atrium from noon to 2 p.m. Tuesdays and Wednesdays until Oct. 9. Registration is also taking place from 3 to 5 p.m. Sept. 25 at the Global and International Studies Building and at various times at IU culture centers and other campus locations.
The Civic Leaders Center sponsor a panel discussion Oct. 17 with two IU faculty members and former U.S. Senate candidates: Paul Helmke, a former mayor of Fort Wayne, and Jill Long Thompson, a former three-term congresswoman. The Department of Political Science will screen the film "Charlie vs. Goliath" on Oct. 31
Voter participation rates for the Big Ten Voting Challenge will be tabulated by the National Study of Learning, Voting and Engagement at Tufts University.
In Indiana, the deadline to register to vote is Oct. 9, and voters may cast absentee ballots or vote in person at local election centers beginning Oct. 10. Election Day is Nov. 6.