One of the best things about my job as Indiana University's executive vice president for university academic affairs is the opportunity to meet and work with IU's wonderful faculty, staff and students from all campuses. I'd like to take this opportunity, though, to share some news specifically related to the Bloomington campus, which has been my academic home, in the Maurer School of Law, since 1998.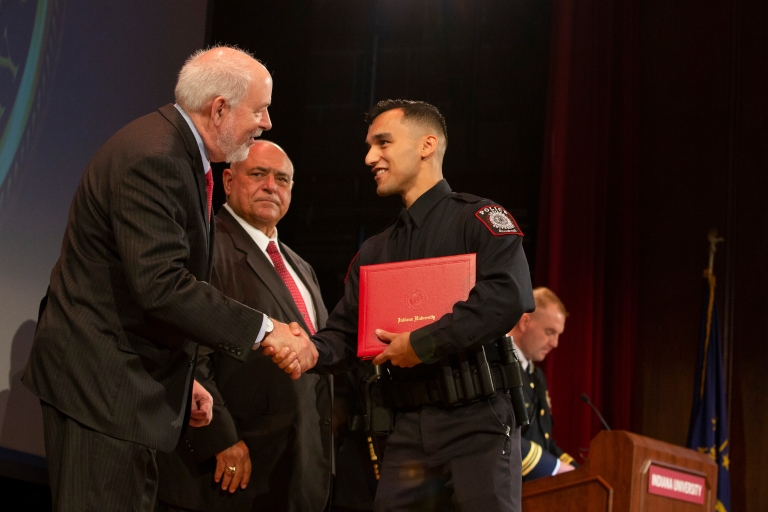 One of my office's responsibility areas is public safety across all of IU's campuses: the IU Police Department, emergency management, and environmental health and safety. (Before going on, let me remind you that the website protect.iu.edu contains a wealth of resources for your safety, including our award-winning video on responding to an active shooter.) While we are fortunate to have so much to celebrate about the Bloomington campus and community, we also can't ignore that we live in an era of heightened tension, and the security of our students, faculty and staff is our highest concern. Our living and working community can only thrive and reach its greatest potential in an environment where everyone feels safe and secure.
And that means everyone. I'm proud to say that IUPD has been at the forefront of university and campus efforts to address sexual violence. Sexual violence and other misconduct is an extremely serious problem, and sadly it is not limited to a few, easily recognizable settings. Too many of us have personal experiences of sexual misconduct – ourselves or family and friends – and it must stop.
IUPD partners with student affairs and Title IX offices on every campus to ensure that sexual assaults are reported, that victims are supported, that evidence is collected, and that a thorough and fair investigation is pursued. You can find important resources at stopsexualviolence.iu.edu.
We are also keenly aware that policing in this country does not always respect and reflect the diversity of our population. IU prides itself on the diversity and inclusiveness of our campus communities, and our policing needs to reflect that pride and commitment. In fact, the most recent class of IU Police Academy graduates came up with the idea of making their own video about the diversity of their class, Unity in Diversity.
IUPD has introduced a procedural justice curriculum to ensure transparency and impartiality in officer decision-making. IUPD has also introduced implicit bias training into the IU Police Academy curriculum and our ongoing training, with a goal of educating officers about unconscious biases and how they influence responses, especially the kinds of quick judgments that law enforcement officers often must make.
We also know that a diverse and inclusive community can foster new perspectives. To that end, IUPD created the position of chief diversity officer, and it's been superbly filled by Wayne James, IUPD-Northwest's chief of police. Chief James provides leadership for all IU campuses on active approaches to increasing diversity, the skills necessary for addressing discrimination and recruitment from underrepresented populations.
In addition, in response to national concern about options available to police in high-conflict situations, IUPD Superintendent Benjamin Hunter, who is also interim associate vice president for public safety, created a De-Escalation and Training Commission. This group takes input from students, staff, faculty and officers from across the state to examine the handling of situations requiring use of force. The commission is working to create enhanced training for officers, so that IUPD's role is to calm and defuse situations, and not make them worse by heightening the tension or by excessive use of force of any kind.
I've also been asked by Provost Lauren Robel to serve the campus by chairing the search for the executive dean of the College of Arts and Sciences. It's really a labor of love, because the College is the core of the liberal-arts-based education that IU offers, and it is an integral part of the extraordinarily rich academic and cultural life of IU Bloomington.
I had the good fortune to receive a wonderful liberal arts education in college, and it has enriched my personal and professional life every day and in countless ways since I graduated. The College is a wonderful institution, the provost has assembled a remarkable search committee, and so I'm deeply grateful for the opportunity to help continue and develop the grand tradition.
When finalists come to campus to interview in the spring, the campus community will have opportunities to meet the candidates, and I encourage you to participate. Our goal is to have a recommendation for the president and IU Board of Trustees in time to have a new executive dean in place for the 2019-20 academic year.
Lastly, I'm looking forward this year to working with the University Faculty Council (which is made up of representatives of all IU campuses) to implement Priority Two of the IU Bicentennial Strategic Plan. A rich and lively and inclusive campus community is important for all IU campuses, and it is really the essence of a campus like IU Bloomington. Like the rest of the Bicentennial Strategic Plan, serious attention to our community will help to make the Bloomington campus and IU as a whole the best it can be, or, in the words of the plan, one of the great universities of the 21st century.
John Applegate is the executive vice president for university academic affairs at Indiana University.