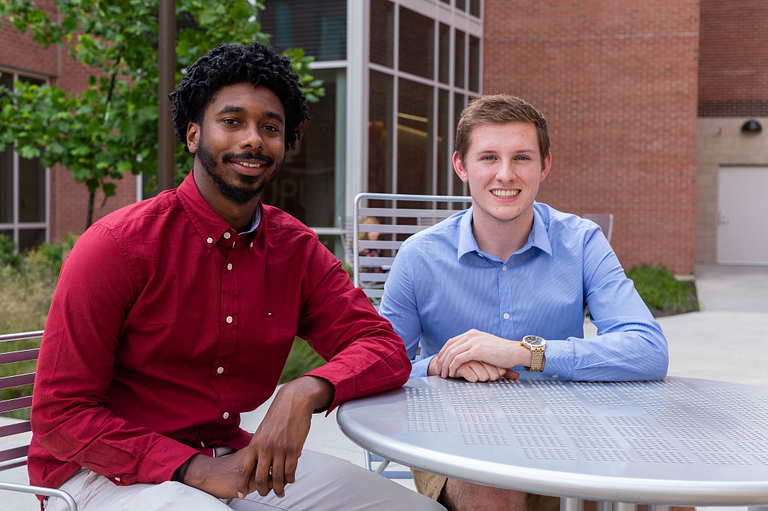 The lineup of major sporting events covered by IUPUI students in the Sports Capital Journalism Program reads like a sports journalist's bucket list: Olympic Games, Final Fours, Indianapolis 500s and the College Football Playoff.
It's a list no other college program can match, and another spotlight event will be added this week as two journalism students fly to Tenerife, Spain, for the FIBA Women's Basketball World Cup. Teams from 16 nations, including the two-time defending champion U.S. team, will compete Sept. 22-30 to determine the world's best.
Ryan Gregory, a junior from Fort Wayne majoring in sports journalism, and Frank Bonner, a graduate student from Indianapolis studying sports journalism, are making the trip along with Malcolm Moran, director of the Sports Capital Journalism Program. They'll be writing stories primarily for USAB.com, USA Basketball's official website, working from press row and interviewing players and coaches at arguably the biggest event in the sport.
"A lot of countries focus on this tournament more than the Olympics, because basketball can get overshadowed there. For this event, the whole focus is pure basketball," Moran said.
"We've had students who have covered women's basketball games in the Olympics, but this is the first time we've done the World Cup."
The Sports Capital Journalism Program is part of the Department of Journalism and Public Relations in the Indiana University School of Liberal Arts at IUPUI. Students who take part in the program's remarkable range of top-shelf sports opportunities have their expenses completely covered, which also differentiates IUPUI's offering from many other schools.
The students will arrive in Spain with plenty of experience covering events. Gregory has covered the Indianapolis Colts, Indiana Fever and Indy Fuel, as well as the NCAA Division I Swimming and Diving Championships last year at the IU Natatorium. Bonner, before entering the sports journalism graduate school program, was a sports reporter at the Columbus Republic for two years.
"We have two seasoned veterans, and that's important because there are going to be logistical challenges, your patience is tested, you're dealing with all that – and you're dealing with it somewhere else in the world," Moran said.
The event can be a challenge for students, with the time commitment of nearly two weeks, including games and travel, in the heart of the semester. But the students' professors are supportive of the trip, and there is time for classwork between games.
There's plenty of studying to go around, as FIBA rules are different from what American fans and journalists are used to. The court is slightly smaller, timeouts can only be called by coaches and teams may inbound the ball without an official first touching it, similar to throw-ins in soccer.
"I want to be familiar with the tournament itself before learning the players," Gregory said. "I feel like those details will come."
Moran, who will travel with the students as an advisor and editor, covered the creation of USA Basketball nearly three decades ago while writing for The New York Times. He also wrote extensively about U.S. women's team coach Dawn Staley and assistant coach Jennifer Rizzotti when they played in college.
The U.S. women's team is vying for its third consecutive gold medal, a feat it has never achieved in the Women's World Cup.