It was the first home match of the season, but the close competition had your IUPUI men's soccer team tense on the sidelines.
The Aug. 31 game saw Bradley University taking on the Jaguars. Head coach Brian Barnett was patrolling the sidelines, barking instructions. Assistant coach Ronnie Bouemboue was drawing up plays for the fresh substitutes ready to shed their and enter the pitch. Then there was 11-year-old Tyler Harris in the middle of all of the fierce action.
The Fishers child was on the edge of his seat on the bench, next to backup goalie Michael Buck. Tyler signed on to the team in the spring as part of Team IMPACT, a national organization that matches kids battling chronic illnesses with college teams. Tyler has cystic fibrosis, but athletics has helped the boy through all of the medications and treatments. A sixth-grader at Riverside Intermediate School, he plays baseball and competes in cross-country.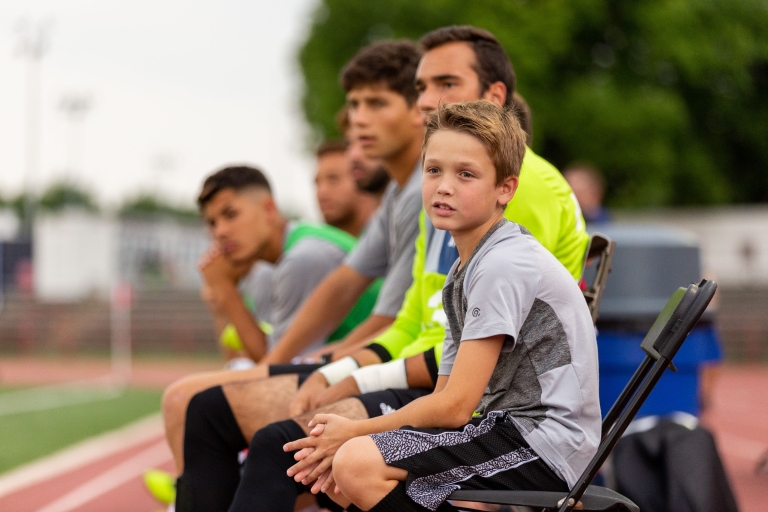 Tyler has been a part of IUPUI men's soccer practices and preseason action in August. His competitive nature has come out with the collegiate athletes.
"I can't tell you the number of times that Tyler's brought the team in: 'All right, guys, get on the line,' as if he's going to make them run," Barnett said with a laugh. "It's fantastic to be able to have a young man such as Tyler to come into the program. He's somebody who has had to fight a lot of adversity at a very young age through his battle against cystic fibrosis. … Just as much as we're helping him, he's helping us. Everybody is benefiting from this relationship, and it's just good fun to have him around."
After an early goal, Bradley University withstood tremendous IUPUI pressure in the last 20 minutes to beat the home team 1-0. Throughout the match, players slapped hands with Tyler on the bench. They chatted him up and allowed him locker-room access. Some of the roster includes former Fishers residents, who asked him about school and Little League.
"I think it's awesome that we could have him on the team," said Yan Souza, a junior forward currently rehabilitating a broken foot. "We can help get through the things he has to go through and we can serve as an example for him."
While Tyler checked out multiple practices, actual NCAA match action was a whole different level at Carroll Stadium.
"It's kind of hectic because everyone is yelling and stuff," the youngster said before the start of the second half. "I like running and hustling and stuff like that. They're doing pretty good. Need to get at least one more goal this game. I hope they do."
After the game, Tyler lined up with the team for the traditional crowd appreciation and standing ovation. He visited with coach Barnett and team captain Sam Gavin, a fullback from Dublin, Ireland.
While a bit shy, Tyler soaked up the entire evening. Mother Carey Harris said the whole experience has been a positive one. While cystic fibrosis is an obstacle in the boy's life, support and inclusion from the men's soccer team have helped Tyler battle his disease like a striker slashing through the defense for a shot on goal.
"It's amazing to see him out there having a lot of fun," Carey Harris said as she beamed from the bleachers. "We couldn't be more happy with this experience with IUPUI men's soccer and Team IMPACT. Of course, he thinks it's cool hanging out with college athletes."
Description of the following video:
[Words appear: IUPUI presents]
[Video: Men's soccer action at Carroll Stadium]
[Brian Barnett speaks: Yeah, I think it's awesome any time that you've got a young man that's gonna say, 'Hey, I have this limitation or I have this piece of adversity that I'm dealing with.']
[Words appear: Brian Barnett, Head coach, men's soccer]
[Barnett speaks: And he just stares it straight in the eye and says, 'I'm going through this thing. I'm going through this brick wall that I'm faced up against.
And I'm gonna do that through running, I'm gonna do that through baseball, I'm gonna do that by being involved with the IUPUI team. And I just think that's such an inspiration to not only our guys but to his other peers his own age and to others out there that are dealing with cystic fibrosis that he's able to go through and compete at a high level in cross country and baseball.
And I'm really looking forward to the opportunity for our team to be able to reciprocate his time out here and go watch him play or go watch him run.]
[Yan Souza speaks: We just make him feel like he is at a place that he is gonna be feeling really comfortable.]
[Words appear: Yan Souza, Junior, forward]
[Souza speaks: We introduce him to everyone and everyone talks to him after every practice. And we try to put him as a part of the men's soccer team because he is a part of the men's soccer team. So we play the warm up. He warm up with us, he played a mini game with us, and I think it's awesome.]
[Video: Tyler visits with IUPUI men's soccer players.]
[Tyler Harris speaks: I just like talking to them and hearing how their game is going and stuff like that.
[Words appear: Tyler Harris, Sixth grader, Fishers]
[Tyler speaks: They're doing pretty good, need to get at least a goal this game, I hope they do.]
[Video: IUPUI men's soccer action]
[Carey Harris speaks: Tyler is the epitome of perseverance, the epitome of endurance.]
[Words appear: Carey Harris, Tyler's mother]
[Carey Harris speaks: And he is what motivates me and hopefully he is what will motivate the IUPUI men's soccer team and all of IUPUI athletics.]
[Words appear: IUPUI fulfilling the promise IUPUI.edu]
[End of transcript]