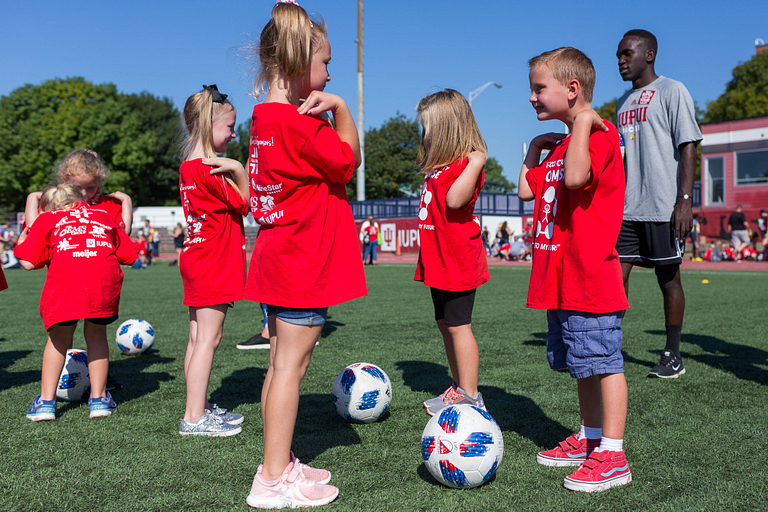 When roughly 1,000 kindergartners hop in a bus and head toward a place full of activities planned just for them, there is bound to be excitement. "Today, I'm going to college," screamed a voice from the McCordsville Elementary bus, which participated in the Hancock County Promise.
On Sept. 14, students from 47 classrooms at 12 elementary schools around Hancock County met at Carroll Stadium to participate in the "Walk into Your Future" event.
This event gives kindergartners the opportunity to visit a college campus, participate in a field day, learn about college and interact with college student volunteers. The "promise" this event makes to the children is that their community believes in and supports them in their journey toward having a bright future.
The Hancock County Promise is sponsored by six organizations around 18 Hancock County communities dedicated to supporting kids in its county to go to college and reach their full potential.
When the children sign up, parents are given the opportunity to open a CollegeChoice 529 Direct Savings Account for their kids to start saving for college. The moment a parent signs up their child for an account, the community's sponsoring organizations automatically contribute $25 to the college fund. Between then and Christmas, if the child raises $25 more, the sponsors will put an additional $25 into the account, totaling a $50 donation from them to the child's future.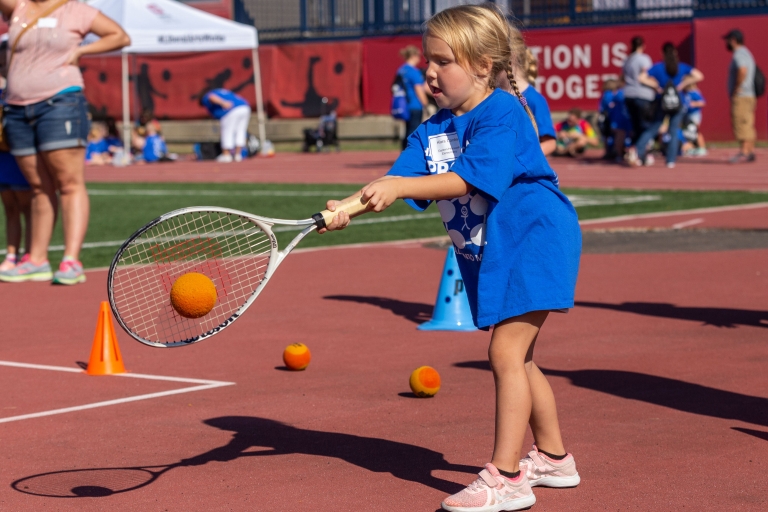 Scott Shipley, director of secondary education for Mt. Vernon Community Schools and chairperson for the Hancock County Promise, believes wholeheartedly in the mission of the Promise and said he could not thank IUPUI enough for allowing Hancock County to host the event on campus.
Shipley said research shows that if kids have hope and belief that college is a place for them, they are more likely to attend. If they have a college savings account, they are three times more likely to go to college, even if they have less than $500 in the account. Finally, if they believe they can succeed in college, children are four times more likely to graduate from postsecondary school.
Jennifer Zotz, senior program coordinator for Campus Visits and Events, and Jessica Klage, associate director of Campus Visits and Events, agree with Shipley's confidence in the program's goals and thoughts of how important this is for the children and the community.
"Even though this event is huge for our campus, it's only a piece of a puzzle that makes a larger picture," Zotz said. "In the classrooms, kids do coursework around what a person needs to do to go to college, and schools work with parents on trying to educate them on how they can save for their kids' college. Through all this, we're telling a whole community we value education on every level, not just seniors in high school."
"Educating students at a young age about college being even a possibility is so important," Klage said. "For some kids, this might be the only time they set foot on a college campus. Also, the partnership with Hancock County and the children is important for our community's growth."
Not only do the staff of the Hancock County Promise and IUPUI think it is important, but student volunteers and organizations from IUPUI also see the benefits of this program.
Jagathon volunteer Jordyn Boecker said it is important to let kids know they are welcome and at home in college. This might encourage them to enroll later in life, said the sophomore, who is studying psychology.
IUPUI men's soccer player Gianni Catenacci said that wanting to be a role model is only part of the reason he volunteered.
"Having the kids see how much fun we are having while at college might plant a seed in the kids' heads about wanting to go someday," the sophomore biology major said. "That's half the fun right there."