Description of the following video:
[Video: A printmaker rolls ink onto a plate]
[Video: IUPUI Presents appears]
[Kenneth Tyler speaks: Everything is changed, and now we have one of the most outstanding art schools in America.]
[Video: Kenneth Tyler, Master printmaker, Herron alumnus appears]
[Tyler speaks: It's pretty impressive. Well, I think it was a stepping stone. I had a good fortune to have two very good instructors there. Garo Antreasian and William Crutchfield, who was teaching drawing, and Garo was teaching lithography and painting.
And since I had all my invested time in those two people and their teachings, I was really advancing quite fast. When under their guidance I was able to accomplish, I think, a great deal in one year's time. In fact, enough to get a Ford Foundation Grant to the Tamarind Lithography Workshop in Los Angeles to which I went to after graduation, and that was the next step and getting involved in being a professional printer.
So, I think that without Herron, I probably never would have crossed the bridge and gotten to the other side.]
[Video: a shot of one of Tyler's books]
[Tyler speaks: They're a bunch of good students, a great faculty. I mean, they're doing a good job over there. They're running a very nice department, and it has all the facilities, much more facilities than I ever had when I was in school.

Plus then, they have all that digital, all that computer stuff besides. And they have all the crossover, and they go back and forth throughout the school. It's designed to really give a broad-side view of what the possibilities in print making art. This is like a golden paradise, because most institutions are shutting down a lot of this hand stuff.

Why, I don't know, because I think it's so important to work with one's hands. And I think the hands-on concept in life is a great one. Whether it be cooking, or playing an instrument, or making art. It's just wonderful.]
[Video: IUPUI Fulfilling the Promise end title appears.]
[End of transcript]
It only took one month into her graduate studies for Sarah Strong to meet one of her heroes roaming the halls of Herron School of Art and Design. 
Herron distinguished alumnus Kenneth Tyler has been giving talks, overseeing the installation of an exhibit of his work and meeting students like Strong one-on-one all week. A printmaking and installation student, Strong was thrilled to ask the 86-year-old master of printmaking about his career and advice on process. 
"He's a wealth of information, of experience," said Strong after Tyler's visit to her print- and papermaking studio. "It is such a treasure to have him here."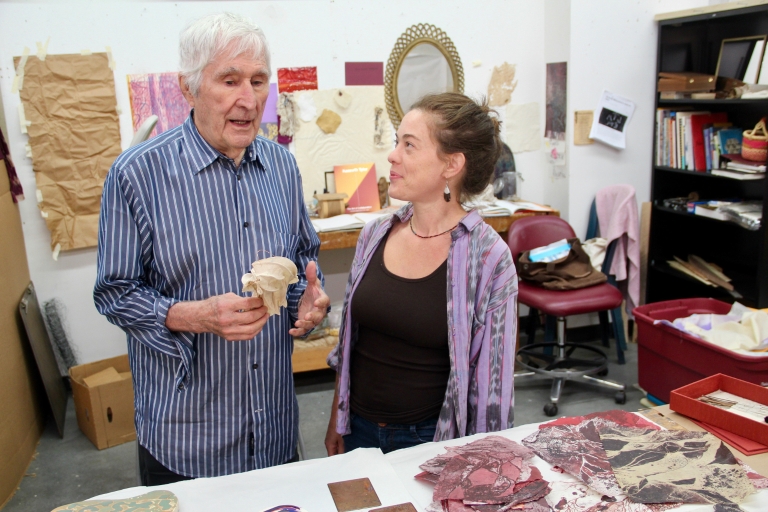 Throughout a career that spanned almost 40 years, Tyler pushed the boundaries of printmaking. He was among the first to work massive – creating mural-sized paper prints. He collaborated with some of the 20th century's greatest: Frank Stella, Roy Lichtenstein, Helen Frankenthaler and Jasper Johns, just to name a few. Tyler was one of the first printmakers to embrace computer technology to assist his printmaking techniques.
A collection of Tyler's work with 20th-century greats is currently showing in Herron's main galleries located within Eskenazi Hall at 735 W. New York St. "Kenneth Tyler: The Art of Collaboration" runs through Nov. 10.
Tyler received his master's degree in 1963 from Herron when it was known as the John Herron Art Institute, years before it joined IUPUI. Among other techniques, he studied lithography under Garo Antreasian, an influential Indianapolis artist and instructor.
The printmaker on printmaking
"I think without Herron, I probably would not have crossed the bridge and gotten to the other side," said Tyler, who earned a Ford Foundation grant from his Herron work to help launch his early career. "It was a great experience."
In the 1960s, Tyler quickly thrived at the Tamarind Institute, a lithography studio and workshop in Los Angeles. It was where his first breaks and collaborations with the world's best artists came. Within 10 years after receiving his Herron degree, Tyler created his own studio, Gemini G.E.L., while gaining international acclaim.
As Tyler met with students this week, he observed their latest work while offering suggestions on technique and materials. Strong asked him about papermaking, a shared passion between the legendary artist and the graduate student.
"Most printmakers I know don't make their own paper, and most papermakers I know aren't printmakers," Strong explained. "For Ken Tyler to come and be a master of both is very exciting for me. I can barely contain myself."
Other Herron exhibitions now showing
Faculty members also absorbed Tyler's expertise.
"He is one of the persons who is a true master in the field of printmaking," said David Morrison, a professor of printmaking. "The innovation in the field is due to Ken. He's always been one of my heroes in the print field."
With a career that took him across the country and around the world, Tyler has rarely had time to revisit Herron. Currently living in Lakeville, Connecticut, Tyler was astounded at the growth of his alma mater and how much Indianapolis has grown.
"Everything has changed, and now we have one of the most outstanding art schools in America," Tyler said. "It's designed to give a broadside view of all of the possibilities in printmaking, which weren't available when I was in school.
"This is like a citadel. This is like a golden paradise."