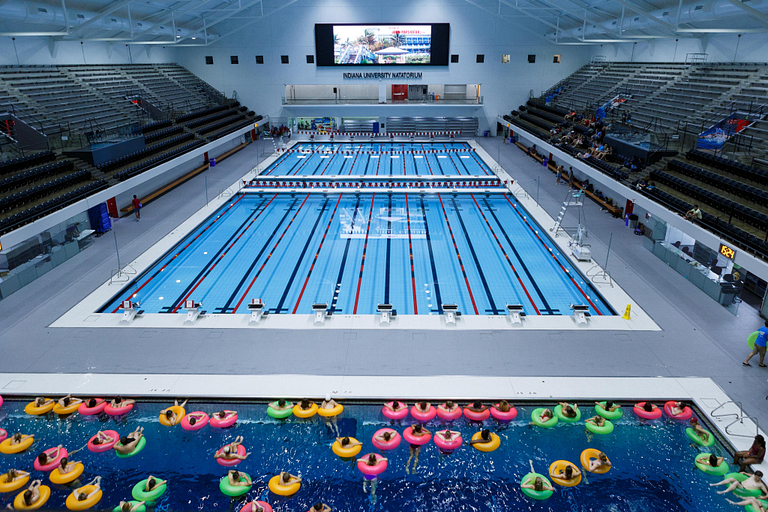 Regatta fans, race day is almost here.
But what to do for the next 48 hours? Plenty.
Regatta organizers have pulled together several events today and Friday to get you primed for a day of canoe racing and IUPUI spirit.
Tonight
One of the most unique ways to watch a movie, the annual Flick N' Float event will turn the Natatorium into a movie theater. At 8 p.m., the public is invited for a screening of the Disney classic "Finding Nemo." Grab a tube or raft and enjoy the animated underwater adventure of a lost little fish and the friendships made along the way home.
Friday
Habitat for Humanity build
The Regatta committee will oversee the IUPUI 50th-anniversary Habitat for Humanity build from 9 a.m. to 3 p.m. The build began earlier this week and will run through Nov. 16. The site is at 725 N. Belleview Place in the Haughville neighborhood. The home dedication is tentatively scheduled for Dec. 7.
Volleyball Spirit Night
Women's volleyball will begin Horizon League competition when the team squares off against University of Illinois-Chicago at 6 p.m. at The Jungle. The match will have a Regatta theme, and a victory will help inspire the hundreds of paddlers Saturday morning at the downtown Indianapolis canal. Before the game, tailgating, games and other spirited activities will start at 4 p.m. in the nearby instructional field at Carroll Stadium.