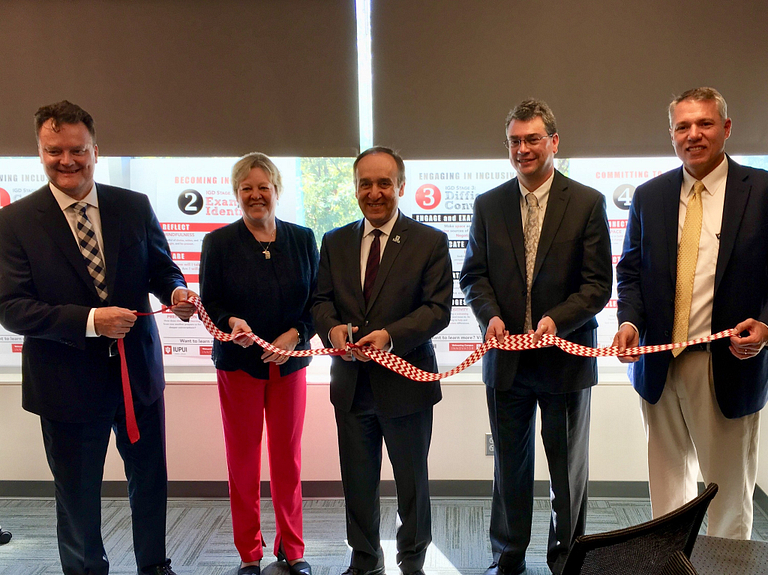 The Intergroup Dialogue community at IUPUI held a showcase Sept. 18 to celebrate activities completed during a Welcoming Campus Initiative grant project, including launching the first undergraduate certificate in intergroup dialogue at a college or university in Indiana.
At the showcase in University Hall, Chancellor Nasser H. Paydar praised the project, saying, "When we started the Welcoming Campus Initiative, we had certain things in mind. We wanted to empower our faculty, staff and students to work together and bring positive change."
"The Intergroup Dialogue project truly emphasizes the goals of the initiative," Paydar said. "You've created a major project, and you're making a major impact going forward." Some of the standout features of the Intergroup Dialogue initiative include its multidisciplinary nature, its capacity to help students develop skills that will prepare them for success in a diverse workforce, and its being both a philosophy/theory and a practice framework of education for certificate-seeking students.
The "Pathways to Community Inclusivity Through Dialogue" project team hosted activities around campus to usher in IUPUI's 50th Anniversary celebration and contribute to making IUPUI a more inclusive, welcoming campus. The team planned to conduct 50 activities beginning in August 2017 but ended up hosting more than 60 events that supported four key outcomes:
Increased campus engagement with sustained dialogues that promote an inclusive campus and foster cultural diversity and social justice.
Increased clarity of how systems and structures impact cross-cultural awareness and communication across campus.
Increased clarity of – and elimination of – communication boundaries for both majority and minority groups so they can talk and listen to each other in an open environment before drawing conclusions.
Better-informed campus units on issues of social justice and identity so they can develop more-effective diversity plans and move toward collective action for change.
The 60 activities impacted more than 1,250 people across campus and provided more than 1,575 hours of direct engagement to foster opportunities for dialogue and inclusivity.
A total of 50 posters focusing on the four stages of intergroup dialogue – creating meaning, examining identity, having difficult conversations and building alliances – have been deployed throughout campus.
Thirteen students have enrolled in the 12-credit interdisciplinary certificate in intergroup dialogue since it was launched in 2017. The certificate is housed in four IUPUI schools: Liberal Arts, Public and Environmental Affairs, Social Work, and Engineering and Technology.
The certificate enables students to receive academic credit for learning transferable skills in intercultural communication, conflict resolution, civil discourse and leadership, and it serves IUPUI's strategic plan goal to promote an inclusive campus culture.
Upon completion of the certificate program, students will be able to demonstrate leadership capabilities to support others through intergroup conflicts and to help them better function as teams, corporate citizens and community members.
The showcase featured elements that foster effective dialogue – food, art and music. The art and music were produced by students from Herron and the music therapy program in the School of Engineering and Technology.
There were also three short demonstrations: one designed to show how people can be encouraged to share more truth and inspiration with one another; another that explored the social identities of participants; and a third composed of faculty, staff and students who offered information about intergroup dialogue at IUPUI and shared their experiences as participants.
Carolyn Gentle-Genitty, assistant vice president for university academic policy and project leader for the Pathways to Community Inclusivity Through Dialogue project, thanked all of those who supported or engaged with the Intergroup Dialogue program. She encouraged students to sign up for the certificate and invited members of the IUPUI community to join the Intergroup Dialogue community.