Description of the following video:
[Video: IUPUI Presents]
[Katie Becker sits in a room in front of a wall mural]
[Katie Becker speaks] Hi, I am Katie Becker, and I am a first-year student at Herron. I'm studying drawing and illustration. Today I'm going to be showing you what I use to draw.
[Becker reaches into her bag]
[Becker speaks] I always have my pencil case. It's double-sided, and it's just a cheap one that I found in an art store somewhere.
[Becker unzips case and continues, pulling out pencils] On one side I have all of my drawing pencils. They range from different hardness and softness of lead, and that's why they're good to use, because you can get a lot of variety and values. And on the other side of it…
[Becker turns over case, unzips the other side and straightens items] … we have the pens I use for inking, because I am into illustration. A lot of illustrators ink their pieces just because it gives it a lot of dimension and line weight. And I use Micron pens primarily. Lately I've been using brown inks because they're softer and I like the effect that it gives.
[Becker rezips case and reaches over, pulling out ruler]
[Becker speaks] And I also have a ruler at all times, just because it's always nice to be precise sometimes.
[Becker pulls out spiral-bound notebook, showing off the cover and then the interior pages] And I use a Canson Mix Media sketchbook for a lot of my sketches, because it can hold whatever I want to put in there, like charcoal. Or if I want to color something, I can use water colors and it won't, you know, deteriorate the paper.
[Music: Uptempo electronic music plays over a montage of Becker drawing.]
[Video: Drawing of student is held by the student.]
[Screen fades to black. red IU logo and white words appear: IUPUI fulfilling the promise and iupui.edu]
[End of transcript]
Drawing in a digital world is easy for Katie Becker, a first-year student in the Herron School of Art and Design.
In order to start strong in the drawing and illustration program, the Indianapolis native invested in Procreate software to go along with her Photoshop prowess. And she's well-versed in several programs that allow drawing on-screen and 3D rendering.
Becker's career goal is to become a storyboard digital animator for TV shows, Pixar, Disney or any other animation studio. Her Instagram portfolio portrays a strong style and execution.
But Becker wouldn't be a digital artist without paper, pencils and pens, too. Her expressive creations wouldn't be as fine without the foundational work, she said.
"You always need to understand the basics of traditional drawing so you can apply it to digital," Becker explained. "I don't think you can learn one without the other at this point in time."
Becker shared her tools of the trade for when she works analog.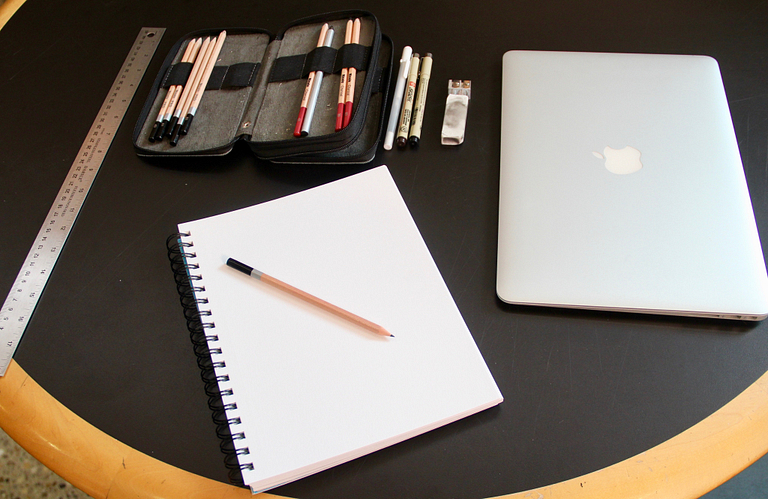 From top left:
18-inch ruler for preciseness
Double-sided pencil and pen case
Drawing pencils, which range in hardness of lead for a variety of values
Pens – Becker explained that the inking process is essential for illustrators. The different pens create dimension with different line weights. "Lately, I've been using a lot of brown inks because they're softer, and I like the effect that it gives," she said.
Pencil sharpener
Eraser
MacBook Air
Mixed-media sketchbook, which allows the artist to use pencil, pen, charcoal and even watercolor pieces in the same place without paper deterioration.