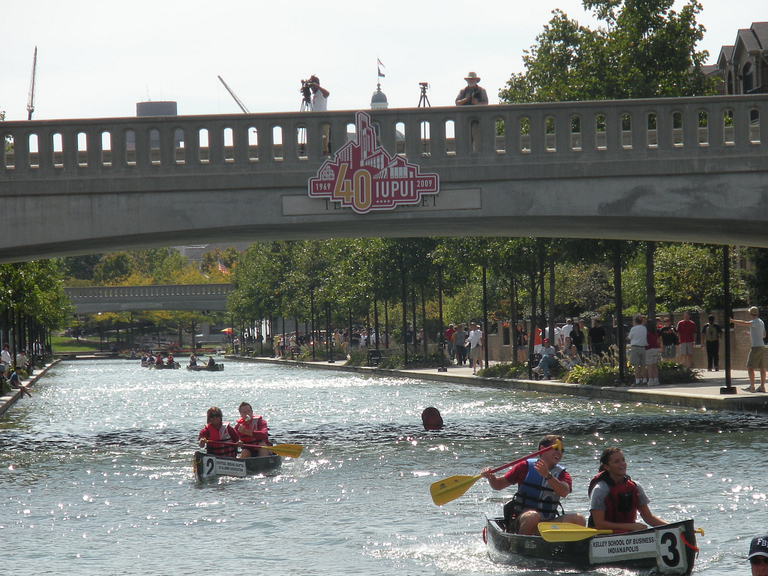 Stefan Davis had a vision of a race on the Downtown Canal. From the start, he and the Indiana University Alumni Association recognized an opportunity to build community – not only among IUPUI graduates and current students, but also by bringing in members of the Indianapolis community itself. It was a chance to build a legacy around a common campus and common ideals.
There was never a question about what the vision was. The real question was, "How do we make it happen? How do we bring Regatta to life?"
The anchor of IUPUI pride
Enter the Student Organization for Alumni Relations, or SOAR. Charged to be the mind and muscle behind Regatta, the students at SOAR didn't just help plan and execute the event; they built it from the ground up.
"We had this vision of what we wanted it to be and then tried to figure out what pieces fit into that," said Christina (Bleeke) Taggart, a student committee member for the first Regattas and the student chair in 2010. "It was a really big struggle that first year. We reached out to pretty much anybody and everybody we could to get different activities besides just having the canoe race on the canal."
Even Davis had early doubts about whether Regatta could be seaworthy.
"That first year, I didn't even make a request for Chancellor (Charles R.) Bantz to come because I didn't know if anyone would come to this thing."
Taggart and Davis needn't have worried. Forty-eight teams, their max for the inaugural race in 2009, registered. The Herron School of Art and Design brought back alumni who created art on the spot and then sold it to spectators. There were family-friendly activities, although on a smaller scale than today's concerts, dog costume contests and other exhibitions.
"The first couple of years we did it, we didn't have the big stage that we have had since then, and we didn't have nearly as much entertainment," said Sharon Holland, director of alumni and special programs at the alumni association. "But we did have some."
Students and alumni alike found their way to the canal for that first round of festivities, and the excitement stuck – so much so that the event, in Holland's words, "just kind of expanded each year."
"For the second year, we got a little better organized," said Taggart, a sports management graduate. "We had a marketing and promotions committee, a food and entertainment committee, a rules committee. But the main thing that I really tried to focus my energy on was making sure that everybody knew about Regatta. I didn't want there to be anybody after the second year who hadn't heard about it. We had a huge jump in attendance from the first year to the second year, partly because we put such a huge effort into marketing and promotions."
Regatta's new home
With IUPUI's 50th anniversary falling the same year as Regatta's 10th, this year is set to be its biggest yet, with even greater connections throughout campus and the city of Indianapolis. The new location on the south end of the canal near the Indiana State Museum and Military Park should help. And so should the free – yes, free – parking for the event.
"We just continue to add components through the years. It's continued to get bigger and bigger," said Davis, now the senior executive director of the alumni association. "The attractive thing about Regatta to me was that it involved all of our schools, and importantly, it was a great opportunity for us to attract younger alumni back.
"It's the kind of event that I thought would be fun to young alumni, but maybe not older alumni," Davis continued. "I was wrong on that. It's proven to be fun for all ages. We have a lot of families come in with their children. We've even had some older alumni actually paddling in canoes through the years. So it's met those goals as a campus signature event that involves the whole community, faculty, staff, students and alumni. That makes it another huge success, I think."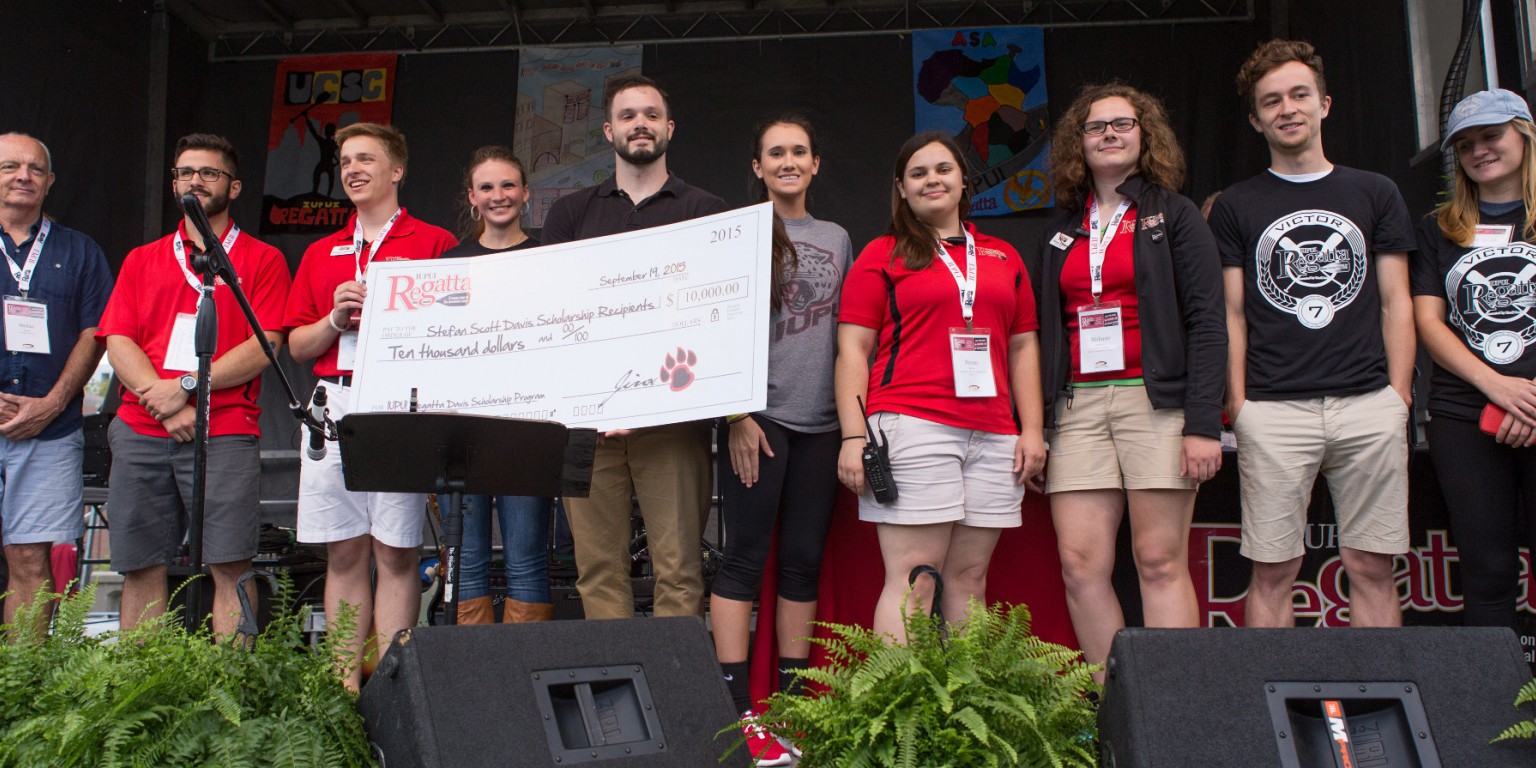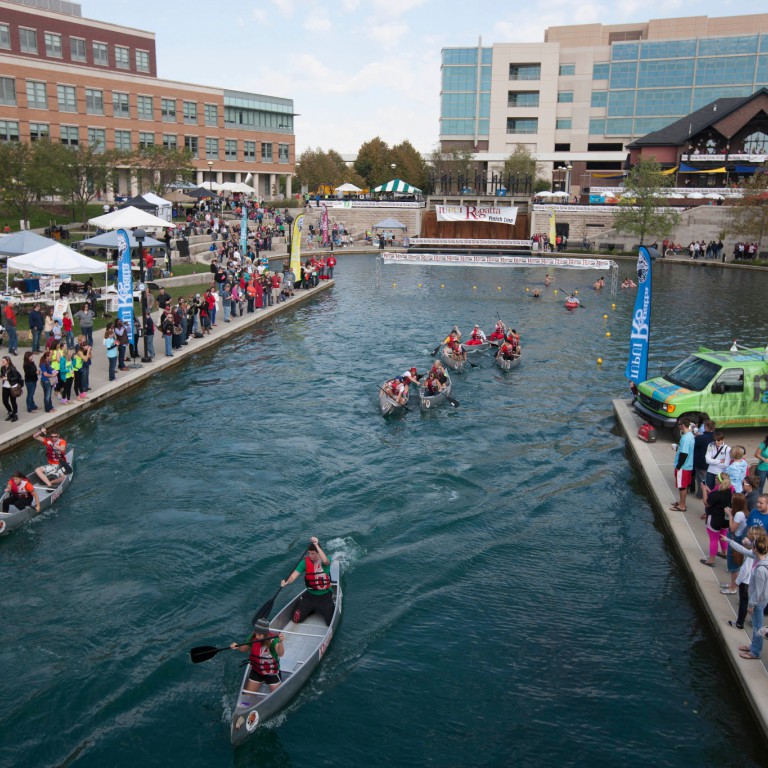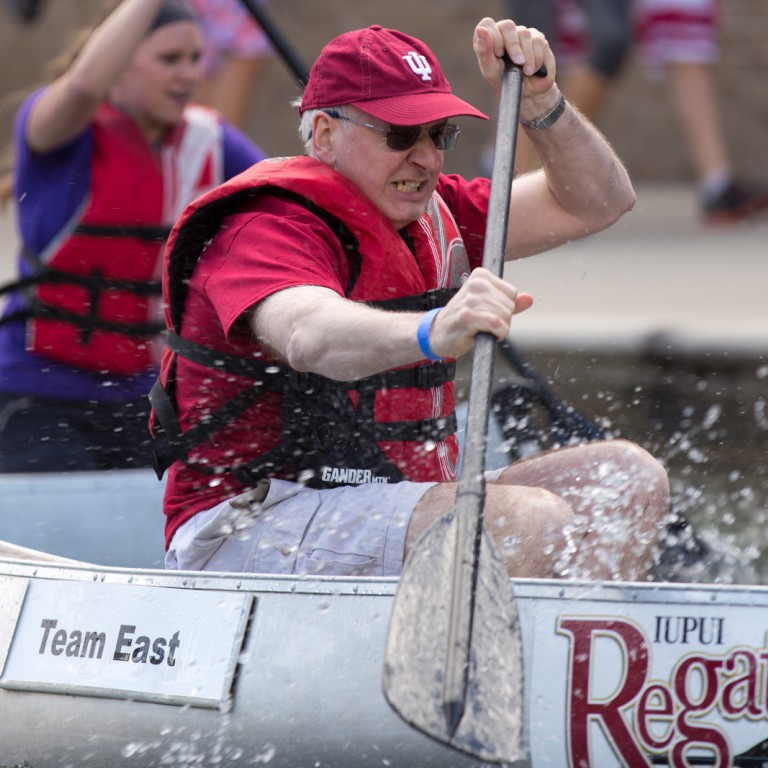 Photos by Liz Kaye and Chris Meyer, Indiana University
The racing field eventually expanded to 150 canoes manned by anyone with an IUPUI connection – students, alumni, faculty, even community sponsors brave enough to climb into the two-person craft. Team registration sold out in just three hours last year, faster than ever before. In honor of IUPUI's anniversary and spurred by that success, the Regatta crew added 50 more teams to the field this year.
Spectators, participants and organizers alike have had a difficult time not getting caught up in the excitement of Regatta, and that's exactly what Taggart had hoped for as a student organizer.
"Ideally, we wanted it to be something that brought students and alumni together, kind of the way that the Little 500 does at IU Bloomington and the Grand Prix does at Purdue. But we also wanted it to be a little bit more family-friendly," said Taggart, who has been to eight of the first nine Regattas, including last year when she attended with her husband, Travis, also a former Regatta committee member, and their 4-month-old son.
"I've been coming back every year to go to Regatta because first, it's something that's so important to me that I was a part of from the beginning, and it's amazing to watch how it's grown. But I think it really gives people that homecoming kind of event that they can keep coming back to every year and really take pride in the campus and how much the campus has grown. It's that link back to IUPUI and my days at school that I wouldn't have otherwise."
Taggart's wish is coming true in many ways. Regatta X, taking place Sept. 22, will serve as IUPUI's official homecoming for 2018-19. Among the festivities, Regatta royalty will be chosen, and the canal race will be our "big game."
Scholarships, now one of the event's greatest benefits, will be awarded as well.
The Stefan S. Davis IUPUI Regatta Scholarship
The Stefan S. Davis IUPUI Regatta Scholarship is awarded to 10 IUPUI students based on academic performance, financial need, and leadership experience in campuswide organizations or community service.
What may come as a surprise is that the scholarships weren't always at the forefront of Davis' mind when laying the groundwork for Regatta. Davis, who also launched the Top 100 while serving as vice president for alumni relations, originally saw Regatta as an opportunity to give SOAR more visibility and a stronger identity on campus. It wasn't until the event itself, and the number of sponsorships, started to grow that the possibility of scholarships became a reality.
That supporting students financially is now a cornerstone of Regatta is a major point of pride for Davis.
"All scholarships are meaningful, but on this campus, where we have so many first-generation college students, I think they're especially important. Anything we can do to lessen the debt load of the kids is just a super thing to be doing."
But at first?
"We didn't know if we could make any money off of it," Davis said of Regatta. "But then, under (former director of alumni programs) Jayme Little, we got it to the point where we had enough sponsorships. And the kids were pretty aggressive in going out and getting sponsorships from our neighboring community partners."
To be part of IUPUI's history as the father of Regatta is significant to Davis. To be the namesake of a scholarship like this one means even more.
"I think it's especially nice to have a scholarship named after you when it comes as this one has been developed. So many scholarships are donor-driven. This one kind of evolved the other way, where there was an event raising funds, and they named it after me for doing the event. They decided – it must have been three years ago now – to name it after me, for which I am most grateful."
A legacy of giving
So much of Regatta is about giving back, whether it's to the community by welcoming them onto campus, to all of IUPUI by providing a single unifying event to rally around or to students by awarding scholarships. This, to Davis, is the heart of Regatta's legacy.
"It's a signature event that has built campus unity at IUPUI. There aren't many things you can point your finger at that do that. If you sit here and think of events, what do you see that is similar to Regatta that pulls so many parts of campus together?
"While I'm surprised at how big it's grown, I think it really reflects on the potential we have here for developing those kinds of things," he said. "If you look at the history of our campus, it's been such a collaborative campus. So many of the things that are started aren't top-down driven. You get some people with an idea, and they go around and knock on doors and say, 'Can you help me with this piece of it and this piece of it?' It's always been a great campus in terms of coming up with those collaborative efforts.
While some people, Davis and Holland included, have a difficult time imagining how much bigger Regatta can get, if IUPUI continues in its spirit of collaboration, the sky really is the limit. After all, in just 10 years and with contributions from entire communities, one event has built two legacies – one of campus pride and another of scholarship commitment – and changed countless lives.