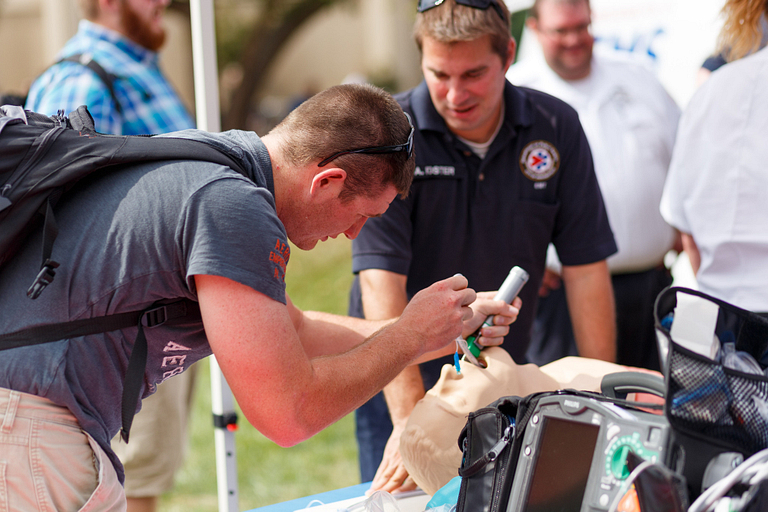 Police need accountants, too.
While it's called the SPEA Public Safety Career Day, the event isn't just for those in the School of Public and Environmental Affairs, and the agencies attending the fair aren't just looking for future law enforcement officers. Regardless of your professional goals, here are your need-to-know highlights for SPEA Public Safety Career Day, taking place from noon to 3 p.m. Sept. 26 in Taylor Courtyard.
Think outside the box
All majors are welcome. Of course, there will be law enforcement agencies – the Indianapolis Metropolitan Police Department will be represented, along with several suburban departments and the state police – but so will agencies specializing in health and medical fields; the Bureau of Alcohol, Tobacco, Firearms and Explosives; the Indiana Department of Natural Resources; and the Indianapolis Department of Public Works, to name a few.
And remember, they all need accountants, communications specialists and IT support.
Kathy Hursh, associate director of career services at SPEA, also urges you to think outside the box even when considering a traditional field. Did you know the Indianapolis airport has its own police force? It not only helps the Transportation Security Administration – you know it as TSA – enforce regulations; it also has jurisdiction over entities at the airport such as FedEx. Your career opportunities might be broader than you think.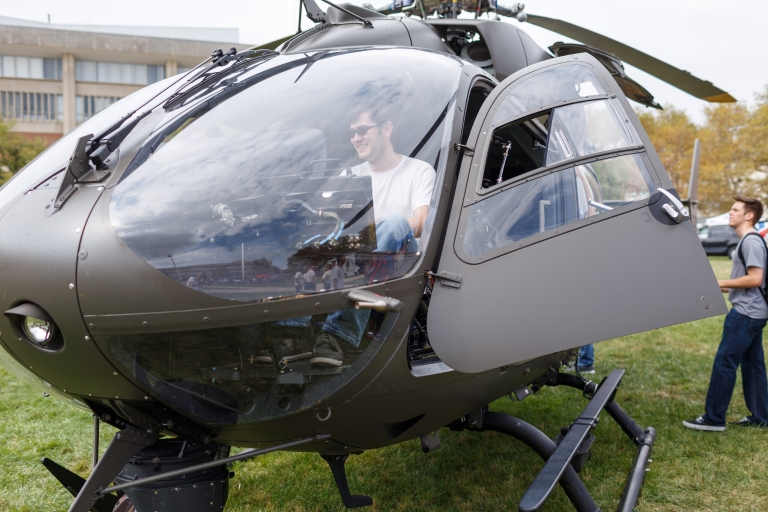 Test out your future career
This isn't your typical fair. If you just want to shake a few hands and visit a few tables, you can do that. But if you want to get your hands a little dirty, you're in luck. You'll be able to sample public safety careers in a way not many students have the chance to.
"You get to see the Blackhawk helicopter land. You get to see the bomb dogs," said Leslie Wells, SPEA's assistant director of communications. "You can sit on law enforcement motorcycles and get to see the mounted patrol. It's a chance for these law enforcement officials to come to campus and to bridge that relationship with students on campus."
Get the inside scoop
There's a lot of competition for positions in some of these agencies, especially at the federal level. You'll be vying for a spot with hundreds of applicants from across the country, so meeting with representatives at the career fair can provide you with some insider tips on what application reviewers look for, when new positions might be available and more.
"Sometimes the ability to connect with somebody who's local could give you some helpful hints on what their forward process might be three months or six months out," Hursh said. "A local contact for a federal agency is always helpful."
Tips for your best Career Day experience
Plan your elevator speech. Go beyond "Hi, my name is John, and I'm majoring in public affairs at IUPUI." Instead, capture in your introduction what sets you apart from the crowd. Also, don't be afraid to practice, practice, practice. Especially if you're new to networking, try your elevator speech on a friend or in front of the mirror.
If you have a resume, bring a copy or 30.
Follow up with the people you talked to. Collect business cards and then reconnect with the representatives after the event. Remind them of where you met and what you're interested in. Refer back to that stellar elevator speech.