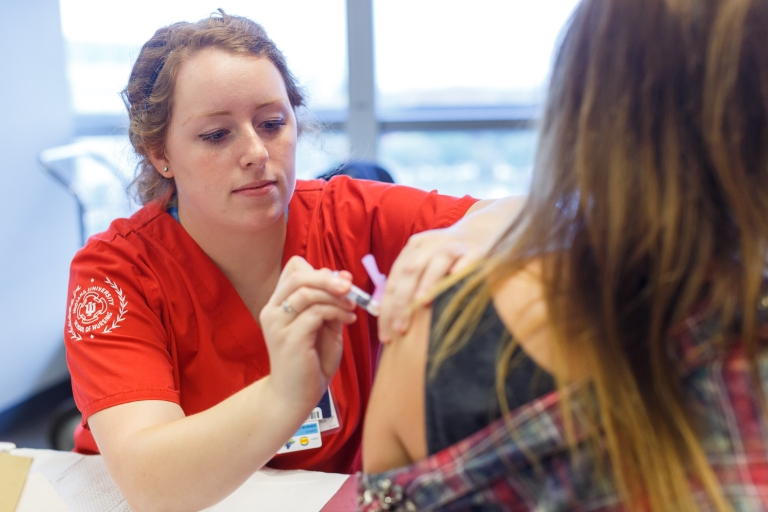 Simply breathing in the air around someone with the flu is all it takes, said Dr. Stephen Wintermeyer, director of Student Health Services at IUPUI.
In light of the upcoming flu season and the start of a new school year, IUPUI Health Services is hosting a Get Poked! Free Student Vaccination Clinic from 8 a.m. to 6 p.m. Oct. 3 in the Campus Center TV Lounge.
Flu myths
IUPUI is teaming up with the Indiana State Department of Health to offer free vaccinations for both the flu and HPV. Vaccinations are in limited supply and will be given out on a first-come, first-served basis. It is suggested that students bring a photo ID and their CrimsonCard to confirm they are a student at IUPUI.
Although the flu season does not officially start until October, getting the vaccine early and allowing it time to work before people are exposed to it is a good way to prevent getting sick, Wintermeyer said. The flu is a very common viral infection that affects more than 3 million people each year. It is highly contagious and can be fatal if not treated correctly. If someone showing symptoms of the flu coughs into the air or touches you or an object you then touch, you are at risk of getting sick.
Wintermeyer suggests that anyone showing signs of the flu should seek treatment by visiting the Student Health Center or their family doctor and stay at home to recover. Anyone at risk of becoming sick should use hand sanitizer and avoid coming into close contact with people who are already sick.
The other vaccination offered at the clinic targets HPV, the most common sexually transmitted infection in the United States. Most cases of HPV go away on their own, but both men and women have an increased risk of genital warts and an increased risk of several cancers, such as anal, oropharyngeal and cervical cancers, if ignored.
HPV myths
Refusing to use a condom and becoming intimate with someone you do not know are easy ways of potentially contracting this virus. IUPUI encourages everyone under the age of 26 to receive the vaccination to combat the risk of HPV.
"HPV vaccine rates in Indiana are the lowest of any state in the country, even lower than the District of Colombia," Wintermeyer said.
Receiving these vaccines is not required for most students, but to keep campus happy and healthy, it is strongly encouraged. Every immunization a student receives will count toward any required shots for the 2018-19 school year.
Assistant professor of health communications Katharine Head expressed her hope for the Get Poked! Free Vaccination Clinic.
"We're hopeful IUPUI students will stop by the clinic, 'get poked' and tell their friends about it. This is a great opportunity for our students to get vaccinated at absolutely no cost to them," she said.