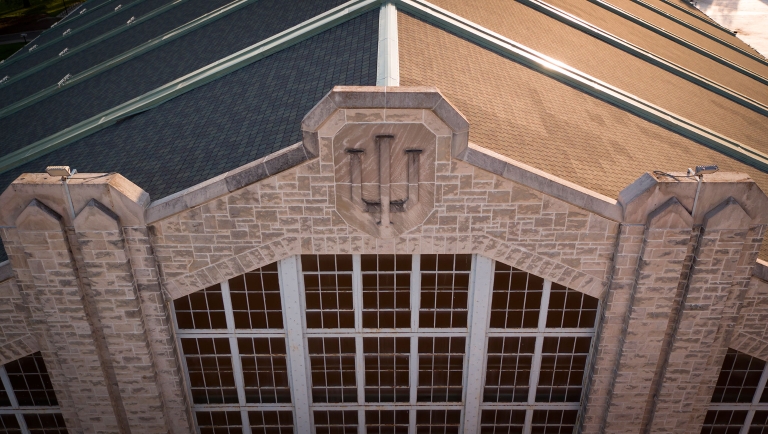 A popular recreational facility on Indiana University's Bloomington campus is taking on a new name. The former Wildermuth Intramural Center has been renamed the Intramural Center by the IU Board of Trustees.
Commonly referred to as the WIC, the building is IU's first recreational sports facility and is used for academic purposes by School of Public Health-Bloomington faculty as well as students across campus for recreational activities. It includes two multipurpose gyms, strength and cardio areas, 10 basketball/volleyball courts, and an indoor track, as well as other recreational and academic spaces.
While digital maps and some building signage now note the new name, other signs will be updated in the coming weeks.
Renaming the building, which was named after former trustee Ora Wildermuth, has been under consideration for some time. The IU community, leadership and trustees have questioned the building's name given historical documents linking the building's namesake to harmful attitudes regarding African-Americans, extraordinarily strong opposition to racial integration and animosity toward other groups including Japanese-Americans. Because of this, the trustees determined a change was in order.
A permanent name for the facility is under consideration and will likely be unveiled in 2019.
IU President Michael A. McRobbie said that he received a request to change the building's name in the spring and that he appointed a university committee to advise him on the matter. That committee presented its recommendations to him in August 2018.
Based on the committee's work, McRobbie recommended the following to the trustees:
That the board change the building's name to the Intramural Center.
That, in the future, the same naming procedures are followed for all other namings of IU buildings and facilities.
That the University Naming Committee be charged with amending the university's naming policy to provide more specific criteria by which the decision to de-name buildings would be made in the future.