IU President McRobbie to deliver State of the University address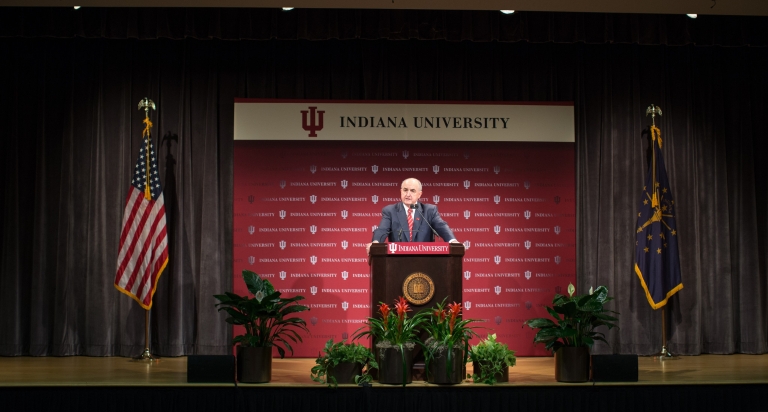 Indiana University President Michael A. McRobbie will present the annual State of the University address at 1:30 p.m. Tuesday, Oct. 16, in President's Hall at Franklin Hall on the Indiana University Bloomington campus.
McRobbie is expected to discuss the university's progress toward goals and initiatives outlined in the university's Bicentennial Strategic Plan and preparations for IU's bicentennial celebration in 2019-20.
In keeping with the Faculty Constitution and IU tradition, the University Faculty Council invites the president to present a report on the state of the university each year. All members of the IU community and the general public are invited to view the address in person or via live-stream broadcasting at broadcast.iu.edu or on IU Bloomington Campus Cable Channel 51.
Indiana University's Annual Security and Fire Safety Report available
Public Safety and Institutional Assurance recently published IU's Annual Security and Fire Safety Report, which includes specific crime stats for the past three years and details crime prevention and safety programs, such as evacuation drills, conducted at all IU campuses. Reports also include information on the university's Alcohol and Other Drug programs and fire safety statistics and information. This year's report wraps all the information into one report for the campuses and a second report for School of Medicine properties, reducing the number of reports from 16 to two.
The reports are published in compliance with the Jeanne Clery Disclosure of Campus Security Policy and Campus Crime Statistics Act and the safety-related requirements of the Higher Education Opportunity Act. The reports include statements addressing the university's policies, procedures and programs concerning safety and security, such as policies for responding to emergency situations and sexual offenses.
The crime statistics included are dictated by the Clery Act and count those reported to have occurred on campus, in or on off-campus buildings or property owned or controlled by the university and on public property within or immediately adjacent to the campus. You may request a paper copy from your campus IU Police Department.
Apply for grants from the IU Office of the Vice President for International Affairs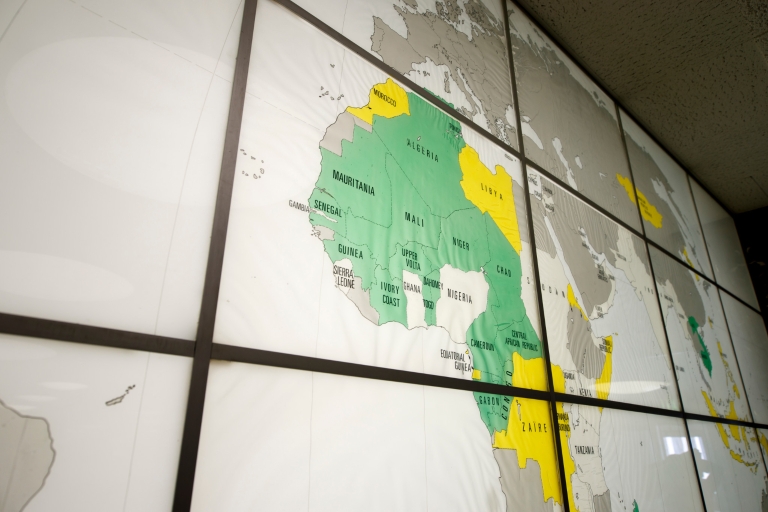 The IU Office of the Vice President for International Affairs supports a variety of competitive funding opportunities that help IU faculty members advance their research and teaching through international engagement. These include a number of exchange programs as well as internal grant programs:
Short-Term Exchange Programs for the 2019-20 academic year: Exchange positions will be offered in Brazil, China, Germany, Ghana, India, Italy, Japan, Mexico, Poland, Russia, South Korea and Thailand. Application deadline is Oct. 12.
Global Gateway Seed Grants for China, Europe, India, Mexico and Association of Southeast Asian Nations gateway offices: Applications are due a minimum of eight weeks before a proposed event.
International Short-Term Visitors Grants: Applications are due a minimum of eight weeks before a proposed event.
Language Learning Grants: Applications are due a minimum of eight weeks before a proposed event.
Overseas Conference Grants: Application deadlines are Jan. 15, April 1 and July 1, 2019.
Overseas Study Program Development Grants: Application deadlines are Nov. 1, 2018, and Feb. 2, 2019.
President's International Research Awards: Application deadline to be determined.
Renmin University of China-IU joint research grants: Application deadlines are Nov. 1, 2018, and April 1, 2019.
For more grant guidelines and online application forms, visit the Office of the Vice President for International Affairs web page for faculty and visiting scholars, or email ovpia@iu.edu with questions.
IU-led study of younger Alzheimer's patients aims to pave the way toward new treatments
IU School of Medicine scientists have received the university's largest single grant from the National Institutes of Health and will partner with a team of premier researchers around the country to lead a five-year national research study of a relatively rare form of Alzheimer's disease. Researchers hope the study will provide a foundation that may lead to new therapies for a disease that so far has resisted effective treatment.
The National Institute on Aging of the NIH has awarded IU a grant that is expected to total $44.7 million to fund the Longitudinal Early-onset Alzheimer's Disease Study. LEADS will follow participants diagnosed with early-onset Alzheimer's disease, which strikes people younger than 65 – often in their 40s and 50s. The grant is in addition to a $7.6 million award last year that allowed planning and other start-up activity to begin for LEADS, bringing total federal support for the initiative to more than $52 million.
The study is led by IU School of Medicine neurologist and neuroscientist Dr. Liana Apostolova, who is partnering with Maria C. Carrillo of the Alzheimer's Association; Dr. Brad Dickerson of Massachusetts General Hospital and Harvard Medical School; and Dr. Gil Rabinovici of University of California San Francisco.
IU Public Safety and Institutional Assurance announces leadership changes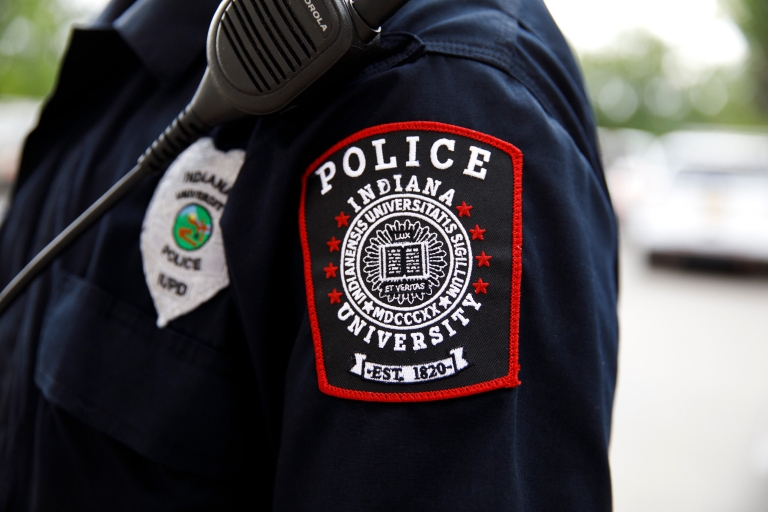 IU Public Safety and Institutional Assurance recently announced leadership changes across all IU campuses. Changes include:
IU Police Department-Northwest Chief Wayne James, who also serves as IUPD's first chief diversity officer, will continue in these roles as he takes on additional responsibility as deputy superintendent for regional law enforcement. He has been serving a more active leadership role with the regional campuses since the summer. The reclassification of his position was effective Oct. 1.
IUPD-Bloomington Chief Laury Flint is changing positions to take on systemwide responsibilities as IU's first director of threat assessment and engagement. She will lead the search for the new IUPD-Bloomington chief and begin her new position once the new chief has been hired. The search is expected to be completed early next year. The development of a comprehensive and consistent approach on all IU campuses for identifying potential threats to our campus communities before harm occurs is a priority at IU. This process requires a coordinated and thorough approach for acquiring and funneling critical information to behavioral consultation teams.
IU Public Safety Administrative Lt. Brad Seifers was elevated to university director for IU Emergency Management and Continuity, Support Services, which includes technology, dispatch and accreditation. Seifers began serving as interim university director over the summer. This reclassification was made to better align public safety support service functions and to allow for stronger coordination with university emergency support functions, public safety and community partners. The reclassification became effective Oct. 1.
Indiana University to honor five alumni with highest award
Five Indiana University alumni will receive IU's Distinguished Alumni Service Award on Oct. 11 during homecoming weekend. The Distinguished Alumni Service Award is the university's highest award given only to an alumna or alumnus.
IU President Michael A. McRobbie will present the awards, and Robert N. Johnson, national chair of the IU Alumni Association, will preside at the presentation ceremony in Alumni Hall at the Indiana Memorial Union.
The recipients, Daniel F. Evans Jr., Curtis A. Ferguson, Rose M. Mays, Todd W. Spaletto, and Pusadee Piyakul Tamthai, were chosen for service and achievement in their fields of endeavor and significant contributions to community, state, nation or university. With the addition of these recipients, IU has honored 340 alumni since the award's inception in 1953.