"Undergraduate teaching is at the heart of great public universities. It is the reason that most students attend the university, and it is the most immediate way in which we fulfill our missions of creating opportunity, of building the foundations for personally and professionally rewarding lives, and of educating an active, informed and productive citizenry."
This was what Indiana University President Michael A. McRobbie had to say about the importance of IU's teaching and learning initiatives in his 2017 State of the University address. He also talked about a new site, teaching.iu.edu, that pools the teaching resources available to IU faculty into one easily accessible location.
A year later, the site created by FACET – the IU Faculty Academy on Excellence in Teaching – has been revamped with assistance from University Information Technology Services to provide even more access to teaching resources for IU faculty across the university. The redesign includes a new homepage with features like a universitywide calendar of events related to teaching and learning, a teaching term of the week and a virtual tour of all of the resources housed on the site.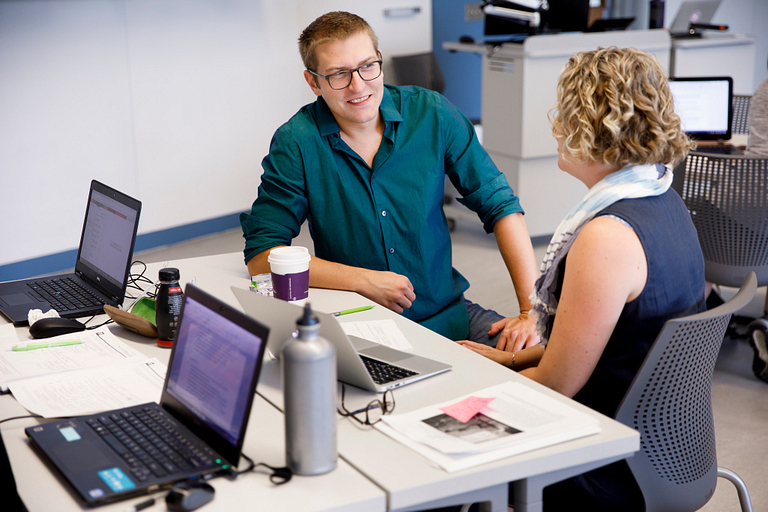 "We teach and learn in a community, so this is a community resource," said Michael Morrone, director of FACET. "If we want to elevate teaching resources, we need to pick the ones that are most valuable and present them in a way that is usable and focuses on what the faculty are interested in."
Morrone said the site will continue to improve and evolve with the help of IU's campus centers for teaching and learning, as well as faculty feedback. The vision is for all of the resources to be not only housed on the site but seamlessly integrated. Use of these virtual resources could then be translated into use in hands-on workshops and teaching and learning events.
Check out four ways faculty can use teaching.iu.edu to teach and learn this year.
Watch "Great Conversations"
"Great Conversations" is a collection of professionally produced, faculty-curated conversations with scholars, leaders and experts in higher education around teaching and learning.
Discussions cover topics including teaching for lifelong student success, college costs and the new economy, teaching innovation for the campus of the future, community-engaged learning and more. Each conversation lasts 20 to 30 minutes and aims to help faculty transform the ideas they may have for the classroom into action.
After watching a "Great Conversation," faculty can visit Canvas for biographical information on each speaker, additional videos, a list of each speaker's professional publications and a discussion to engage with other faculty interested in the topic.
Use ProfessorPedia
Teaching.iu.edu gives IU faculty members access to ProfessorPedia, a searchable, faculty-curated collection of terms related to teaching and learning. The tool not only provides definitions for terms, but it also includes examples, references and helpful links.
Faculty can learn more by doing a direct search of a term or by browsing through four collections: early career, mid-career, master teacher and high-impact practices. More collections will likely be added, and the more than 2,000 terms in the ProfessorPedia library will be updated as faculty comment, ask questions, and suggest new terms and content enhancements.
Check out the Technology Tool Finder
Technology can strengthen teaching and deepen student learning when used correctly, and the Technology Tool Finder can help faculty identify IU-supported and vetted tools to achieve a particular learning outcome.
The tool finder will help faculty locate technologies and Canvas tools applications that simplify communication with students; assess student progress; store and organize files; create innovative course material; allow for student collaboration; manage multiple sections, rosters and attendance; and more.
Provide faculty feedback
Beyond commenting, asking questions, and suggesting new terms and content enhancements for ProfessorPedia, Morrone said the FACET is looking for general feedback from faculty on the entire site.
If you have a question or suggestion for teaching.iu.edu, contact FACET at facet@iu.edu.