In the fast-paced and dynamic environment in which we all live and work, we unfortunately do not always get the opportunity to pause and reflect upon our accomplishments. This is why I enthusiastically look forward to those moments of the academic year when we can stop to showcase the successes of Indiana University faculty and staff and the extraordinary contributions they make every day to educating our students, strengthening the quality of life in the Hoosier state and staying closely connected to our swelling ranks of IU alumni around the globe.
As I have said on numerous occasions, but never nearly enough as I would like, the power of IU lies in its people, and we are fortunate to have a world-class community of scholars and staff across all of our campuses who continue to work tirelessly and with enormous dedication to making IU one of the best public universities in the world.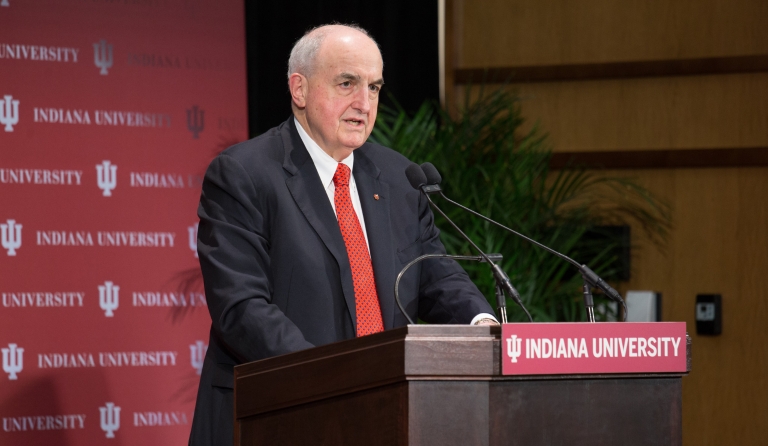 Last week at the invitation of the University Faculty Council, I was very pleased to present to IU faculty and staff and the broader university community my 12th State of the University address, in which I shared a number of recent record-setting and other major achievements at the university. Indeed, it truly was another banner year for IU as we continue to embrace our special and longstanding responsibility to the people of Indiana to provide an education of the highest quality and produce graduates in areas of importance to the state and nation.
Collectively, we are educating more Hoosiers than ever before, ensuring that our campuses are diverse, multicultural and welcoming environments and engaging in research and scholarship that drives innovation, new ideas and major discoveries. In doing so, we have helped IU firmly cement itself as the state's powerhouse in so many areas vital to advancing the educational, economic, intellectual, social and cultural fabric of the Hoosier state.
I hope you will take a moment to read or view an archived stream of the address and celebrate all of our achievements and the enormous progress taking place all across the university.
I also want to thank you for all you are doing to help us prepare for IU's bicentennial year, which will commence next summer, and ensure that our 200th anniversary will be an unforgettable milestone in IU's history. The bicentennial will give us an opportunity to celebrate, chronicle and explore all of the great moments in IU history. And it will be marked by a number of signature projects, special commemorations and exciting celebrations, many of which are already underway. You can find details about all of these events at our special IU Bicentennial website.
Finally, I want to offer a special thanks to those who contributed to this year's IU Homecoming weekend. This time-treasured tradition is a major highlight of the fall semester. It is always a wonderful time for our returning alumni – from around the state and beyond – to reconnect with old friends and renew their ties to our great university and its spirit and traditions. This year's celebration was made even more memorable by a celebration of the newest recipients of the Distinguished Alumni Service Award and the dedication of the Ray E. Cramer Marching Hundred Hall, a splendid new practice facility for IU's legendary Marching Hundred band.
As you can see, we have so much to celebrate and be proud of – and even more to look forward to – as we continue to work together to enhance IU's traditions of excellence in education, research and service that have been the university's hallmark for nearly two centuries and set a course for a third century of excellence.
My great thanks and appreciation for all you do for IU.
Michael A. McRobbie is president of Indiana University.