BLOOMINGTON, Ind. – Indiana University President Michael A. McRobbie has issued the following statement on George Taliaferro, IU football legend and the first African-American drafted by an NFL football team, who passed away Monday at age 91.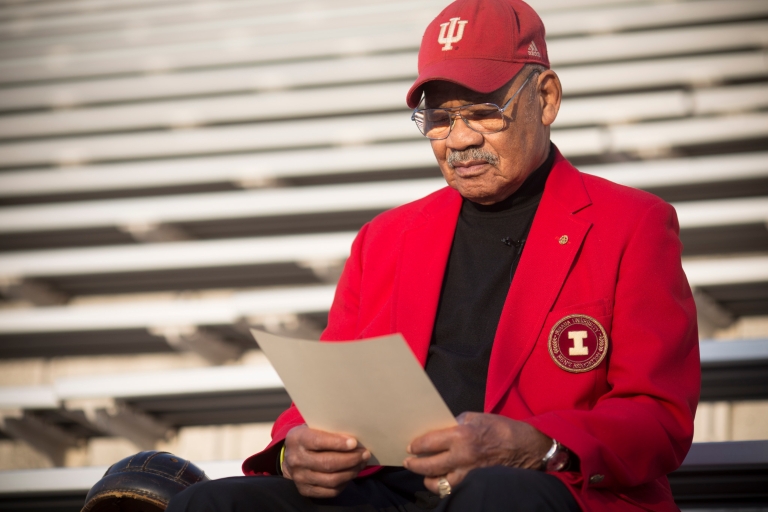 "All of us at Indiana University are deeply saddened by the passing of George Taliaferro, a man of enormous talent, courage and determination that helped him shatter racial barriers and earn a special place in the annals of our state and its flagship public university.
"A standout running back who had been a high school star in Gary, Indiana, he helped lead the 1945 IU football team to the only undefeated Big Ten championship in Hoosier football history, which was also the first of his three All-American seasons at IU. The 'Jackie Robinson of football,' he went on to become the first African-American player to be drafted by the National Football League, where he excelled at a remarkable seven positions and earned Pro Bowl honors in three of his six seasons.
"As a student-athlete at IU – at a time when segregation was prevalent across our state and nation and in the face of tremendous obstacles – he fought to integrate our classrooms, cafeterias, movie theaters and restaurants. And he continued to be a champion for fairness, compassion and equality well past his playing days, serving as a special assistant to then-IU President John Ryan, a proud and dedicated IU alumnus and a tireless community activist, always working to keep open the doors of education for minority students so they could follow in his footsteps.
"He was a true trailblazer in every sense of the word and an individual of the greatest integrity, whose impact will be forever felt at IU and throughout the Hoosier state.
"In honor of George's legendary status as an athlete and a champion of racial equality, I am directing that all flags on the IU Bloomington campus be lowered to half-staff until the Sunday after IU's homecoming football game against Iowa.
"Our thoughts and deepest condolences go out to his wife, Vi, to his family and friends, and to the many other individuals whose lives have been touched by this remarkable Indiana legend."