BLOOMINGTON, Ind. – The overall amount of student loans for Indiana University students is continuing a downward trend, falling $13.6 million between the most recently reported academic years from the U.S. Department of Education, from the 2016-17 academic year to 2017-18.
The newly released numbers also show that over a six-year period, from 2011-12 to 2017-18, student loan volume from both federal and private loans is down 19 percent, accounting for $126.4 million less in borrowed money. Federal loan volume for all students was down $143.3 million, or 23.7 percent.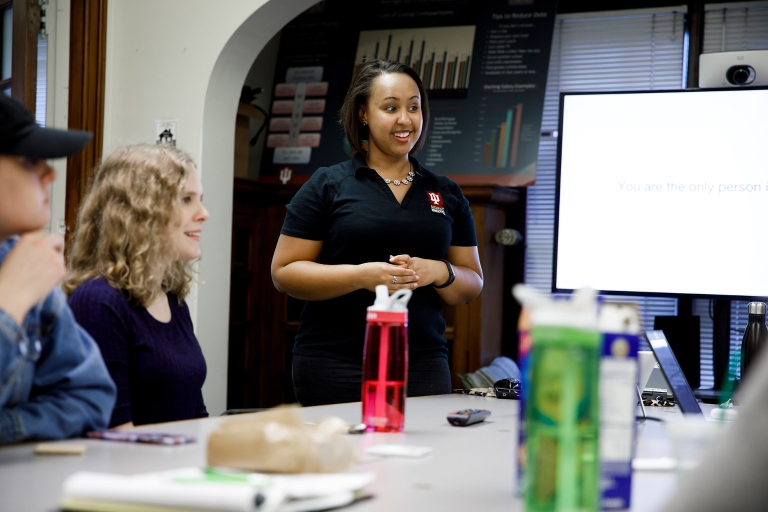 "Indiana University continues to focus on how to keep loan debt manageable and help students avoid excessive student loan borrowing," said Jim Kennedy, associate vice president for University Student Services and Systems. "These numbers are a very good indicator that the work we've done is paying off quite literally."
The results coincide with Indiana University's emphasis on making sure students make wise financial choices, including limiting their amount of loans. The IU Office of Financial Literacy created IU Money Smarts in 2012 to help students make informed financial choices while navigating college.
Money Smarts provides tools, counseling, presentations and even podcasts to help students learn more about managing money. In 2015, University Business magazine recognized the program as a "Model of Excellence."
Aside from the Money Smarts effort, in the 2012-13 academic year, IU began sending annual student loan debt letters. Sent to all student borrowers, the letters outline their loans, estimated repayment amounts and other information. Additionally, IU has emphasized efforts to help students graduate in four years, such as taking at least 15 credits per semester.
That work appears to be paying dividends going directly back into students' pockets. Over the six-year period, the student loan volume for undergraduates who are Indiana residents decreased by 30.8 percent, or $101.3 million. For all undergraduates, the total student loan volume fell 24.6 percent, or $99.2 million. Federal undergraduate student loan volume fell $115.6 million, or 31.7 percent, during that time.
"We feel our efforts to help students understand loan debt have resulted to better financial decisions by our students," Kennedy said.
Throughout IU, most campuses also saw a drop in the rate of loan defaults. Over a five-year period, from 2010 to 2015, the default rate dropped by 2.5 percent at IU Bloomington to 3.9 percent. Other Indiana University campuses saw a 2.2 percent to 11.2 percent decrease over the five-year period.