BLOOMINGTON, Ind. – Indiana University President Michael A. McRobbie reported today on a "banner year" for the university as it continues to meet Indiana's higher education and talent needs, contribute to the economic vitality of the state, and count down to the IU Bicentennial celebration, which will commence next summer.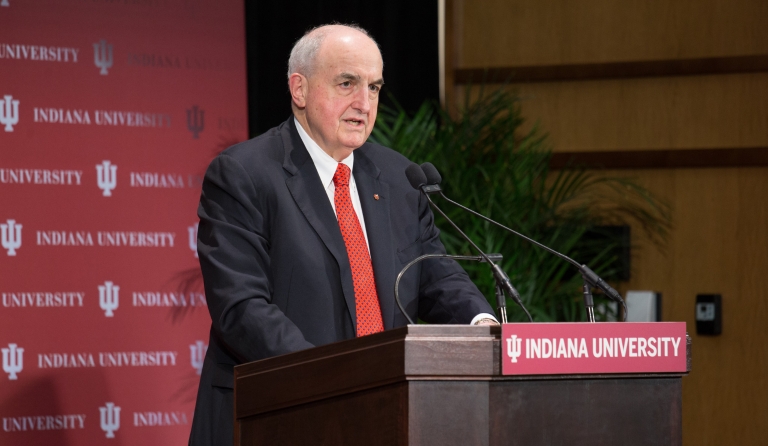 During his annual State of the University address, his 12th since becoming IU president, McRobbie highlighted several record-setting and other major achievements at IU that reflect both the success of the university's ongoing bicentennial strategic planning efforts and IU's continued commitment to meeting the educational needs of Hoosier communities across Indiana.
These achievements include:
Conferring a record of more than 21,000 IU degrees last spring across the university's seven campuses, including record numbers of graduates at IU Bloomington, IUPUI and IU Kokomo.
Setting a new record for diversity at IU with more than 20,000 degree-seeking minority students, who now constitute about a quarter of the university's degree-seeking population.
Securing more than $604 million in external funding for research and other activities, the highest total of external grant funding obtained by any research university in the state during the last fiscal year and the second-highest annual total in IU history.
Receiving a record $550.1 million in total private individual and institutional philanthropy given by the alumni and friends of IU – the highest annual total in the university's history.
Raising more than $2.6 billion to date – with the support of nearly 300,000 donors – toward the IU For All Bicentennial Campaign, IU's first-ever universitywide fundraising campaign, which recently set a new goal of raising $3 billion by the end of IU's bicentennial year in 2020.
Overseeing a rapid growth and expansion of online education at IU, with more than 30,000 students – a third of all IU degree-seeking students – enrolled in at least one IU Online course.
"As the state's flagship and namesake public institution of higher education, Indiana University has a special responsibility to the people of Indiana to provide an education of the highest quality and produce graduates in areas of importance to the state and nation," McRobbie said. "IU continues to do this in an exemplary fashion, educating more Hoosiers than ever before – including in a growing number of professional and specialized areas that are essential to Indiana's economy.
"We also attract talented students from around the country and the world, many of whom contribute to the state's brain-gain by staying in Indiana after they graduate and entering the workforce, hence helping to address the need for talent in Indiana's booming economy. Many of them also contribute to starting new businesses and forming new companies."
Unprecedented academic transformation, supporting excellence in teaching, preserving IU's collections
Speaking Tuesday afternoon from the IU Bloomington campus, McRobbie also outlined the progress that has been made in implementing the recommendations of the university's New Academic Directions Committee, which was established in 2010 to ensure the quality and relevance of IU's educational offerings and greater efficiency of IU's academic organization.
The committee's recommendations have led to "the largest academic restructuring in IU's history," McRobbie said, including the reorganization, merging or creation of 10 new schools on IU's Bloomington and Indianapolis campuses, each of which focuses on a contemporary area of major importance to the state or contemporary areas of study that are increasingly in demand by students.
The latest of these 10 new schools commenced operations on July 1: the new schools of education at IU Bloomington and IUPUI, which were created out of the previous core school that straddled both campuses, and the School of Health and Human Sciences at IUPUI, which was formed from the merger of the School of Physical Education and Tourism Management and the School of Health and Rehabilitation Sciences.
McRobbie also provided an update on several initiatives he announced in last year's State of the University address that are designed to support excellence in teaching at IU. All IU campuses now have in place a program of prototyping grants for teaching innovation, and they now have high-quality comprehensive support for university and campus teaching programs. Additionally, all of the resources available to IU faculty members are now available at a new website curated by IU's longstanding faculty-led organization, the Faculty Academy on Excellence in Teaching.
McRobbie concluded his address by discussing the progress IU has made toward preserving its research and scholarly collections of video, audio and film, many of which are vital to the university's teaching and research missions.
To date, IU's Media Digitization and Preservation Initiative, first announced in McRobbie's 2013 State of the University address, has digitized 310,000 such items, and the project is set to complete its expanded goal of digitizing 350,000 of them by the end of 2020. Additionally, this past spring, IU launched a new website that for the first time ever begins to bring together these assets under one public-facing portal. The site will continue to develop features in the coming months, including opportunities for members of the public to access digital collections.
"Indiana University has amassed a collection that would leave many nations envious," McRobbie said. "We have a responsibility … to art, culture, history, science and to the citizens of Indiana and the world that have helped us build these collections to do everything we can to document each artifact, share them through exhibitions here and around the world, and preserve them with the best tools we have available to us."
The full text of McRobbie's address is available online. For an archived broadcast of the State of the University, go to broadcast.iu.edu.