The Indiana University Bloomington Department of Theatre, Drama and Contemporary Dance recently hired a new staff dramaturg for the first time in years.
Madison Colquette is a talented dramaturg who moved to Bloomington from Iowa. She will work with student dramaturgs and the Master of Fine Arts playwrights, and she will serve as dramaturg on various productions during the season. She will also be teaching a course on dramaturgy in the spring, focused on the theory and practice of dramaturgy, particularly relating to new play development.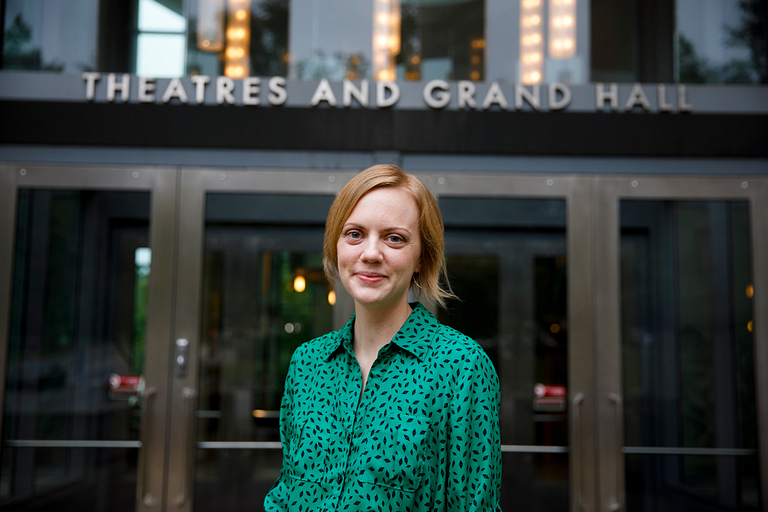 Colquette has been working in the dramaturgy field for six years and has been involved with different theaters across the country. Before coming to IU, she worked at the International Writing Program at the University of Iowa and at the Eugene O'Neill Theater Center in Waterford, Connecticut. She said she is thrilled to work at IU and is looking forward to the department's production of "Barbeque" that runs Oct. 12 to 20. The play will take place in the Wells Metz Theatre, and tickets are on sale now through the department's website.
Question: What is the role of a dramaturg?
Answer: A dramaturg may provide the social and historical context of a given play for the cast, creative team and audience. When working with new plays specifically, a dramaturg may track changes made in the rehearsal room and/or track the continuity of the script. Dramaturgs also work as literary managers, archivists and theater historians.
Another important aspect – and one of great focus here in the Department of Theatre, Drama and Contemporary Dance – is campus and audience engagement. We are committed to developing opportunities for cross-campus engagement and promoting IU's vibrant arts community both on campus and in the region.
Q: What are some of your everyday tasks and responsibilities?
A: My schedule varies, and my priorities will shift depending on rehearsal schedules. But one of my most important tasks is mentoring student dramaturgs on their work in main stage productions.
The Department of Theatre, Drama and Contemporary Dance is also about to begin the selection process for our 2019-20 season, so I'm doing a fair amount of script reading for that. In this process, we're looking for work that serves our students and our academic mission and focusing on diverse voices for diverse communities.
Q: What is the most rewarding part of your position? The most challenging?
A: For me, working with student dramaturgs and hearing their interest in and ideas for the practice of dramaturgy is the most rewarding part. I'm also looking forward to working as a dramaturg with the MFA playwrights and their work in the upcoming At First Sight Festival in February.
The most challenging thing for my position here at IU is difficult to articulate because I've only been here six weeks, but I think it's just acclimating myself to the campus and to the community. But with that, it's a very exciting challenge.
Q: Why did you choose to pursue the dramaturgy field?
A: I did community theater when I was in high school, and I originally wanted to be a high school theater teacher. I pursued an undergraduate degree in theater and developed an interest in the history of theater as social commentary – how theater responds to what is happening around us.
My interest in dramaturgy developed from a mentorship with Celise Kalke while she was at the Alliance Theatre in Atlanta. It was after this experience with Celise that I decided to pursue graduate study, and I received my MFA in dramaturgy from the University of Iowa.
Dramaturgy was a natural progression from my initial interest in theater history and education. Very broadly, I think dramaturgy is a synthesis of studying theater and performance of the past and examining what we're producing on stages today.
Q: Why did you choose to come to Indiana University?
A: It is unique to find a staff dramaturgy position at a university, so I jumped at the opportunity to apply when the position became available. Since I've lived in Iowa the last few years, I was also interested in the slightly warmer winters that I'm now expecting from Indiana.