With Thank a Donor Day around the corner, the Indiana University Foundation has numerous activities planned on the Bloomington campus. Here are a few ways you can show your gratitude to all of the alumni, faculty and staff who give back to the university as Thank a Donor Day is celebrated from 11 a.m. to 3 p.m. Thursday, Oct. 11.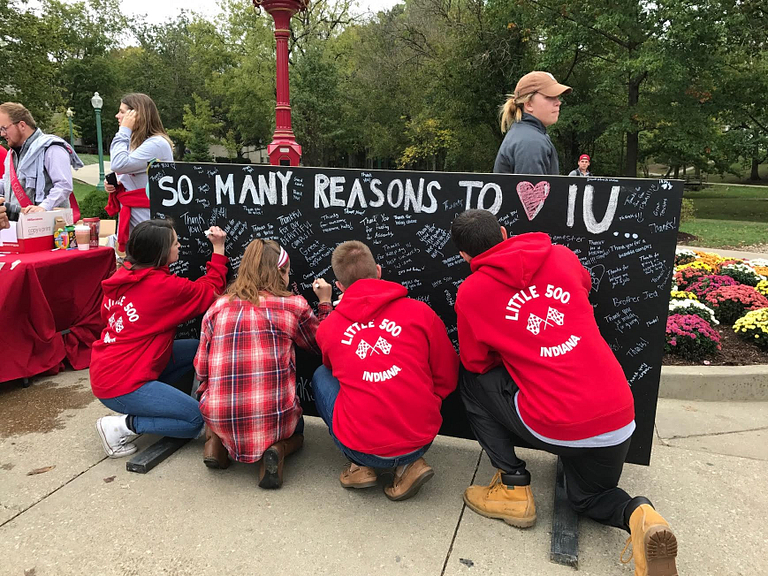 Check out the red bows that cover campus
As a new way to educate the campus about philanthropy's impact on the IU experience, red bows will identify the individuals, places
and
opportunities that are supported by donations. Look out for them across campus.
Stop by IU Foundation tables throughout campus
Fourteen tables will be scattered throughout campus, each hosted by a specific school or program, and each with a special activity you can participate in. Complete a Mad-Lib-style thank-you card, share in the photo and video booth why you're thankful for a donor, or take a quiz to test your IU philanthropy knowledge. Those who take part in these activities can earn prizes.
Make Sure to Use #thankstoIUdonors
Show others that you're participating in Thank a Donor Day. Be sure to use the hashtag #thankstoIUdonors when posting on social media. Show your friends and family your appreciation for all that donors do. You can also follow @IUFoundation on Facebook, Twitter or Instagram and use the custom Snapchat filter to show off your appreciation.
Visit the Thank a Donor Day website to learn more
More details about the event can be found on the Thank a Donor Day website. If you write a virtual note of thanks to a donor, your message could appear on their social media, on the IU Foundation website, in a video or in future IU Foundation materials, or it could be sent directly to a donor.
Check out how donations have already benefited IU
See how donors have helped Indiana University succeed. Be sure to check out the Dear Donor page to see what the generosity of others has accomplished for the university. From scholarships to hands-on research, donors help shape the future of IU.